I had my first experience with Mormons For Equality three years ago (2013) when I marched with the group in the Utah Pride Parade. I had just barely come out -- only a few months prior telling my Mormon parents that I was gay. That year was the first time I attended a pride parade and I remember the intense feelings I felt as I drove to downtown Salt Lake to march with the group. I was nervous and excited, slightly scared of what to expect from the whole experience. I wasn't sure how the march would go or what the parade would be like. Would the crowd be accepting of our message or would they boo us for all the negative and hurtful things the LDS church had done towards LGBT people? When I arrived I was greeted by a small number of fellow marchers. Even though our group was small in numbers, only about 15-20 people, we were marching with a strong message. The message from our group was full acceptance -- Mormons For Equality supports the full legal equality of the LGBT community including marriage equality. The group's views fit perfectly in line with mine so I was glad to have found a group where I could authentically represent myself and stand up for what I believed in. I had made a sign to carry too -- a progressive sign that took a bold stand, it said "Mormon Democrat Pro Choice Pro Equality Yes we exist."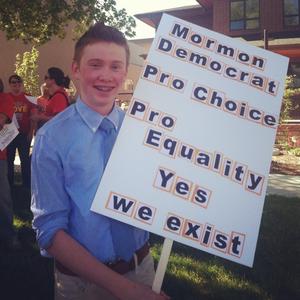 The march was a transformative experience for me, I couldn't believe the overwhelming positive response we received from the crowd. People were crying and cheering and telling us thank you over and over again. I had people come from the crowd to hug me and take pictures of me with my sign. The march was an emotional and spiritual experience for me - something I won't ever forget. Marching with Mormons For Equality back in 2013 was just the beginning of my journey with this wonderful group.
Fast forward to the 2014 Utah Pride Parade and I again marched with Mormons For Equality - this time as the head organizer for the contingent. The experience marching with this group was again truly transformative for me. Our numbers grew and we had almost 60 people who marched under our banner. I was incredibly glad to have some of my family join me that year including my Brother and Sister-In-Law as well as my Dad and Sister. Having my family march alongside me was one of the greatest gifts I could've asked for. Their participation in the parade spoke volumes to who they are as people - not only willing to say they love and accept me but willing to actually show it by joining me in the parade march. My sister's willingness to march with me was particularly touching to me. She is very active in the LDS church and has often stood up and defended me in her young women's and Sunday school classes when mean or untrue things were said about gay people. That morning she walked alongside me in her Sunday outfit cheerfully carrying a sign that said Love is Love.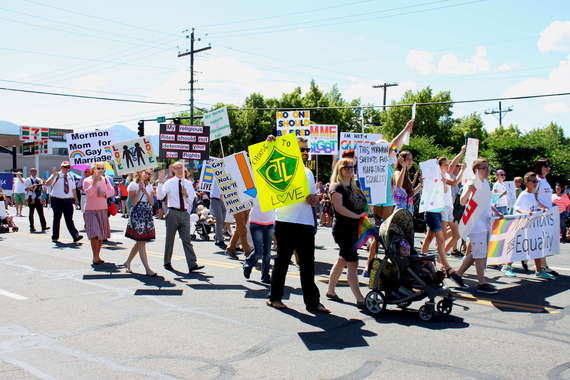 2014 Mormons For Equality Contigent
Mormons For Equality again marched in 2015. That year was particularly joyful for us - celebrating marriage equality in Utah and the passage of non-discrimination laws. Our contingent continued to receive cheers and an outpouring of love. Many of the signs carried in our group expressed a range of beliefs including one stating "I believe Jesus would bake the damn cake" (in reference to Christian bakers who refuse to bake wedding cakes for gay couples).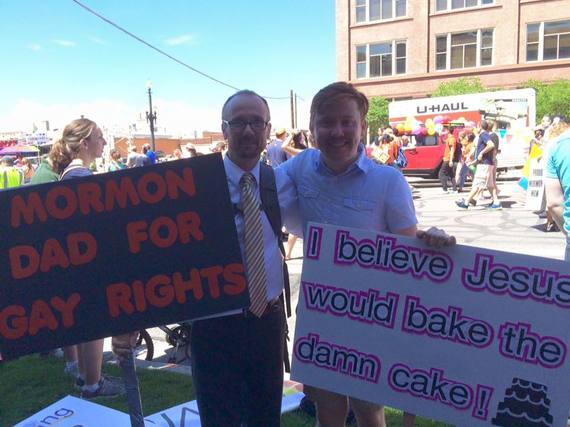 There were others decrying the so called "War of Religious Freedom/Liberty." Several stated their support for ALL families and how families gay or straight strengthen our society.
This year I was again the lead organizer for the Mormons For Equality contingent. Since the Nov. 5th policy change that labeled gay people as apostates and barred the children of gay couples from getting baptized so many people have voiced concern and opposition to the policy change. Several people in the group this year carried signs specifically about the policy change; one of my favorites being "God doesn't exclude 8 year olds."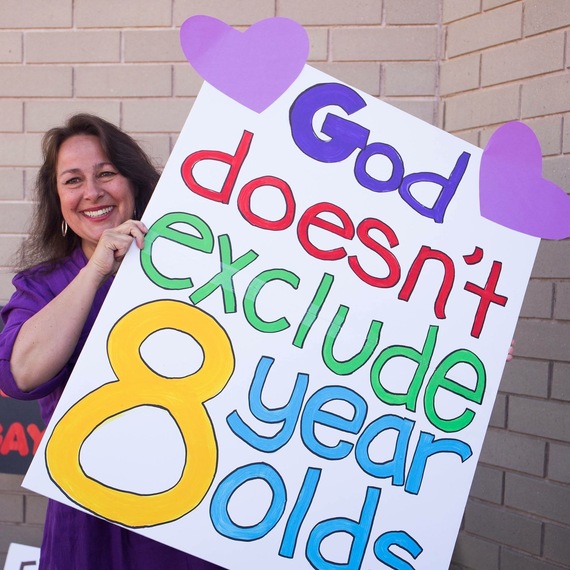 Going forward I'm not entirely sure how involved with Mormons For Equality I'll be. Schooling and work and other changes are sure to fill my time. Until we reach the full equality of the LGBT community there will always be a need for groups like Mormons For Equality. Their message will continue to be necessary until we live in a time where people aren't married on Sunday and then fired from their job on Monday simply for being gay. Our message will be relevant until a time when parents stop kicking their children out for being LGBT or when trans people are allowed to live freely and openly - not afraid of being harassed or discriminated against simply for using the restroom. Mormons For Equality is needed until we stop using religion to justify discrimination or act as though we are losing our "religious freedom" when asked to bake a cake for a gay couple. It will be necessary until a time when people aren't killed simply for being gay such as those murdered in the Orlando shooting. Mormons For Equality will continue to exist so long as there is a need for us to stand up for the LGBT community. We will continue to march and participate in pride parades until the day when we are free from discrimination and have achieved the full equality for our LGBT family, friends and neighbors.
Pictured below are some of the photos from our mach in the 2016 Utah Pride Parade