Les Miserables was the first Broadway show that I ever saw. It was a huge deal in my life and a very defining moment in knowing that I wanted to pursue some kind of a life in the theater. The excursion was our big sixth grade field trip consisting of a day in the Big Apple and culminating with a Broadway show. The teachers bandied about the subject. "Should we take them to see Annie 2 or Les Miz?" Uh, do any of you out there remember Annie 2?! Well, there ya go. Les Miz it was!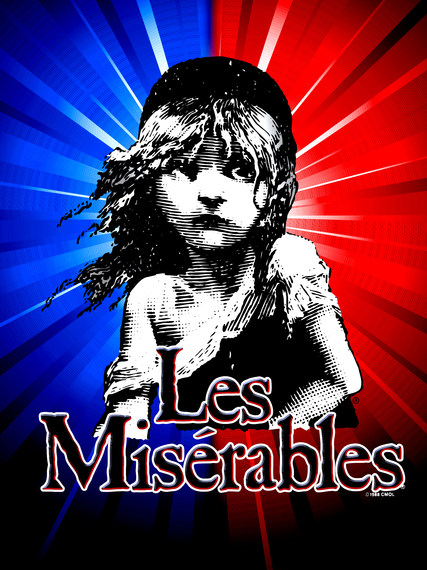 Needless to say like every first time, the experience of walking into the Broadway Theater on 53rd street as a 12-year-old was something that I will always hold close to my heart. The last time I saw Les Miserables live on stage was just before it ended its original Broadway run. Since then only the 2012 film version is all I have to compare it to. While I found the film adaptation well done, for the most part, it did not quite capture the awe and wonder that the Broadway show instilled in me. After seeing the North Shore Music Theatre's stellar and brilliant staging this past week, it was like discovering it for the first time.
There is something very warm and inviting and intimate about the North Shore Music Theatre. Further, lending itself to the experience that is so unique to the theater world.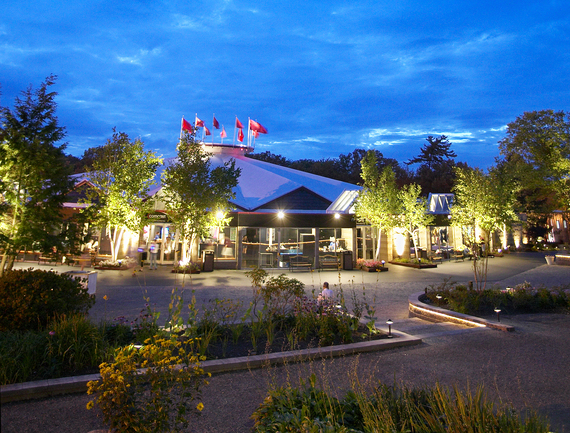 VIEW OF BILL HANNEY' S NORTH SHORE MUSIC THEATRE IN BEVERLY, MA
As I took my seat and looked around one thought stuck in my head. How in the world could they stage this very commercial and epic musical... in the round?! And yet, it is all there, yep, barricade and all. High praise to Bert Scott for his minimal, but masterful, scenic design. The minimal aspect of the staging was a welcome addition. It made me as an audience member work a little harder and in doing so allowed me to become a part of the story and its people. Because after all, at the core of any good film, play or musical are the people.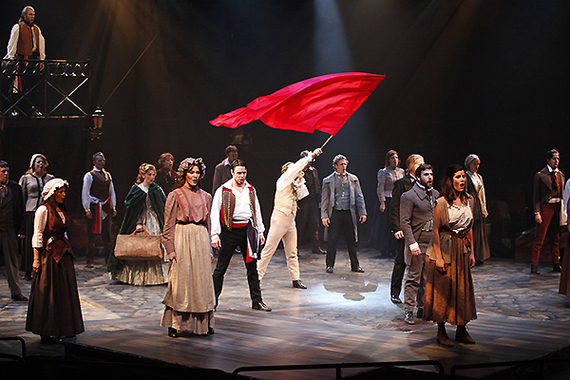 The company of North shore Music Theatre's production of LES MISÉRABLES. Photo by Paul Lyden
From the booming and haunting opening notes of Claude-Michele Schonberg's "Look Down" (as conducted by musical director extraordinaire, Andrew Bryan) I was immediately drawn in and, dare I say it, became that 12-year-old boy again sitting in the Broadway Theater on 53rd street. Having seen the show on Broadway multiple times, I was aware of the fact that sometimes it could tend to lag. Kudos to director and choreographer Marc Robin for keeping the show fast paced without ever lapsing into what could otherwise be a laborious evening.
Then of course, there is the score itself. How many times have we heard bastardized open mic versions of "I Dreamed A Dream" or "On My Own" ( the latter of which I think has since been replaced with Wicked's "Popular") Of course there is the infamous, "Bring Him Home" also known as "God, It's High" (as lovingly spoofed in Forbidden Broadway).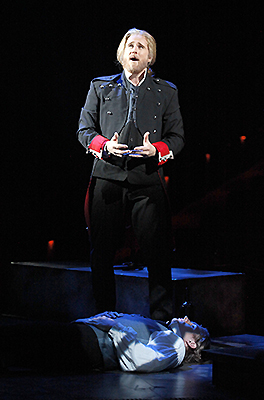 Will Ray as Jean Valjean in North shore Music Theatre's production of LES MISÉRABLES. Photo by Paul Lyden

Not since Colm Wilkinson have I heard such powerful and poignant rendering of "Bring Him Home" as is delivered by Will Ray. The ovation he receives after his final note and raising his hands to the heavens is so well deserved. For that matter Mr. Rays entire performance as Jean Val Jean was steadfast, captivating and heartwarming. Let me sum it up in one word: Bravura.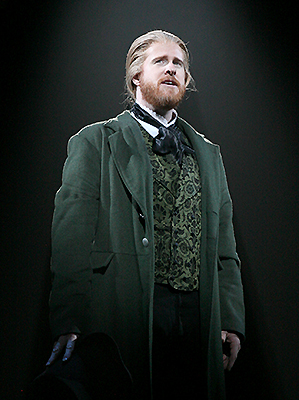 Will Ray as Jean ValJean in North shore Music Theatre's production of LES MISÉRABLES. Photo by Paul Lyden
Equally matched to Ray's convict with a conscience is Danny Rothman as the loathsome inspector who we all love to hate, "Javert". Good God, where was this man when they were casting the film version?! Mr. Rothman blew the roof off of the circular theater, forever ridding me of Russell Crowe's lackluster vocals in the film which totally depleted the impact that the character has and left me wanting Javert to throw himself into the river for an entirely different reason.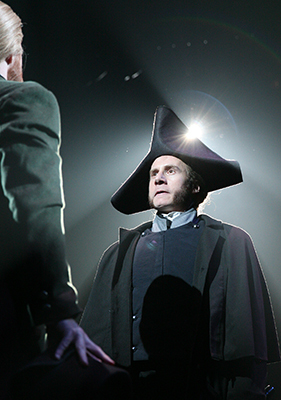 Danny Rothman as Javert in North shore Music Theatre's production of LES MISÉRABLES. Photo by Paul Lyden
Strapping Bari-Tenor, Steve Czarnecki is perfectly cast as the leader of the students of the ABC cafe, Enjolras. With all of the strength and sex appeal Czarnecki exudes I think he had me and half of the audience wanting to join in the revolution. I don't think there was anyone in the audience regardless of sex who did not fall head over heels for the young leading hero, Marius played to perfection by Blake Stadnick. Simply said Mr. Stadnick has a voice from the angels. And again, to breathe new life into a song like "Empty Chairs at Empty Tables" which has been done to death over the last several decades is quite a testament to Stadnick's prowess as a truly gifted performer.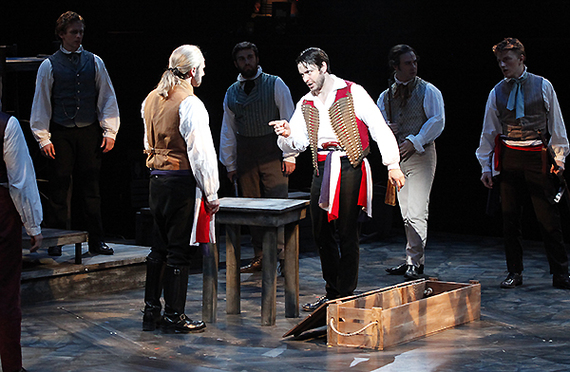 Steve Czarnecki (Enjolras) and the company of North shore Music Theatre's production of LES MISÉRABLES . Photo by Paul Lyden
Leading Lady, Danielle Dalli, offers a much stronger characterization than is usually played as the doomed "Fantine". For my money it was a smart and refreshing choice. As the lovable and waifish Eponine, Lizzie Klemperer delivered a strident and endearing turn. Capping off her performance with a soaring rendition of, "On My Own." Her rival, "Cosette" (played by the lovely Siri Howard) appeared as an antique porcelain doll come to life. My only complaint was that I wish Howard had more to do but that is generally the case with any talented actress in the role of Cosette.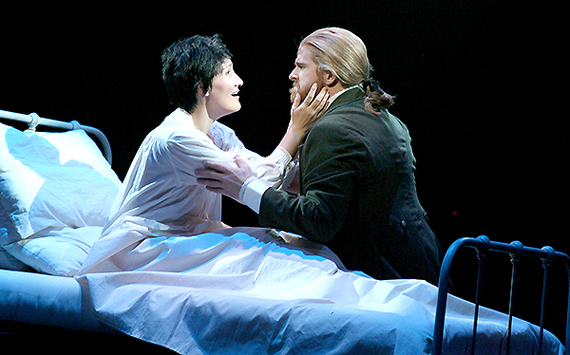 Daniella Dalli (Fantine) and Will Ray (Jean Valjean) in North shore Music Theatre's production of LES MISÉRABLES. Photo by Paul Lyden
I would be remiss in neglecting to mention the youngsters in the show. Gavin Swartz, Carly Williams and Tess Bigelow. Each of whom held their own as budding young talents. As the Thernardier's, Gary Troy and Tregoney Sheperd were delightfully impish without ever camping up the terrible twosome of the piece.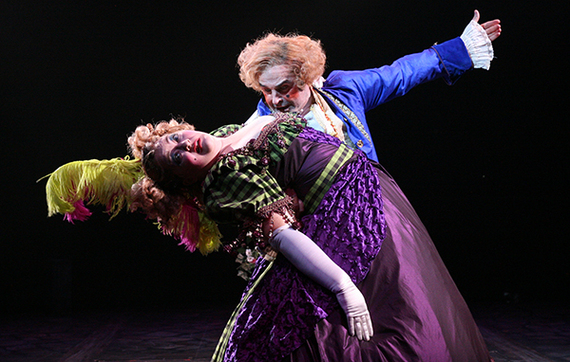 Tregony Shepherd (Madame Thenardier) and Gary Try (Thenardier) in North shore Music Theatre's production of LES MISÉRABLES. Photo by Paul Lyden
Theater is like the land of OZ and there is always a man behind the curtain pulling the strings. In this case there are two. The dynamic duo of Producer (and owner of the North Shore Music Theatre) Bill Hanney and its dashing Artistic director Kevin P. Hill .Mr. Hanney and Mr. Hill are clearly at the top of their game and have a keen eye for providing the partisans of the North Shore with only the very best in terms of talent and artistry from the performers, directors, lighting design and onward. Let me further commend the team for its wonderful kind of stunt casting. The stunt being real actors with real voices and real talent. A novel idea and something perhaps Broadway might consider doing with its shows again.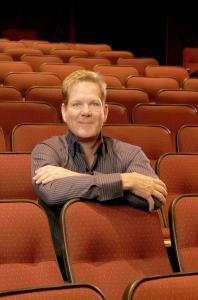 Mr. Bill Hanney, Producer and Owner of North Shore Music Theatre. Photo by Paul Lyden
I think the best way to sum up the experience of Les Miserables at North Shore Music Theatre appropriately harkens back to the story's creator, Victor Hugo. As the story goes Hugo, wanting to know how his novel was doing, simply sent his publishers a piece of paper with a question mark. They responded in kind with an exclamation point.
No question mark here but just a great big exclamation point to the North Shore Music Theater, for continuing to provide theater goers with exemplary and top drawer entertainment, year round.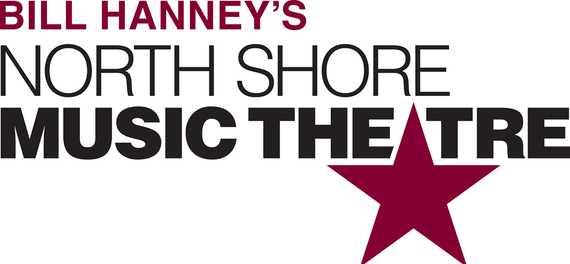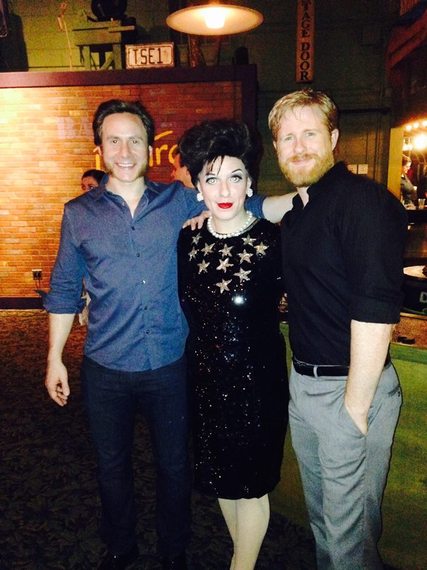 Danny Rothman as Javert with Huffington Post Blogger Peter Mac as Judy Garland and Will Ray as Jean Val Jean at the recent North Shore Music Theatre LGBT Popular Second Thursday Event Following the sold out performance of Les Miserables in Beverly, Massachusetts. Photo by Tess Brady.