Sydney, Australia, and New York are superman destinations, wrestling for attention and flying onto the world's front page. Boston and Melbourne? They're more like spectacled Clark Kents. And each is secretly glad.

On a recent trip to Melbourne, Australia's second city and the capital of Victoria in the country's temperate southeast, I found that it was the perfect base to explore coastline and other attractions. I also discovered that the city was a match for Boston in a whole bunch of areas. The two are, in fact, Sister Cities on opposite sides of the globe.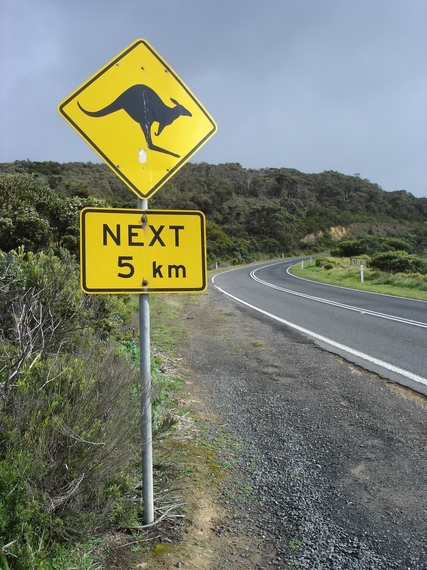 According to Melbourne's Sonia Rendigs, who used to live in the U.S., "When I left New York to go to Boston I felt like I was coming home. You've got crews on the Charles, we have them on the Yarra. The universities, the high tech focus, even the way people behave. Go to a department store in New York or Sydney and you're going to be blown out the door. Here or in Boston there might be a crowd but it'll be a lot calmer."
Aside from the University of Melbourne (Australia's Harvard) and the Royal Melbourne Institute of Technology (its M.I.T.), Melbourne's almost eerie Hub-like qualities include highbrow cultural icons like the symphony orchestra and the national public TV station; a tram system that mimics the Green Line; an Italian enclave along Lygon Street that tastes like the North End; a Quincy Market-style development ("Southgate"); and an obsession with sports that rivals Red Sox nation.
Sports-wise, Boston and Melbourne may be the world's only two cities with spring public holidays focused around a competition. Instead of Patriots Day and the Marathon, here it's an historic horse race known as "The Melbourne Cup."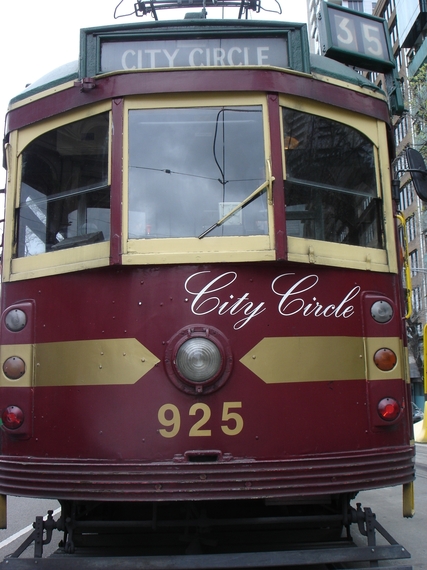 Founded in 1835, Melbourne was a sleepy outpost until gold was discovered in Victoria in the 1850s and suddenly everyone wanted in. The area's new wealth kicked off a building boom which dotted the city with grand public buildings and Victorian style mansions finished with intricate iron railings, fences and trim.
To get a look at some of these, I strike off on the Golden Mile Walk. Not as stretched out as Boston's Freedom Trail, the walk gets you wandering the clean downtown, head bowed, hunting gold coin markers stuck in the sidewalks. Hoping they might be the real thing, I try to pry one out of the cement and see that it isn't going to budge. A man with a briefcase sees what I'm up to and laughs. "Sorry," he says in passing. "Not going to be that easy for you."
No one here puts a toe into the street unless the walk sign is lit. When I stray into traffic like you might in Massachusetts or New York, it causes alarm. Parents grasp their children. The Circle Line tram, free for tourists, dings its bell. Melbourne pedestrians are calm even right outside Melbourne's giant Victorian train terminal, and Southbank's river promenade -- home to street art and jugglers -- has an almost orchestrated flow.
I end up in front of the old state treasury building which, I'm told, was Victoria's Fort Knox. Guards circled the building protecting its basement full of stacked gold bars. Next door is a city park, the Treasury Gardens, which is as central a green space as Boston Garden though I miss the pond and Swan Boats paddling around.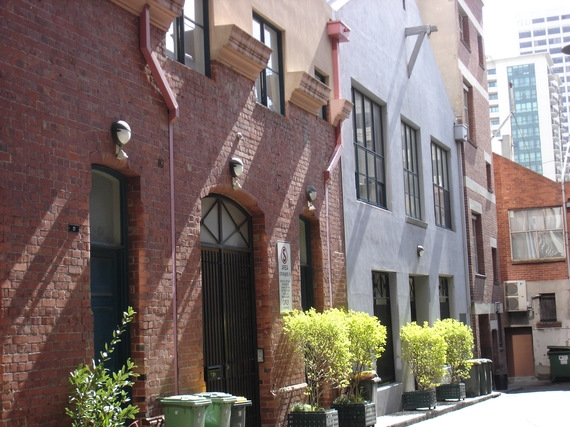 My guide, Carol O'Reilly, keeps gesturing angrily at the park's Indian mynah birds ("they chase the doves") and points out plastic rings on tree trunks designed to prevent possums from climbing up there. "Do you have that problem in Boston?" she asks. "Um, I'll have to research that," I say.
For me, the most poignant part of the park is an oval stone memorial with a bronze relief. A prime minister? I think, walking nearer. Could it be the Queen? An English lord? I get close.
The New Englander in me catches his breath. "John F. Kennedy," says the plaque simply. "1917-1963."
* * * *
One of the startling things about Melbourne is the range of its ethnic neighborhoods (Greek, Italian, Indian, Turkish, Chinese and Vietnamese) and the food you can find based on each of these traditions.
Much like Boston's North End, the area around Lygon Street is speckled with cafes that serve up biscotti, gelato, and espresso, and corner restaurants with radioactively red marinara sauce bubbling away in the back. Like in the U.S., a lot of the pastas and prosciuttos are shipped from Italy -- you can recognize the brands -- but somehow the dishes come out tasting, well, unlike anything you've ever had.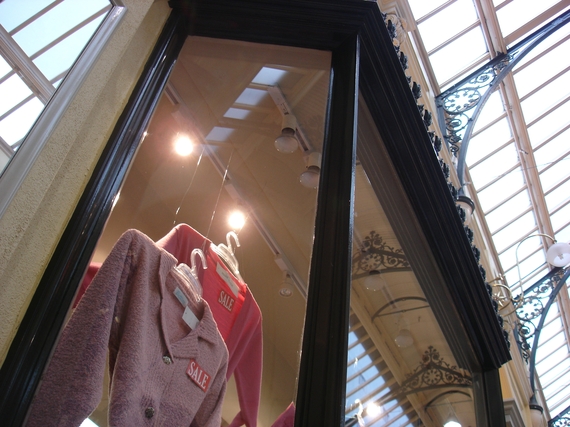 At Lygon Street's Villa Romana I have a talk with the manager, Gregory Copponi, about the pasta on my plate. Why is it pink? "It is the radicchio in there," explains Copponi. "Not cheap," he adds, "but good for the bite."
Copponi tells me that he's had five heart attacks and four bypass surgeries. I ask him if it's the stress or too much sampling of restaurant dishes. Portions are a struggle at the Romana and cuts of meat extend over the edge of the plate. "Possible," he shrugs. "But who can say?"
Copponi and his chef are open to experimenting with the pastas and calzones that the Villa Romana makes. He claims to have invented a special pizza featuring chunks of baked potato and blue cheese. Sure enough, when I scan the menu, there it is.
Certain things he won't agree to, though. "Sometime people ask for pineapple and apple on pasta," he tells me.
Pineapple and apples?
"Both," he confirms. "I refuse."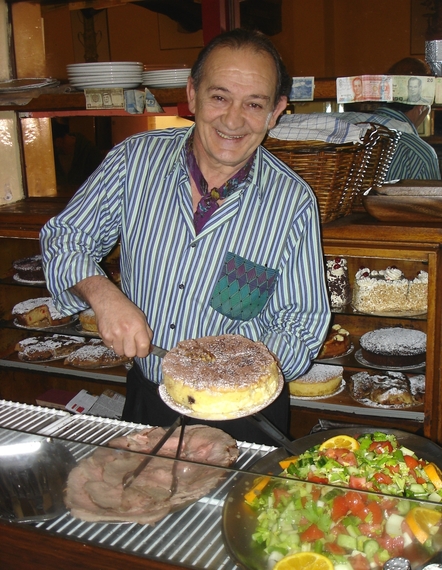 One night after eating Italian, I'm in the mood for seafood and head for the restaurant at the swanky Windsor Hotel. When I am curious about dishes, out pops the chef, Craig Hicks, to explain.
"You're in luck," says Hicks. "The 'Poached yabbie tails' are a lot like Boston lobster. But fresh water, from a farm pond called a billabong."
Farm ponds are not my thing so I ask about the 'pippies' which, says Hicks, are similar to New England steamers. Hicks steams some of his seafood in beer: Crown lager is the local brand he prefers.
"You could skip the shellfish and go for broke," he suggests. "Kangaroo is a nice red meat and very lean."
I ask him if he is pulling my leg.
Not at all, says Hicks. "Australia's the only country that eats its national symbol. And quite a lot of it, too."
I order a Crown and make a silent vow. It would be like eating eagle: I'm not going to try Kangaroo.
Later, I decide on 'pippies' tossed with pasta. "Make that radicchio pasta," I tell the waiter.
Despite the stemware and starched tablecloths, talk at the tables that surround me is about sports. I keep catching the word "footy." "Footy finals."
This is shorthand for Aussie Rules Football, for the playoffs that are going on this week. I've tried to watch and understand this game: there is rugby-style tackling and lateraling. There are four (count 'em, four) goalposts on each end. And, for reasons I don't get, players prefer punting the ball to each other while they're on the run.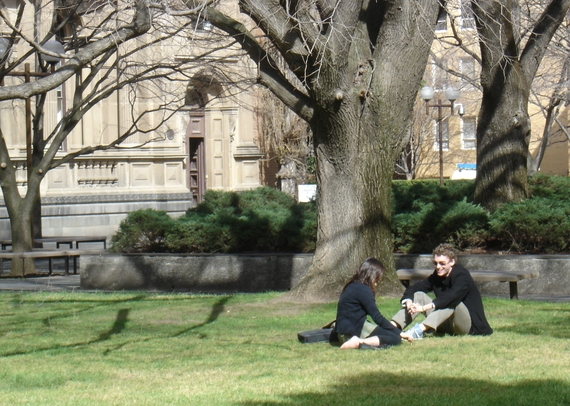 A couple nearby hears my American accent and, just for laughs, asks if I think one of the local longtime-losing Victoria teams will win. I mull this over. They narrow their eyes and wait.
"Well," I say at last, "if the Boston Red Sox can do it, so can Melbourne."

"We read about your Red Sox," replies the husband. "It took them a while but they did it, didn't they?" "So will you," I predict. We raise our glasses and drink a toast to second cities. Sister cities that have famous universities, crews on rivers, and clanging trams.
Who needs Sydney? I say, downing my Crown.
Forget Manhattan, says the man.
When I get up to leave, we slap each other's shoulders and shake hands.
Oceans of difference may exist between us. And an actual ocean will mean we'll never meet again.
But we are allies. Civic allies.
And we are, all of a sudden, very loudly proud.
* * *
Peter Mandel is the author of the read-aloud bestseller Jackhammer Sam (Macmillan/Roaring Brook) and other books for kids, including Zoo Ah-Choooo (Holiday House) and Bun, Onion, Burger (Simon & Schuster).