A real secret agent is supposed to strap on a gun. The guy I met a few years ago -- let's call him Ted -- had his suit pockets bulging with forms. Instead of a "License to Kill," Ted whipped out his AAA card.
It may sound weird, but this undercover agent thought that 007 referred to a suite in our hotel. His mission was to inspect the heck out of the place and to file a no-holds-barred report (plus recommended diamond rating) that would be relied on by millions of American Automobile Association members.
An AAA member myself, what I was eager to find out during the day I was allowed to do what Ted does, is how inspectors from the nation's biggest rating organization -- there are scores of these guys -- pull off their mysterious but very well-documented work.
I wanted to know what Ted looks for when he scopes out fancy four-diamond joints like Wilmington's Hotel Du Pont, where I was booked for one night. I wanted to know how he rates the food and service at restaurants. And, most of all, I wanted to know what Ted's dangerous and anonymous life is like.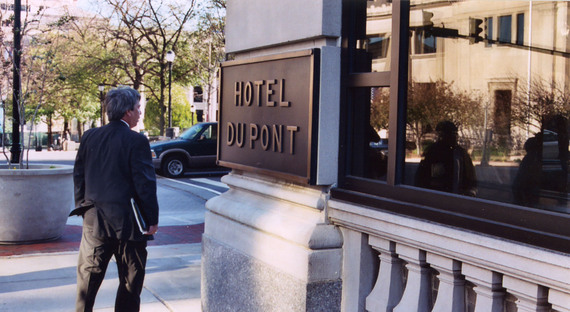 One thing I find out right away: As a smokescreen against hotel managers who want to know when he is around, Ted relies on credit cards in an array of fake names. "Visa and Mastercard won't let you do this," he says. "But American Express doesn't ask questions as long as someone is paying the bill."
A tough-looking but sharply-dressed guy in his late 40s, Ted has inspected DC, Delaware, Eastern Shore and Annapolis establishments for more than 16 years. By now, he suspects, some hotels are on to him. If they see him coming, service clicks like clockwork and the element of surprise is lost.
"Last year," he says, "my alias was Eric Harris. The year before, let me think. Then I was Robert McCall."
According to Ted, some inspectors disguise themselves. "I used to grow a beard every other year. The girl who does Virginia Beach wears wigs. And the guy who worked on Maine would always dye his hair and wear fake glasses."
Since full-time inspectors like Ted provide the key data used to compile AAA's regional tour books, and since these guides are updated every year without fail, Ted is constantly revisiting and re-checking the same hotels and eateries on the sly.
Diamond ratings, Ted explains, are the result of a weighted tallying of a hotel's inspection scores in areas like "management and staff," "housekeeping," "guest services," and "room dᅢᄅcor and ambiance." A one-diamond hotel has the basics and appeals to a budget traveler, while five-diamond establishments reflect "the ultimate in luxury and sophistication."
As long as I don't blow his cover, Ted agrees to let me shadow him during a typical inspection day. Ted tells me that the Du Pont is a "solid four diamond, aspiring for five" and that he'd like us to try out dinner in the hotel's swanky Green Room before turning in. I'm eager to agree.
While a squadron of waiters is dropping off thimble-sized hors d'oeuvres and flowery sorbets, Ted keeps harping back to our experience, hours ago, during check-in.
Did the desk clerk welcome me by name? Was I introduced to the bell hop? Did the bell hop use my name?
I'm not of any help since I can't remember check-in, other than signing a card committing me to the $289 room rate. "My check-in went smoothly," says Ted, although I do not ask. "I haul along a lot of extra test baggage -- some of it empty -- and they handled it well."
Ted is checking his watch. He needs to excuse himself to take a look at his room. "I called up housekeeping," he says, "to request a 6:45 pm turndown instead of the usual 8:00. Then I took away all the pads and pens. Also, I made it look like I had taken a shower." Ted is wearing a sneaky grin. "You know, balled up the towels, moistened the soap, ripped off the toilet paper point."
Toilet paper point? I am about to ask, but Ted is gone. When he gets back he looks confused and mildly sad.
"No, no," says Ted wistfully. "The early turndown was perfect. Everything neat, replaced, new toiletries. The maid even repositioned the remote on the bedstand." I nod, pretending to get this. "And she switched on soft, nighttime lighting."
"We'll see, we'll see," says Ted.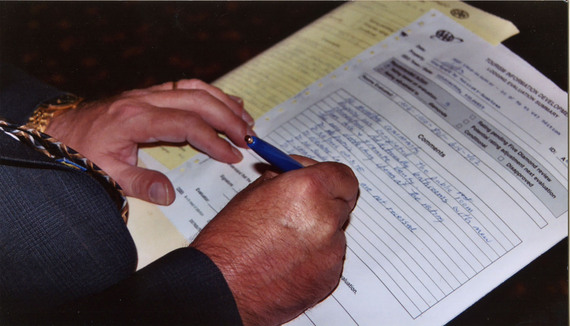 It is time to turn our attention to the Green Room, which happens to be brown, not green. Ted is determined to find a crack in the Du Pont armor and calls over the maitre'd to ask if anyone can find out what wine he and I were drinking back when we were in the bar.
Whoosh. No sweat. Two glasses appear of absolutely correct Cabernet.
Ted is required by his bosses at AAA to taste at least three courses at every expense-paid meal. I can barely afford my main-course pork chop, but Ted is testing out a sculptural spring roll and other sideline delicacies, and lets me try some bites.
Ted is delighted, again and again, with the way the Green Room decorates its food. There are vegetable and potato spirals, and edible pictures painted out of dots and pools of sauce.
"Will you look at that plate?" he exclaims. Ted's caramel dessert squats in a clearing between rings of raspberry butterflies and birds.
The quality of ingredients is also a big factor, says Ted. "One time I was dining with an elderly guy who ordered the fruit plate. Well, it all looked beautiful, but the fruit went right through him. He spent the rest of the meal in the john."
After a skeptical sip, our after-dessert coffee passes its test, and Ted relays a story about coffee in a hotel restaurant out of his past. "Something about the taste or aroma just didn't seem right," he says. "Turned out there was a nest of cockroaches in the grinder. They were grinding roaches along with the coffee."
As far as I'm concerned, it's time to get the bill.
It is mid-morning in the lobby of the Du Pont, and Ted and I are ready for phase two of Operation Inspection: scoping out rooms. Ted steps up to the desk to disclose his mission and to ask for the manager. In about a minute, a natty, French-accented GM appears. Ted sits him down and goes over our Du Pont experience since check-in.
"Your reservation clerk answered on the first ring," praises Ted. "Let's see... Good small talk by the concierge, nothing too personal, and in the restaurant, the table was crumbed, not after the appetizer -- that would have been nice -- but following the entrᅢᄅe."
After a half-hour of this, it's time for our tour.
Not one but six rooms are unlocked, and while each looks sparkling clean to me, Ted pushes me out of the way so he can flip couch cushions, and snake his hand into the recesses of drawers. I hadn't noticed before, but every vanity at the Du Pont is topped off with a jar of Q-tips. Ted looks inside. To get at toilet paper rolls in Du Pont bathrooms you untie a golden drawstring on a velvet pouch. Ted looks there, too.
Does AAA ever do a black-light test of hotel bedspreads? I ask, like one I saw on TV that turned up some nasty stains? Ted says no. "A black light isn't always reliable. But we inspectors check for that. We check for vermin, too."
Ted has never met a rat while on the job but once, he says, he spun around and caught a field mouse sprinting down a motel hallway. "The mouse ended up crawling under a guest room door -- you know, they collapse their bones to do that -- and the motel manager screamed."
No mice here at the Du Pont, though. At least none that we can find.
Mice need mini-bar leftovers to feed on, and we don't see any. Not so much as a speck. Ted does make a note about some inconsistency in the array of clothes hangers and warns the manager that some of his mirrors "are starting to de-silver, just at the bottom."
Are there Gideon bibles in the nighttable drawers? I ask at one point, just to try and seem helpful. Ted shoots me a look and reassures the manager that he's already confirmed this.
It is time for the big moment. Four diamonds, still, for the Du Pont? Or a new, exclusive five?
We're sitting again, in plush, embossed chairs in the manager's office. You could hear a hotel pen drop. Ted clears his throat.
"Things went extremely well," says Ted.
"Good, good," says the manager. "The team has gelled."
"I'm going to recommend," Ted announces, "that the Hotel Du Pont... retain its very strong AAA four diamond rating."
It feels like the air has been vacuumed out of the room. Professionally vacuumed. But there are no protests or tears.
Some papers are signed, everyone shakes hands, and in minutes, we are outside. The bell hop -- addressing us by name -- is loading our bags into Ted's car.
What went wrong? I ask Ted. "I thought everything was perfect."
"Oh," says Ted. "It was an excellent stay. But five diamonds are special. The guest room dᅢᄅcor is, I think, a little tired. Plus, there were some service lapses. They're not quite there yet."
Wow, I say. What can you do?
"Wait and see," says Ted. "Wait till next year."