"The Bloods are red. The Crips are blue. I still think the strongest colors in Jersey City are maroon and gold."

Confused?
Maroon and gold are the school colors of the country's most feared and successful prep basketball program, the Friars of St. Anthony. The face of the program is Bob Hurley, an intense and impassioned old school coach whose unparalleled success on the sidelines has been challenged by a career-long struggle to sustain a financially stable bottom line for his small, Catholic high school in Jersey City, New Jersey.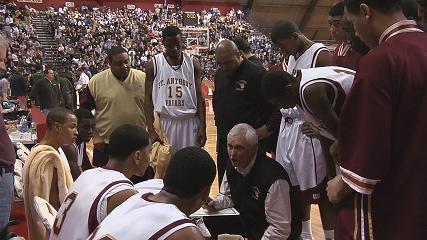 In 35 years at the helm of St. Anthony, Hurley has compiled over 900 wins and 25 state titles (two as an assistant coach), and sent over 100 former players to Division I programs on scholarship. More impressively, Hurley has turned down countless lucrative coaching gigs at the college and pro levels to continue inspiring and motivating his young and impressionable players while helping St. Anthony remain solvent.
In an effort to raise awareness of the St. Anthony mission, Hurley invited TeamWorks Media behind the scenes to "show people how hard our kids and our staff work not just at winning basketball games, but at finding ways to succeed in life." The result -- The Street Stops Here -- is a touching visual journey that authentically captures Hurley's relentlessly demanding coaching style and powerful influence in transforming his young players' lives.
"The kids here need this school. They need a place that keeps them off the street, but every year it's a struggle just to keep our doors open," Hurley said.
On Wednesday, March 31, The Street Stops Here will premiere at 10pm on PBS (EST), a fitting prelude to the Final Four storylines around March Madness. The Street Stops Here weaves together stories of a team's record-setting pursuit of a 25th state championship, teenagers fighting to get out of underprivileged neighborhoods, fundraising amidst the collapse of Wall Street and how one man uses basketball to teach life lessons.
It's truly "One Shining Moment" for The Street Stops Here.
It's truly maroon and gold.