For Jennifer Hamilton it wasn't enough to be the only one wishing her husband a happy birthday. She decided to try and get the whole world to say it along with her. This past Saturday the 36-year-old fashion designer took inspiration from another couple and posted flyers throughout ten high-traffic New York City subway stations from Atlantic Avenue in Brooklyn to 145th Street in Harlem. On each flyer she asked strangers to send a surprise happy birthday wish via Twitter or Instagram to her husband, Gary Hamilton, a 32-year-old New York Yankees host and reporter.
According to Jennifer, her husband was gleefully "overwhelmed" by the surprise and "actually a little embarrassed from all the attention." As of Monday Gary's Instagram post of the flyer alone received over 10,000 likes plus there are numerous birthday tweets flooding his Twitter timeline. Now that's spreading the love.

Addressing Alzheimer's disease within the African-American community

When former model, restaurateur and decorator, B. Smith announced her battle with Alzheimer's last month, she instantly put a new public face on a disease that some argue is under-addressed within the African-American community. According to the Alzheimer's Association, African-Americans are more likely to remain undiagnosed for a longer period of time and twice as likely as whites to develop the late-onset condition of the illness. Kenneth A. Smaltz, Jr. hopes the heightened visibility surrounding Smith's revelation is channeled into an on-going campaign for the cure and care of Alzheimer's.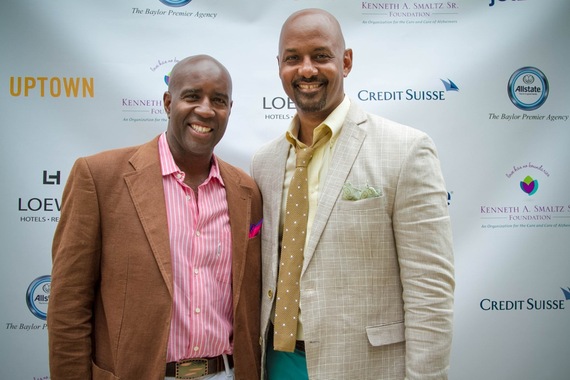 Leonard E. Burnett, Jr., Kenneth A. Smaltz, Jr./Courtesy: n.corren conway @forever12
"It is a disease as a culture that people don't want others to know that they have it," he said. "But people can relate to B. Smith so this news might be able to bring about more early prevention awareness."

This past Saturday he held his annual fundraiser for The Kenneth A. Smaltz, Sr. Foundation. Named after his father--who passed from Alzheimer's last December -- the almost two-year-old foundation provides support to local care centers for people with dementia and financial assistance to families who cannot afford such care. This fall, the junior Smaltz who serves as the foundation's founder and chair, plans to launch a series of public programs at Harlem Hospital Center to raise awareness about the disease.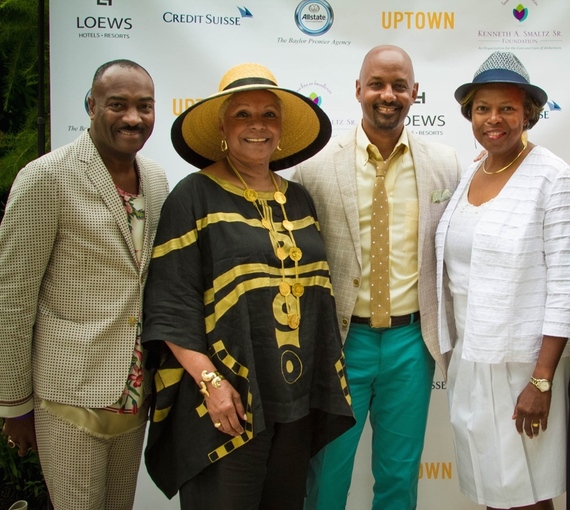 Reggie Van Lee, Audrey Smaltz, Kenneth A. Smaltz, Jr., Gail Marquis/Courtesy: n.corren conway @forever12
The fundraiser, hosted by Toni Belafonte, attracted notable guests including fashion industry legend, Audrey Smaltz (sister of the foundation's namesake and aunt to the junior Smaltz), and her wife and former Olympic basketball player, Gail Marquis, joined her. Executive Vice President at Booz Allen and philanthropist, Reggie Van Lee and media mogul, Leonard E. Burnett, Jr. were also in attendance. For Burnett, the event served as a reminder of the need for more African-Americans to participate in clinical trials related to Alzheimer's and other medical conditions.

"In health care we are always the last to go to the doctor's and not taking our medicine. We don't participate in those medical trials. So all those things point to the reason why what Kenneth is doing is important. The more active we are the better it is for everyone," he advised.

New HIV awareness campaign has a 'design' to improve your health

As the 20th International AIDS Conference is underway in Melbourne, Australia this week, in the U.S. is the launch of a new initiative to address the disproportionate number of African-American women affected by HIV. Maria Davis, a music industry professional and former model is lending her support to Merck's national HIV education initiative, I Design, in partnership with Positive Women's Network - United States of America (PWN-USA).

According to the Centers for Disease Control and Prevention (CDC), in 2010, African-American women experienced a 21 percent decrease since 2008 in the number of new HIV infections among all adult and adolescent African-Americans. However even with that promising news the rate of new HIV infections for African-American women remains an estimated 20 times that of white women and almost five times that of Latino women.

It is because of these statistics that Davis, an HIV-positive African-American woman, feels so strongly about, I Design. The project places an emphasis on encouraging women to be active participants with their healthcare team in designing their treatment plan.

"I am an open book with my doctor and through my work in the community, I urge people to be the same way," she shared. "You and your doctor need to be on the same page so you can get that individualized care that is right for you and your lifestyle because everyone has a different lifestyle."

****

The weekly column, On the "A" w/Souleo, covers the intersection of the arts, culture entertainment and philanthropy in Harlem and beyond and is written by Souleo, founder and president of event/media content production company, Souleo Enterprises, LLC.