In 1986, Joseph Beam gave voice to the struggles and triumphs of black gay men everywhere by editing the anthology In The Life. Included were works by black gay writers, many of whom found their experiences not being fully depicted in literature. Nearly 30 years later Charles Stephens and Steven G. Fullwood are paying tribute to Beam's work with the publication of the anthology Black Gay Genius: Answering Joseph Beam's Call.
Black Gay Genius is composed of an intergenerational collective of writers, scholars and activists responding to In the Life and the influence of Joseph Beam. We chatted with the co-editors of Black Gay Genius to get their thoughts on Beam's personal demons, mainstream representations of black gay men and the current sate of the black gay arts movement.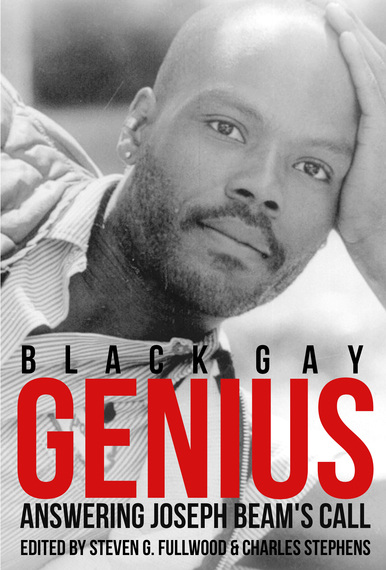 Courtesy: Vintage Entity Press
When you both speak about Joseph the man, there is a reference to his vulnerability and seeming loneliness in the world. Please expound on this aspect of Joseph and what it may mean in relation to issues of depression and suicide among black gay men.
Charles Stephens: I've definitely struggled with an intense sense of loneliness. Having a certain political orientation in this culture, being very sensitive to injustice, it can be a lot to take in. It can crush you. So we have to name these things. Call them out. Talk about them. There is a cost to our silence around these issues. This is a lesson I take in part from Joe, who I think paid this tremendous price for his 'genius.' He was elevated, and in the process of being elevated, got sort of disconnected.

Steven G. Fullwood: Joe's published and unpublished writings and his letters to fellow writers such as Essex Hemphill, exuded a profound loneliness that was heartbreaking, but also affirming for me at least, as a witness. Revealing vulnerability is cathartic, first for yourself, and then for others. Today the lack of resources specifically addressing the issues like depression, loneliness and suicide, which profoundly impact black queer men, breaks my heart.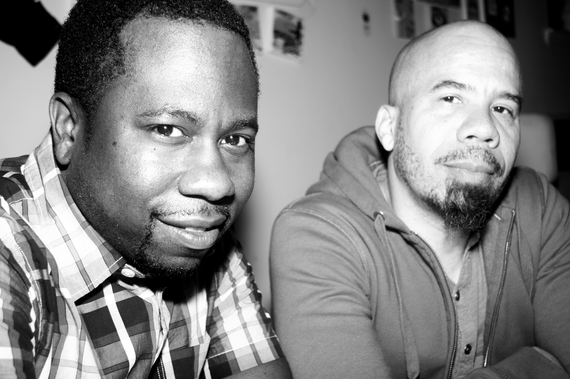 Charles Stephens and Steven G. Fullwood/Credit: Donald Andrew Agarrat
Where do we think we are today in terms of making the black gay male voice more visible in holistic representations in literature, media and so forth?
Steven G. Fullwood: Real representations of black gay men in mass media have gotten somewhat better, but not by much. Right now I see more minstrelsy than anything. That said, I also feel that there's a constant sort of 'oh, I didn't know that' when it comes to the disconnection among generations regarding black LGBT activism and cultural production. Now a new generation is discovering all of this amazing stuff that went on before the internet when activism meant mailings, driving across country with a car full of people, driving all night so you could get back to your job on Monday morning. Contributors to Black Gay Genius speak very eloquently about this shift in thinking and action.
As part of the Black Queer Arts Movement there was this idea that the arts could impact societal change for the better. How do you see this legacy being carried forth (or not) today in the artistic queer community?
Steven G. Fullwood: Thanks in part to the internet, significantly more global conversations around human rights work concerning non-heterosexual people of African descent are happening among black LGBTQ people in Canada, South America, Africa, Europe, the United States, and in other parts of the world. Also, the idea of mobilizing around single-issue politics appears to be a thing of the past. So, while organizing around LGBTQ/SGL issues is still very necessary, working with other activists around immigration policy, education reform, labor issues, voting rights and human rights abuses are far more effective ways to address inequities in America today.
What do you hope this book is able to accomplish?
Charles Stephens: My hope is that our book provides a sense of origin. I feel like so much of our political work now, as black gay men, feels so ahistorical to me, particularly in the HIV/AIDS realm. This book stands as a correction to the whitewashed 1980s AIDS activist narrative prevalent today. There were black gay men out there, like Joseph Beam, talking about being black gay men and HIV/AIDS in the 1980s and 1990s. We must excavate this legacy, to revise our blueprints today.
****
The weekly column, On the "A" w/Souleo, covers the intersection of the arts, culture entertainment and philanthropy in Harlem and beyond and is written by Souleo, founder and president of event/media content production company Souleo Enterprises, LLC.