So exactly how does one go from being a back-up singer for Mary J. Blige and Diddy to presiding over the hit TV judge show Paternity Court? If you're Lauren Lake, it starts with your upbringing.

"I was blessed to have two parents that allowed me to experience and try anything that interests me," she said. "I believe in living life without limits and going for it and seeing where the wave of life takes you. It took me in so many directions."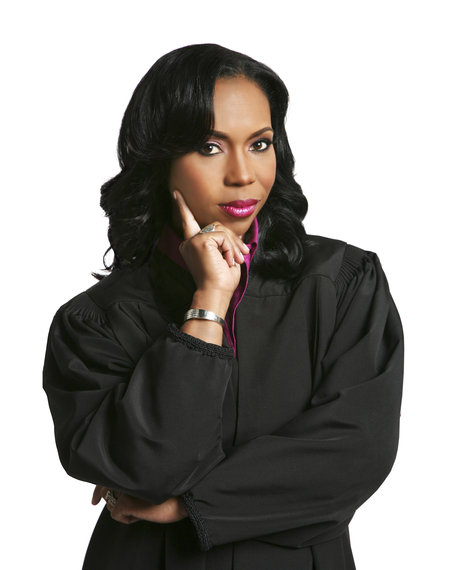 Lauren Lake/Courtesy: Cheryl Duncan PR

It's that emphasis on family that guides Lake's work on Paternity Court, where DNA tests are used to resolve legal issues involving paternity cases. It's the type of scenario that turned shows like The Jerry Springer Show and Maury into popular but controversial hits. The shows were criticized for sensationalizing complex issues of single parenthood, child support and infidelity surrounding the question of "who's the baby's daddy?" Lake advocates for a different approach, one that balances television's demand for drama with offering litigants useful counsel and support. According to her numerous cases film for well over an hour as she delves into the emotional issues of each case and afterward connects litigants with social service resources in their home state.

"I didn't want to do a show about whether or not someone is the father and have them skipping out of the courtroom. It is disrespectful to the children," she said. "However in this country and culture paternity issues are so pervasive and occur more often than we care to think and the message is important."

With the show in its second season Lake is also taking her message to other platforms. She has a new book slated for release in 2015, Lauren Lake's 10 Laws of Living, and she is going back to music with the forthcoming single "The Limitless Anthem."

"It is not about a record deal. I am not trying to be Beyoncé. It is a passion of mine and I enjoy doing it all."

Campaign against 'ratchet' music is making noise

With her positive anthem, Lake's music won't come under fire by the new campaign Rage Against the Ratchet. However, not all music artists are safe and the man putting them on blast is Grammy Award-winning producer and songwriter Carvin Haggins (Will Smith, Jill Scott, Musiq Soulchild, Mary J. Blige).
Originating in Philadelphia this past May, the campaign is aimed at raising greater awareness about what Haggins deems to be sexually explicit and violent lyrical content on urban radio stations. His primary concern is the impact such music has on youth when they are exposed to the tunes. In a petition on Change.org (which currently needs over 400 signatures to meet its goal) Haggins wrote the following: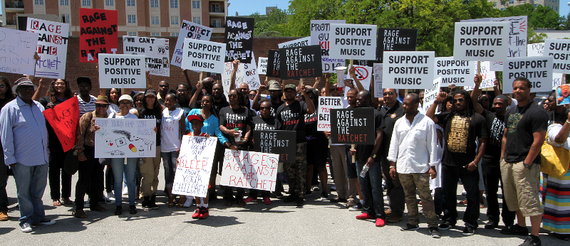 Rage Against The Ratchet Protesters
'Sadly, many of the artists out today don't produce what I would call 'radio friendly' music. 'Radio friendly' today approves of the b-word and the word 'ho.' Once upon a time the profanity in music was hidden so well with clever DJ scratches, 'radio' versions almost sounded better than the original. Today, lyrical content is so explicit, even the 'clean' version is problematic. Radio stations used to have rules and regulations for the music they played. There was no compromise. Now, it appears radio stations have compromised to please the artist and an industry that continues to push the already blurred lines of what is acceptable to say and suggest in music. That makes it 10Xs harder for me to be a fan of Hip Hop/R&B and parent at the same time. I have to protect my children because radio stations no longer feel a sense of moral responsibility.'
Haggins' message is steadily gaining more followers. Recently the campaign was acknowledged with an official Resolution from the City Council of Wilmington. And on October 22 Haggins is leading a planned protest at the Pennsylvania based station, Wired 96.5 FM. For more information on this protest and others visit: www.rageagainsttheratchet.com


****
The weekly column, On the "A" w/Souleo, covers the intersection of the arts, culture entertainment and philanthropy in Harlem and beyond and is written by Souleo, founder and president of event/media content production company, Souleo Enterprises, LLC.