Here's a story that should haunt Democrats: several friends of mine were working for the Kerry Campaign in 2004, and in the days and weeks leading up to the election, everything they witnessed on the ground pointed to a Democratic victory. States like Ohio and New Mexico were littered with Kerry yard signs, there were throngs of Kerry supporters waving from roadsides, and conversations in diners from Dayton to Albuquerque echoed the chorus of how much the country needed change.
Then came Election Day. A silent Republican majority - stealthily mobilized in church meetings and in neighbor-to-neighbor exchanges - turned out at the polls to deliver Bush narrow victories in battleground states and a second term in the White House. My friends, like so many other hopeful Democrats in states across the country, were stunned. The Democrats had generated so much more noise and visibility than the Republicans. So how and why had that failed to translate into more votes?
This gulf between apparent enthusiasm and actual turn-out is what motivated the creation of Vote From Home - a grassroots voter outreach organization founded by a current group of Rhodes, Marshall, and Truman Scholars. As the Obama Campaign and the Democratic Party have largely focused their efforts on persuasion, Vote From Home has made its singular goal to help would-be progressive voters who face logistical barriers to casting a ballot, or who simply haven't voted before and are daunted by the political process.
Most of us who are part of the Vote From Home team spent the past school year as graduate students in England, which, while a charming experience, also allowed us to realize that we were better wired for the bustle of campaign life than for the self-conscious intellectualism of Oxford. At the beginning of August, after months of honing a strategy, about fifteen of us (as well as a constant influx of other volunteers) moved into a cozy house in Columbus, Ohio.
We decided to operate out of Ohio when we discovered that in 2006 the state introduced its "no-excuse" law, allowing anyone to vote by absentee ballot, without needing an official reason for doing so. In addition to registering new voters, our organization focuses on getting absentee ballots to people unable to wait in several-hour long lines on Election Day that have disenfranchised some voters in the past: young single parents with small children and college students who are also working full-time. Just how unequal have the lines been in previous elections? In Ohio in 2004, according to the Columbus Free Press, white Republicans living in the suburbs waited in line an average of twenty-two minutes; black urban Democrats waited an average of three hours and fifteen minutes.
For the past two months, we've spent our days at places like community health clinics, church gatherings, bus stops, and community colleges trying to help make the political process as fair and inclusive as possible. We also follow up with voters whom we've previously assisted, delivering forms to them when they need to update their voter registration - a problem afflicting many people who no longer have a permanent address following the foreclosure of their home. We determined early on to measure our success by just one metric: ballots cast - particularly from people whom pollsters like to refer to as "unlikely voters." Despite being a relatively small group of nerdy grad students, we have now assisted nearly 10,000 voters.
We've found many of those 10,000 people in places that the campaigns pass over. At the start of every day, one member of our team goes to the Franklin County Parole Board to let felons know, often to their surprise, that they have the right to vote under Ohio's amended election laws.
Recently, a man who had just gotten out of jail after serving a nine year sentence stood up in the parole office and implored others who had been previously incarcerated to take the opportunity to vote. "Nine years ago, things were pretty awful for me, but it still felt like the country was on the right track," he said. "I got out in July, and we're at war and the economy's gone to hell. Now the country's in a worse place than I am."
While most of the country will decide on November 4th who it wants to be the next president, starting at the beginning of this week, the polls opened in Ohio for early voting. A group of Ohio State students supporting Obama spent the night outside the early voting site so that they could be the first to cast their ballots. The next influx of voters later in the morning was every bit as excited, and had logged plenty of their own nights outside: they were the men and women who are part of Columbus' homeless population.
The Vote From Home team spent the day shuttling over 100 people to the polls, many of them without IDs or permanent addresses, who are thus only able to vote early under Ohio law.
One of the people we helped transport on Day 1 of early voting was a homeless man in his 50s who was voting for the first time. He was wearing a Yankees hat and hadn't shaved in several days. On the ride over, he mostly kept to himself. But when he came out of the polling site, he was beaming.
"How'd it feel?" I asked?
"I just helped make history," he said, a note of awe in his voice and a fresh "I voted today!" sticker on his shirt.
He asked for a ride to the public library, and we soon went back to being quiet. But I could tell that his mind was still on fire. A few minutes later he got out of the car, and paused before shutting the door.
"Hey," he said, "I appreciate the ride."
Please join our effort and support our cause: www.votefromhome08.com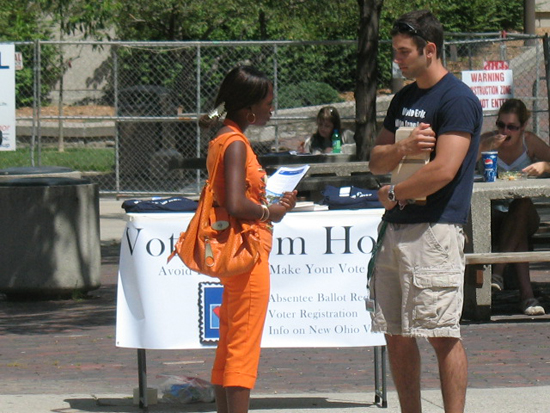 Assisting voters in the field at Columbus State Community College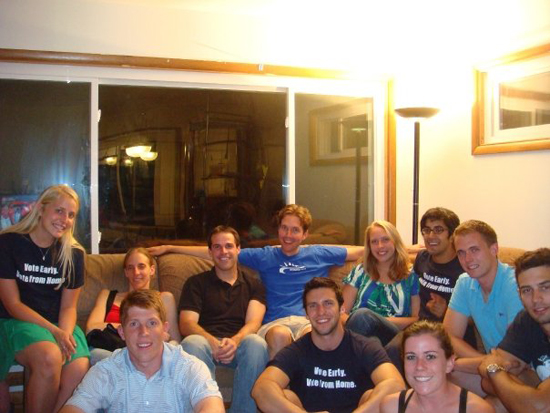 The Vote From Home team at headquarters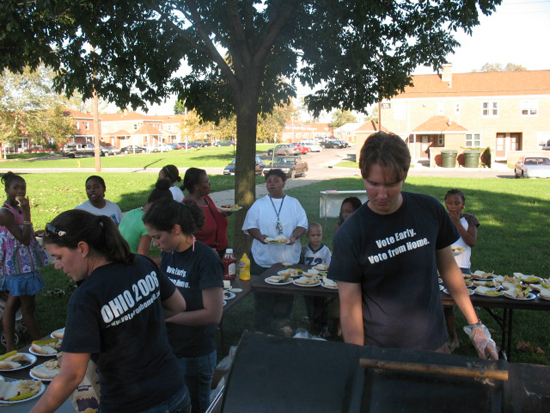 Hosting a community barbecue and registering voters following city-wide power outages