At the center of the Flushing Meadows Park in Queens, New York, the shiny Unisphere sits as a relic of the controversial 1964 New York World's Fair. Dedicated to "Man's Achievements on a Shrinking Globe in an Expanding Universe," one of the themes of the Fair that year, the Unisphere was one of many of the futurist architectural gems commissioned to celebrate the dawn of the space age and the hope of a brighter tomorrow.
Another development project funded in this effort included the New York State Theater at Lincoln Center. The inaugural tenants in 1964, George Balanchine and his already popular New York City Ballet, included Balanchine's The Nutcracker to be a part of the opening season repertory. One of the most spectacular productions in the company's repertory to this day, The Nutcracker is Balanchine's ultimate tribute to the magical hopes of youth.
Just a few years earlier in 1962, Paul Taylor was creating his Aureole, which the great late dance critic Clive Barnes once described as:
Perhaps his first major success, was the first time Taylor combined his loping antelope style of movement with baroque music, and its grace and individuality instantly spun into orbit throughout the world of dance. There is an interestingly variegated luminosity of spirit that recalls fluffy clouds on Shakespeare's summer's day.
Despite the political environment of the early 1960s, two of New York's leading dance makers were creating hopeful, joyful works.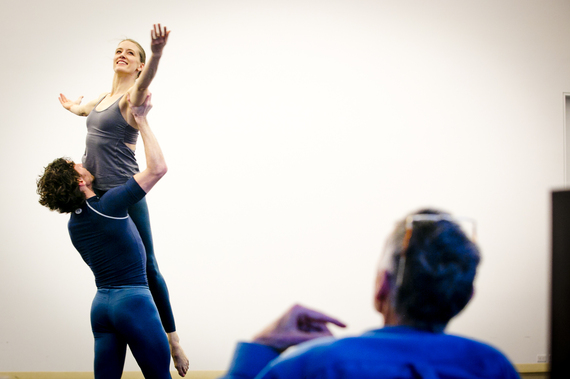 Paul Taylor at work. (Photo by Whitney Browne)
After George Balanchine's death, New York City Ballet has continued to call the New York State Theater its home, renamed the David H. Koch Theater following a $100 million gift from philanthropist David H. Koch in 2008. Having a dependable home base makes marketing for the company much more simple, giving the dancers, staff and donors the chance to create a real community housed within four walls and consistent annual performance seasons. With a permanent home, Peter Martins, New York City Ballet's Artistic Director, can not only program a diverse offering of Balanchine and Robbins classics that make up the repertory of New York City Ballet, but also stand behind his belief that "choreographic exploration is what sustains the company and the art form itself, and NYCB continues to present new work as an ongoing part of its performance seasons."
If George Balanchine is, in many ways, a Godfather to American Ballet, then Paul Taylor is a Godfather to American Modern Dance. Mr. Taylor celebrates his 83rd birthday this year, and his 60th as a dance maker at the David H. Koch Theater, with 20 repertory pieces and two world premieres -- bringing his total body of work to 140 dances in his lifetime. Celebrated as "greatest living pioneer of America's indigenous art of modern dance," Taylor joined the Martha Graham Dance Company in 1955, as was invited by Balanchine to perform as a guest artist with his company during his collaboration with Graham on Episodes, before pursuing his own company that to this day bears his name.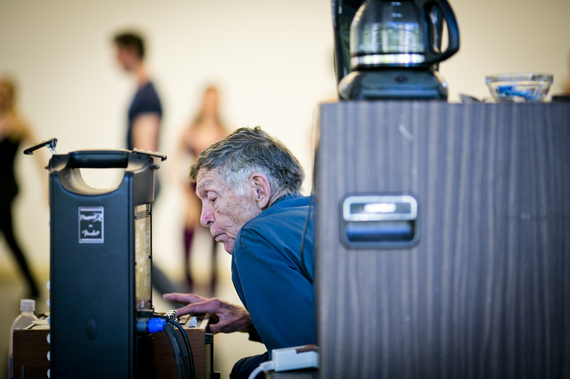 Paul Taylor (Photo by Whitney Browne)
The Paul Taylor Dance Company is in the process of executing Mr. Taylor's legacy plan -- Paul Taylor's American Modern Dance. Its mission is to be an institutional center for American modern dance in the United States, "a place where a new generation of contemporary choreographers will be nurtured and showcased; where the masterworks of the genre's great pioneers are preserved and presented; and where modern dance -- an indigenous American art form -- is large audiences to be experienced and celebrated." This mission mirrors that of New York City Ballet in many ways, and in this light, it makes logical sense for these two internationally respected companies to find themselves as roommates.
Making the move uptown presents new challenges for Taylor and his troupe -- the repertory looks different on a larger scale, a similar artistic obstacle that Balanchine faced as well when making the move from the much more intimate New York City Center stage to the larger State Theater. Changing the focus from a single choreographer model (currently, the company exists to perform Mr. Taylor works) to one that has a focus for pushing boundaries of modern dance and building upon other dancemaster's works as well, the shift poses other questions as well. How will Mr. Taylor's heirs curate and maintain his style? What will Taylor-trained dancers, refined in expressing his vocabulary, do with works by other choreographers? In which directions will the company expand?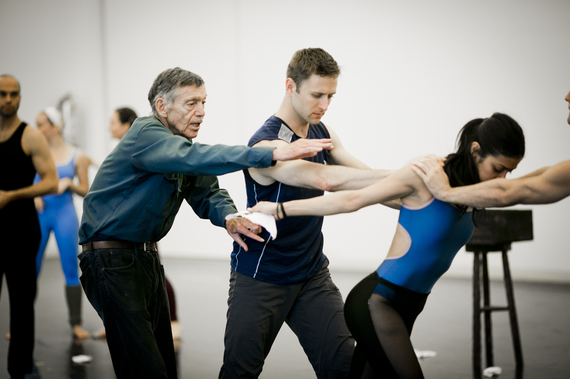 Paul Taylor in the studio. (Photo by Whitney Browne.)
Having attended multiple performances this season, I can personally testify to ongoing strength of the artistic product and reputation of the Taylor company. The dancers tackled an extensive and diverse range of works this season, showcasing the humorous, poetic, sometimes violent, romantic, sometimes queer, and yet always engaging sides of Mr. Taylor's artistic legacy. With this new initiative and new home at the David H. Koch Theater, Taylor joins Balanchine as an artist whose achievements we will continue to celebrate on a shrinking globe in our ever-expanding dance universe.