"Artists comfort and inspire us, awaken and change our minds and hearts, and ultimately have the ability to connect us all as human beings. Every time I attend the theatre, I hope to be altered in some way. The greatest achievement I can imagine in life is that I will do that for others, whether on the stage, on the screen, or through my writing, and that they will take my torch and run with it, fast and far, in completely new and exciting directions of their own." - Sarah Sokolovic, 2014 Annenberg fellow
Saeculum Obscurum, Latin for "The Dark Ages," was coined by Caesar Baronius in 1602 to describe the cultural decline of the Roman Empire between the 5th and 15th century in Western Europe. The strong arts patronage of the Medici family, along with other powerful families across the Italian Peninsula during the late 14th century, in large part led Europe into a cultural Renaissance; many new ideas in music, philosophy, science, art, medicine, technology, and political scholarship incubated under a few dynastic families. The Medici family, who gained their wealth and political influence through their banking and mercantile empires, realized the importance of the arts as an overall economic stimulus and a catalyst for social progress. It wasn't just making art for art's sake -- it was smart business.
In his State of the Union address in 1963, President Kennedy proclaimed that, "This country cannot afford to be materially rich and spiritually poor." The Kennedy family, a dynastic American family also heavily involved in politics and finance, adopted a similar attitude as the Medici, as did other prominent American families. The major American arts foundations that still bear their names are a reminder of the importance these people placed on the arts and the potential of the artist. If we as a civilization seek to continue to turn to our artists for inspiration, dialogue, and solutions, we must examine the arts-making climate in the 21st century in order to maintain our forward progress.
The idea of the "starving artist" today is complicated: at one extreme we have artists like Jeff Koons; his "Balloon Dog (Orange)" broke the world record this past November for the price paid for a single artwork by a living artist, fetching a little over $58 million at Christie's. At the other end of the spectrum lies the majority of other artists, the countless young people who move to large metropolitan centers like New York City to pursue their artist dreams -- often working multiple jobs to get by while attempting to create strong and focused artistic content. There are new challenges to today's artists: the dawn of the internet age has delivered both a new and wider platform for exposure as well as a seemingly infinite sea of alternative entertainment. The cost of living in major metropolitan arts centers globally has skyrocketed. Access to arts education is becoming more limited, and student loans make a career in the arts cost-prohibitive. With these increasingly daunting financial barriers to becoming an artist, are the most talented and promising artists always the ones who ultimately become the artistic leaders and pioneers of tomorrow?
An individual who recognized this inequality and social need was philanthropist Leonore Annenberg, who also served as the Chief of Protocol under President Reagan. Her husband, Walter Annenberg, served as the United States Ambassador to the United Kingdom, as well as managing his family's publishing empire. After her death in 2009, Annenberg's legacy continues through her philanthropic funds which focus on public service, education, and the arts.
Dr. Gail Levin is the Director of the Leonore Annenberg Fellowship Fund for the Performing and Visual Arts, administered by the Annenberg Public Policy Center of the University of Pennsylvania. Now in its seventh year, the ten-year Leonore Annenberg Funds Initiative has awarded a total of $13.2 million to arts fellows, students, and schools -- carrying Annenberg's commitment forward into the 21st century. Dr. Levin says,
"The arts give us humanity. Possibility. Activate the imagination. Teach us empathy. To think in new ways. Artists teach people to listen. To find discovery through the extraordinary. But patronage is not what it used to be. We're not doing enough to nurture young minds and help them appreciate the world of art. Arts education is no longer a mainstay in our public schools; it's so important to be able to reach these young people so that they develop a lifetime of arts appreciation. And for those with a strong voice, the costs of being a professional artist can be prohibitive. The young artists who receive fellowships very much want to share their gifts with others. The generosity of spirit in our young artists is what we invest in."
Seven arts fellows received grants from the Fellowship Fund this year, providing $50,000 a year for up to two years to "young artists of exceptional promise." Past recipients of the arts fellowship include Misty Copeland, the first African-American female soloist in two decades with American Ballet Theatre and author of the recent autobiography "Life in Motion: An Unlikely Ballerina;" actor Bryce Pinkham, who is starring on Broadway in the musical comedy "A Gentleman's Guide to Love & Murder;" and photographer Richard Mosse, selected to represent his home country, Ireland, at the 2013 Venice Biennale. This year's fellows include actress Molly Bernard, violinist Francesca dePasquale, violinist Tessa Lark, visual artist Mia Rosenthal, dancer Calvin Royal III, singer Ryan Speedo Green, and actress Sarah Sokolovic.
The fellowship identifies critical areas where the young artists must be supported: The artist must spend time within the art, and should be supported in order to avoid taking jobs outside of the art making process to make ends meet. The artist must have time for the creative process, time in the studio getting their hands dirty, as well as other diverse professional development opportunities. The artist must have the ability to choose high quality professional artistic projects, as opposed to having to sacrifice quality for quantity.
Bass-baritone Ryan Speedo Green, nominated this year for a Fellowship by the Metropolitan Opera's Lindemann Young Artist Development Program said of the process, "I feel that I am poised to inspire people who, like me, came from very little means. I believe that I have the passion to attain ever higher levels of accomplishment as an international singer, in an art form that moved me so long ago and that continues to stir my soul today."
Like any investment, there must be accountability and measurable incomes. The fellowship creates a customized detailed plan with each artist, pairs each artist with a mentor in their field, and focuses on both concrete results and the less tangible impact of the fellowship. Artists in the past have spent their award on website development and other professional business expenses, living and training expenses, and supplemental courses in other disciplines. Up to 20 percent of the award may also be used to pay back student loans, a rare acknowledgment of the often crippling burden carried by many young artists who emerge into the professional field. The award also provides the intangible benefit of artistic validation, and the confidence to process with breaking boundaries.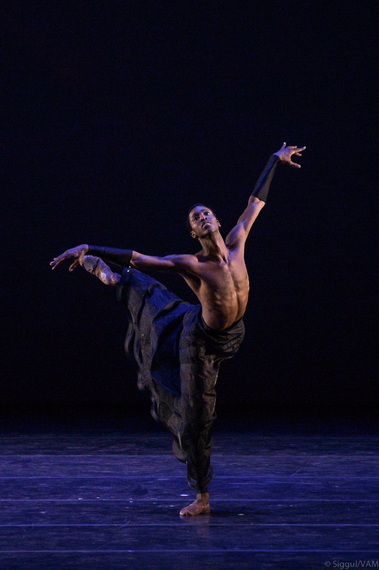 American Ballet Theatre's Calvin Royal III, 2014 Annenberg fellow, performing at the YAGP Gala. Photo by Siggul/Visual Arts Masters.
Among the 2014 Annenberg fellows is American Ballet Theatre (ABT) corps de ballet dancer Calvin Royal III. Spotted at the Youth America Grand Prix finals by Franco De Vita of ABT's Jacqueline Kennedy Onassis School (Caroline Kennedy is the honorary chair of the Company), Royal was awarded a full scholarship to the school - making the otherwise impossible connection to a professional career. He was invited to join the Studio Company, and now is a sparkling member of the main company. He was one of Dance Magazine's "25 to Watch," standing out for his sublime dancing last season in Stanton Welsh's "Clear." His fellowship mentors include Clinton Luckett, a ballet master with ABT, Rachel Moore, ABT's CEO, and Valentino D. Carlotti, an ABT trustee and Partner and Head of Securities Division Institutional Client Group at Goldman Sachs - an impressive group of artistic godparents. ABT embarks this week on their annual 8-weeks of season at the Metropolitan Opera House at Lincoln Center -- be sure to keep an eye out for Calvin.