This month's launch of the online insurance marketplace called for in the U.S. Patient Protection and Affordable Care Act was more than a little sickly. The goal of the law, according to the U.S. Department of Health and Human Services, is to make health care "more accessible and affordable for many Americans," but the online portal designed to deliver that access to Americans has been riddled with problems. Unfortunately, those who look for help elsewhere on the web may run into even more problems.
This is why presenting accurate information where Internet users are looking for it, especially if those Internet users do not realize what they're looking for, is so key to a company's or government's domain name strategy.
FairWinds Partners surveyed the domain name space and found 22 registered domains that are typos of "Affordable Care Act," a common shortened version of the law's formal name. The content of those sites breaks down as follows:
- 68 percent resolve to pay per click (PPC) sites
- 23 percent resolve to content, some of which is health care related and some of which notes that the domain name is for sale
- 9 percent resolve to an error or index page
FairWinds found another 60 registered domains that are intentional misspellings of the term "Obamacare," a moniker many Americans use to describe the health care reform law -- sometimes without knowing that the two are one and the same. A CNBC survey, for example, found that 46 percent of Americans oppose Obamacare, while 37 percent oppose the Affordable Care Act.
The content of the Obamacare domain name typos breaks down as follows:
- 53 percent resolve to pay per click sites, some of which are for sale
- 30 percent resolve to content, some of it health care related
- 17 percent do not resolve or resolve to an error page
In both cases -- typos of Affordable Care Act and typos of Obamacare -- the majority of domain names resolve to pay per click content. This is unsurprising, given that PPC sites are an easy, passive way for the domain name owner to gather money from visitor traffic (the domain name owner collects a fee for each click on an advertising link,).
More disconcerting for Internet users, the U.S. government, and even brands, however, may be those domain names that resolve to actual websites, since these websites peddle information that is not officially sanctioned.
ObamaCarr.com and ObamaCre.com, for example, have the same owner and resolve to content that claims to provide "free quotes from top insurance companies":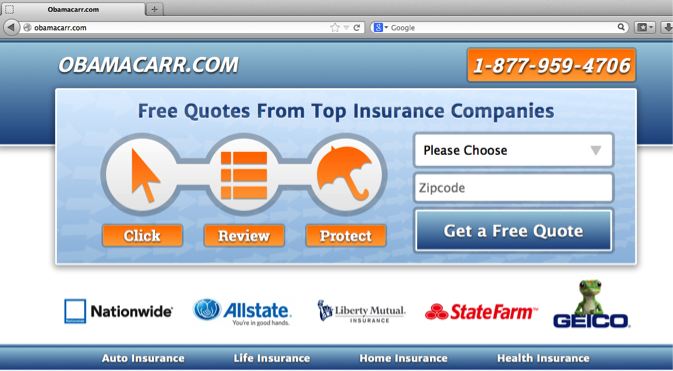 Not only does the content confuse visitors who may want to learn more about the Affordable Care Act (which does not extend to home insurance, life insurance or auto insurance), it associates major brands with an unofficial, potentially misleading health care information page. If these brands have not consented to the use of their marks, Internet users cannot be certain that the information is accurate or that any personal information they provide won't be used for malicious purposes.
Then, there is ObamaScare.com: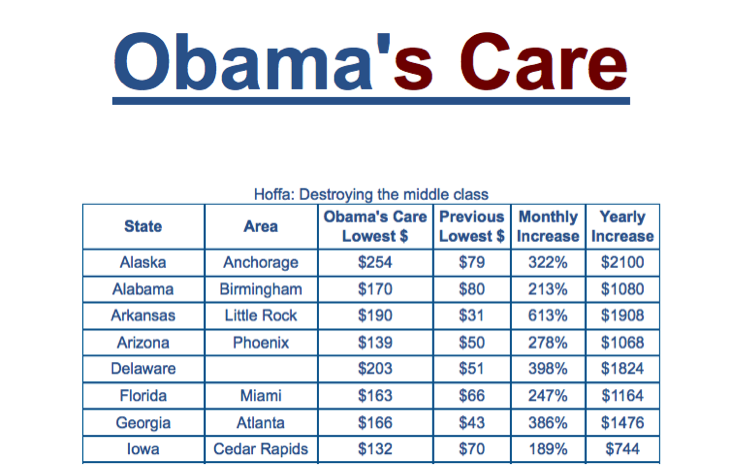 Neither President Obama or the Department of Health and Human Services wants the Affordable Care Act to be associated with "destroying the middle class," as this content declares. But some unwitting Internet users may not realize the site is a scam.
My favorite typo? AffordableCareCat.com: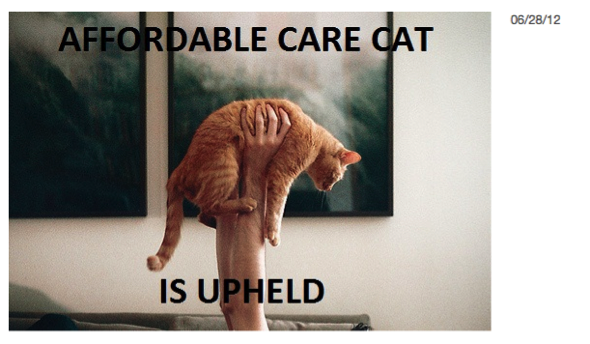 Because who doesn't like a good cat meme?
Nevertheless, the misuse of Affordable Care Act and Obamacare domain names not only erodes understanding of the health care reform law and mislead Internet users on brand information, it undermines the value of the Internet itself by confusing users for ill-gotten gain. This does not apply to gripe sites or pages set up for entertainment: Those are considered fair use.
Perhaps the Obama administration should have anticipated this issue and registered some of the more obvious typo variations (like ObamaScare.com), even though it's impossible to think of and register all possible domain name variations that could be misused. That's why Internet users should surf the web with a life preserver on: In other words, remain vigilant when looking for information on the Affordable Care Act. Stick with .GOV sites for official information about the law and enrollment into the program.