Tonight, while you're pondering, weak and weary...
Oops! Wrong poem!
Before you settle down for a long winter's nap, let me suggest something a lot cooler than visions of sugar plums dancing in your head.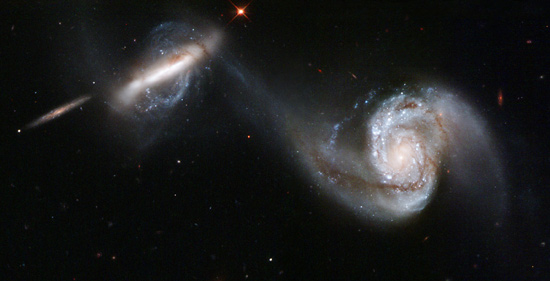 Astronomy may be the most visual and beautiful of all the science. Who can resist a grand design spiral galaxy, or a gas cloud where we know there are sun-like stars being born as we watch? As technology gets better, so too do the images brought down from the heavens. Every year I am astonished to see ever more gorgeous astronomical pictures coming from telescopes across -- and above -- the world, so I put together a Top Ten Astronomy Pictures of 2007 on my blog, Bad Astronomy.
And because the choices were so tough this year, I posted a Runners-Up List as well!
If the weather, the scandals, the family, the primaries, or just life is getting you down, then these pictures may just lift you up again. It's always nice to be reminded that there's a great big Universe out there, and it's pretty easy on the eyes.