Jimmie Lunceford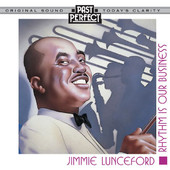 Swing Era bandleader and alto-saxophonist Jimmie Lunceford was born in Mississippi in 1902, son of a church singer. He studied under bandleader Paul Whiteman's father in Denver and attended Fisk University in Tennessee and City College in New York. After settling in Memphis to teach high school, Lunceford founded the student jazz ensemble the Chicksaw Syncopators and took it pro by 1930. The group recorded sporadically until 1934, when it claimed a coveted spot at Harlem's Cotton Club. Refreshed within a year as The Jimmie Lunceford Orchestra, the outfit followed up with recordings for Decca. During its storied run, the swingin' ensemble included Moses Allen (bass), Jimmy Crawford (drums), Eddie Durham (trombone), and Sy Oliver (trumpet). In 1947, a sudden heart attack took Lunceford at the much-too-early age of 45. Revisit Jimmie Lunceford with his 1935 signature track "Rhythm Is Our Business," from Rhythm Is Our Business.
Buy: iTunes.com

Genre: Jazz/Swing

Artist: Jimmie Lunceford

Song: Rhythm Is Our Business

Album: Rhythm Is Our Business
Rickie Lee Jones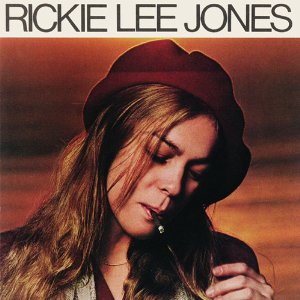 Singer/songstress, producer, and two-time Grammy winner Rickie Lee Jones was born in Chicago, one of four children, raised in a "hillbilly-hipster" household of vaudevillian stock. A solitary child with a deep imagination, she learned to sing from her father. Rickie Lee left home for California at the end of her teens and settled in Venice Beach. By her early 20s, she started making her bones on the club circuit. By the late '70s, Tom Waits entered her life; the two forged a pivotal union inking the heart. Jones went on to collaborate with Dr. John, Lowell George, James Newton Howard, Charlie Hayden, and Joe Henderson, issuing a golden score of releases throughout the decades. Her 1979 debut album, Rickie Lee Jones, produced by Lenny Waronker and Russ Titelman, is an astounding soundmark. Download "The Last Chance Texaco," from Rickie Lee Jones. Get full album!
Buy: Amazon.com

Genre: Singer/Songwriter

Artist: Rickie Lee Jones

Song: The Last Chance Texaco

Album: Rickie Lee Jones
Brother Joe May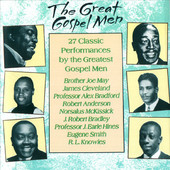 Tenor Brother Joe May was born in Macon, Mississippi, on November 9, 1912. By the age of 9, he started singing in church. In 1941, he moved to East St. Louis, where he studied with the legendary Willie Mae Ford Smith, who dubbed him "The Thunderbolt of the Middle West." By 1949, May was discovered by J.W. Alexander and debuted with "Search Me Lord" for Specialty Records. In the late '50s, May moved over to the Nashboro label, where he remained throughout his career. The early '60s found May starring as the lead in Black Nativity with Marion Williams. This Gospel great passed away in 1972 from a stroke. Relish Brother Joe May's beginnings with "Our Father," from The Great Gospel Men: 27 Classic Performances by the Greatest Gospel Men collection.
Buy: iTunes.com

Genre: Gospel

Artist: Brother Joe May

Song: Our Father

Album: The Great Gospel Men: 27 Classic Performances by the Greatest Gospel Men
David Amram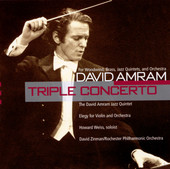 Classical/jazz virtuoso and multi-instrumentalist David Amram was born in Depression-era Philly. As a child, he studied piano, yet the French horn became his mainstay. After studies at Oberlin, he graduated from George Washington University in 1952. At that time, he played for the National Symphony Orchestra, but by decade's end, he was a major Beat movement figure, collaborating with Allen Ginsberg and Jack Kerouac. Amram's other collaborations include Leonard Bernstein, Dizzy Gillespie, Dustin Hoffman, Willie Nelson, Thelonious Monk, Charles Mingus, and Lionel Hampton. Among his theater, orchestral, opera, and film credits are

Pull My Daisy,

The Manchurian Candidate

starring Frank Sinatra,

Splendor in the Grass,

and

The Final Ingredient.

Accolades include six honorary doctorates. This true original has issued a treasure trove of releases, both as a soloist and a sideman, and continues to tour. Discover Amram's "Elegy," from his 1998 Triple Concerto.
Buy: iTunes.com

Genre: Classical

Artist: David Amram

Song: Elegy

Album: Triple Concerto
Percy Sledge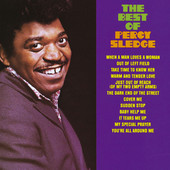 Master soul singer/songwriter Percy Sledge was born in Leighton, Alabama, in 1940. Raised on gospel music, he started singing professionally with the Esquires Combo as a teen. Before embarking on his solo career, Sledge worked in a hospital, where a patient fatefully introduced him to producer Quin Ivy. Shortly thereafter, the historic recording "When a Man Loves a Woman" catapulted Sledge to instant immortality. He went on to sign with Atlantic and racked up countless vinyls. He's collaborated with Spooner Oldham, Bobby Womack, and Mick Taylor. Accolades include the Rhythm & Blues Foundation's first Career Achievement Award in 1989 and induction into the Rock and Roll Hall of Fame in 2005. Sledge steadfastly tours the world, his magic and genius crossing all boundaries. Revisit the eternal 1966 classic "It Tears Me Up," from The Best of Percy Sledge.
Buy: iTunes.com

Genre: R&B/Soul

Artist: Percy Sledge

Song: It Tears Me Up

Album: The Best of Percy Sledge
George Jones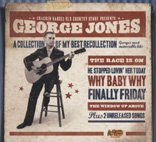 Country Hall of Famer George Jones made records for over five decades, raising the bar for the everlasting genre. Brimming with humility, passion, and candor, amidst his hard-scuffled reputation, he was an integral force in the history of American music. Born in Saratoga, Texas, in 1931, one of 7 children, he called radio his first instrument, before taking the guitar into his arms by his teen years. At 16, he left home to follow his dream and served in the Marines during the Korean War. In the '50s, he started marking his illustrious catalog, amassing over 40-plus releases, including his legendary collaboration with country queen and ex-wife Tammy Wynette. Among his collaborations: Gene Pitney, Brenda Lee, Merle Haggard, Johnny Cash, Leon Russell, Dolly Parton, Shelby Lynn, and Keith Richards. Jones, a National Medal of Arts winner, was honored at the Kennedy Center for his lifetime contribution to American culture in 2008. His was also awarded two Grammys, among his dozens of accolades. George Jones passed away in 2013. Remember his nostalgic fingerprints with Grammy-winning "He Stopped Lovin' Her Today," from A Collection of My Best Recollection.
Buy: CrackerBarrel.com

Artist: George Jones

Song: He Stopped Lovin' Her Today

Album: A Collection of My Best Recollection