Juana Molina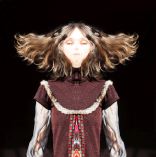 Singer/songwriter and actress Juana Molina was born in Buenos Aires, Argentina, in 1962. Molina's father, a tango performer, gave her guitar lessons nearing the age of 5. In 1976, the Molina family exited Argentina just after the military takeover and lived in Paris for six years. By 1988, back in her homeland, Molina's career started as a TV comedienne. During the mid-'90s, her passion for music came to fruition. Molina has toured with David Byrne and most recently Feist. The title "Dar (Que Dificil)," from her 2008 release Un Dia, threads the avant-garde through an artful pop fabric.
Buy: iTunes
Genre: World/Alternative
Artist: Juana Molina
Song: Dar (Que Dificil)
Album: Un Dia
Aaron Copland

Iconic American composer and arranger Aaron Copland was born in New York City on November 14, 1900. His first musical inspiration came from his older sister, who taught him piano, beginning his artful odyssey. By his teens, sights set on composing, he went to Paris, where he became the first American student of the legendary Nadia Boulanger. (He was selected a few years later to write a concerto for Boulanger's American performances.) Copland's creations run the gamut: orchestral, choral, ballet, and film scores. His most notable works include "Appalachian Spring," "Billy the Kid," "Rodeo," "Of Mice and Men," "The Heiress," and "Connotations" (a piece written for the opening of Lincoln Center in 1962). His accolades include the 1945 Pulitzer Prize in Composition for Appalachian Spring, the 1950 Oscar for Best Musical Score (The Heiress), and the 1960 Grammy for Best Contemporary Classical Composition (Orchestral Suite from The Tender Land). The Maestro passed away in December 1990, but his immortal music is a constant gift. Copland's epic 1938 title "Billy the Kid (Suite)," from A Copland Celebration, Vol. 1, is completely stirring and elegant.
Buy: iTunes
Genre: Classical
Artist: Aaron Copland
Song: Billy the Kid (Suite)
Album: A Copland Celebration, Vol. 1
Tandemoro


Duo Tandemoro are the singer/songwriter team of Mike Griffin (guitar) and Mike Schanzlin (piano) founded in Los Angeles in the late '90s. Tandemoro have recently expanded their unit to include Shannon McKinnon (drums) and Bill Watterson (bass). Their 2006 album, The Movers & the Shakers, was born in an apartment in the San Fernando Valley. The title "Los Angeles" has a hypnotic, press-rewind-listen-again-100-times groove.
Buy: iTunes
Genre: Rock
Artist: Tandemoro
Song: Los Angeles
Album: The Movers & the Shakers
Miguel Calo


Tango bandoneonist, composer, and band leader Miguel Calo was born in Argentina, 1907. Calo was a master of the violin and the bandoneon, a small accordion similar to the concertina. In the mid-'20s, Calo's career began in Osvaldo Fresedo's orchestra. By the mid-'40s, Calo reached great success in La Orquestra de las Estrellas (Orchestra of the Stars). His collaborations include pianist Carolos Di Sarli, singer Carlos Dante, singer Alberto Morel, and pianist/conductor Osmar Moderna. Calo passed away in 1972 but leaves behind a seriously romantic legacy. Miguel Calo y Su Orquestra's "Inspiracion," from the collection La Antologia Noble de Tango: Sus Grandes Interpretes & Compositores, is utopian and deep.
Buy: iTunes
Genre: Tango
Artist: Miguel Calo
Song: Inspiracion
Album: La Antologia Noble de Tango: Sus Grandes Interpretes & Compositores
My Brightest Diamond


Brooklyn-based My Brightest Diamond is led by singer/songwriter Shara Worden, the daughter of a nomadic musician clan. With panache, she has created a charismatic choir. My Brightest Diamond's lineup includes the Osso string quartet, Rob Moose (violin), Olivier Manchon (violin), Marla Hansen (viola), Maria Jeffers (cello), Nathan Lithgow (bass), Brian Wolfe (drums), Chris Bruce (bass), Earl Harvin (drums), David Michael Stith (vocals, piano), Sebastian Krueger (guitars, clarinet), Pedestrian ("All of it, baby"), Joel Shearer (guitars), Blair Sinta (drums), Zac Rae (keys), Joe Karnes (bass), and Hella Fabulous (yelling). My Brightest Diamond has played with The National, The Decemberists, and Sufjan Stevens, among others. The title "Dragonfly," from the 2006 album Bring Me the Workhorse, is just lovely. Currently touring.
Buy: iTunes
Genre: Alternative
Artist: My Brightest Diamond
Song: Dragonfly
Album: Bring Me the WorkhorseTour: Visit
Dave Apollon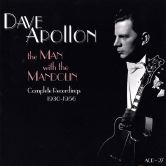 Master mandolinist Dave Apollon (a.k.a. the World's Greatest Mandolin Virtuoso), born in the Ukraine in 1897, was a gifted child who taught himself the instrument. By the age of 14, the charismatic Apollon led his own ensemble. Amid the the massive slaughter of World War I and the Russian Revolution, he served with the mandolin by his side. By 1919, after traveling the world, he ended up in New York City and began a 20-year run in vaudeville and the nightclub circuit. In 1937, he married show dancer Danzi Goodell. Throughout the '30s, Apollon made private recordings and appeared in films, eventually signing with Decca Records in 1941. Throughout the 1940s, Apollon worked on Broadway and in Hollywood. His collaborations included legendary guitarist Django Reinhardt and soundtrack arranger Jimmie Haskell. In 1956, he released his first album, and performed in Vegas until his retirement in 1963. Apollon passed away in 1972. The title "2nd Hungarian Rhapsody," from the collection The Man With the Mandolin: Complete Recordings, 1930-1956, is a nostalgic journey to somewhere old and new.
Buy: iTunes
Genre: Folk Classical
Artist: Dave Apollon
Song: 2nd Hungarian Rhapsody
Album: The Man With the Mandolin: Complete Recordings, 1930-1956