Captain Beefheart


Captain Beefheart (a.k.a. Don Van Vliet) was born in Glendale, California, in 1941. He has a jaw-dropping vocal range. By the age of 4, Don was showing signs of artistic genius in painting, sculpture, and music. At 13, his family moved to California's Mojave Desert, then to Lancaster in L.A. County. It was there Vliet met Frank Zappa and formed a musical friendship. In 1964, Vliet took the name Captain Beefheart and put together his first Magic Band. Captain Beefheart recorded over a dozen albums during his career. He took Southern blues, jazz, and rock 'n' roll and cooked it up into his own unconventional, off-beat concoction. His vocation as a painter won him critical praise and profit, and in the '80s he took it up full time, retiring from both music and the public eye. "Floppy Boot Stomp," from the 1978 album Shiny Beast (Bat Chain Puller), is a good introduction to this seriously gifted, singular artist.
Buy: Amazon.com
Genre: Rock
Artist: Captain Beefheart
Song: Floppy Boot Stomp
Album: Shiny Beast (Bat Chain Puller)
Tommy Jordan


Singer/songwriter/multi-instrumentalist Tommy Jordan, the front man for Geggy Tah, was born and raised in Palo Alto, California. Jordan is a music magician of sorts and should be hung on the wall at the Whitney Museum, as he is all art. His live performance is like watching 100 televisions at once. His sound is pop smart and smothered in happiness. Start with "Dumb Submarine," from the 2001 Geggy Tah release Into the Oh.
Buy: iTunes
Genre: Rock
Artist: Tommy Jordan
Song: Dumb Submarine
Album: Into the Oh
Syreeta


Singer/songwriter Syreeta Wright (a.k.a. Rita Wright) was born in Pittsburgh in 1946. Her early career began as a receptionist at Motown Records. She was eventually discovered by legendary songwriter Brian Holland. Her first single, in 1967, "I Can't Give Back the Love I Feel for You" (a song originally intended for Diana Ross), was produced by Ashford and Simpson. Shortly thereafter, Stevie Wonder encouraged Wright to become a songwriter. She went on to co-write "Signed Sealed Delivered, I'm Yours" with Lee Garrett, Lula Hardaway, and Wonder. Her collaborations include Minnie Ripperton, Billy Preston, Smokey Robinson, and Quincy Jones. In 1970, she and Stevie Wonder married. The marriage was short-lived (eighteen months), but the two remained on good working terms. Sadly, Wright died in 2004 at the early age of 58. The title "To Know You Is to Love You," a duet with Stevie Wonder from the 1974 album Stevie Wonder Presents Syreeta, is a real treat. Her voice is clear and soulful, and the production has a funky elegance.
Buy: iTunes
Genre: Soul
Artist: Syreeta
Song: To Know You Is to Love You
Album: Stevie Wonder Presents Syreeta
Josephine Foster


Colorado native singer/songwriter Josephine Foster holds court on the precipice of eccentric. According to her MySpace page, she is "a self-proclaimed opera school dropout." Her career started at the of age 15 as a funeral singer. Foster has a mystical and reverent air. I imagine the late great Jeff Buckley would have been a fan. "Worried and Sorry," from her 2004 album All the Leaves Are Gone, sounds homegrown and enchanting. An artist to watch.
Buy: Amazon.com
Genre: Folk Rock
Artist: Josephine Foster
Song: Worried and Sorry
Album: All the Leaves Are Gone
Reverend Gary Davis


Reverend Gary Davis was born in April of 1896, in Laurens County, South Carolina, one of eight children (six of his siblings died in infancy). Blind from an early age, he was raised on a farm by his grandmother, as his parents were unsettled spirits and unable to care for him. Davis remained close to his surviving brother, whom he taught guitar. Sadly, his brother was murdered in 1930. His signature is an infusion of folk, ragtime, blues, and gospel. Davis, who was also a street preacher, died in 1972, but he left behind a great body of work. Recorded in the mid-1960s, "Lord, Search My Heart," from the anthology Demons and Angels: The Ultimate Collection, is what real sounds like.
Buy: iTunes
Genre: Blues/Gospel
Artist: Reverend Gary Davis
Song: Lord, Search My Heart
Album: Demons and Angels: The Ultimate Collection, Part 3
Grizzly Bear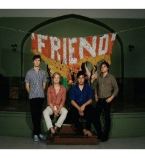 Grizzly Bear is an ethereal four-piece rock band based in Brooklyn, New York. The music is made by Edward Droste (singer/guitarist), Daniel Rossen (singer/guitarist), Christopher Bear (drummer/vocals), and Chris Taylor (bass/woodwinds/electronics/vocals). They marry acoustic-organic textures with electronic elixirs. Grizzly Bear is set to tour with Radiohead in August. The title "Granny Diner," from the 2007 release Friend, is unusually bewitching and outright beautiful.
Buy: iTunes
Genre: Rock
Artist: Grizzly Bear
Song: Granny Diner
Album: Friend
Tour: Visit