On what I like to call my "free days," I do essentially anything I want... within reason, of course (insert evil grin here). But honestly, the craziest I get these days is throwing on my DC-original Ben's Chili Bowl sweatshirt, a pair of frayed old blue jeans, my wool paperboy hat (that I had imported from the motherland of Ireland some twenty years ago) and then off I go to my local Movie Tavern to watch movies and drink whiskey-laced milkshakes (yes, it DOES taste as good it sound).

On a free day not so long ago, I had the opportunity to stroll around the West 7th area - a part of town many call Uptown - which is one of the fastest growing areas in Fort Worth. I was absently gazing into spaces I not been into yet, jonesing for my next whiskey-laced milkshake, when I ran into someone I was least expecting... God.
I didn't find God in one of the relic churches in the area, who are fading into obscurity (because they refuse change). Nor did I find God in one of the bank-rolled hipster/tattoo-laced/homophobic/misogynistic Acts 29 churches that seem to be sprouting-up on every fucking corner of Fort Worth (who externally might look like they're all about change - except that their only core identity is to not look like their parents' churches); they make me want to wear long-sleeves in the hotter-than-hell Texas summers because I'm mortified I might be guilty by association - as a pastor who happens to be covered in ink. I found God that day in the eyes of an unsuspecting young lady named Shelia who simply said to me, "Welcome to Teskey's."

I humbly understand, that no matter if I am dressed-down for a free day or if I am all gussied-up in my signature fedora and pearl snap shirt, I am somewhat intimidating when I walk into a space populated by persons who don't know me from Adam. Having the swagger of Jay-Z and the fuck-you air of my late cousin Johnny Cash, people often don't what to do with me... especially when they find out I'm a minister. However, without a second look or a whisper of doubt, Shelia welcomed me (in her sincere Texas lilt) and urged me to explore the vast amazingness of the Teskey's store.

Hospitality is a gift that we as culture treat as a forgotten pastime. I don't expect to be greeted with genuine hospitality when I walk into a church, let alone walk into a retail shop in the middle of Uptown Fort Worth. But the day I walked into Teskey's Uptown Shelia taught me that genuine hospitality is not only alive and well today, but it's alive and well at Teskey's. And although this may make Shelia shutter with embarrassment, but it is because of her genuine hospitality that I ran into God that afternoon...and She kicked my ass (in a good way!).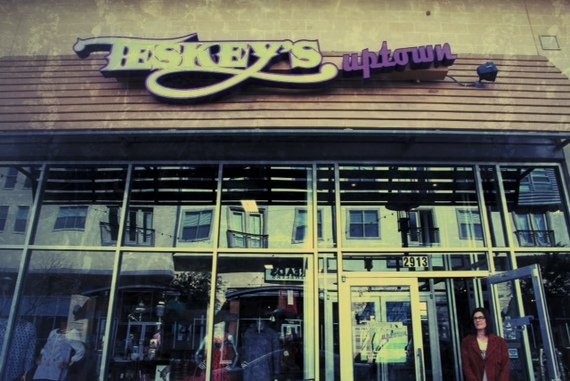 Teskey's Uptown is a retail shop - but more than that, it is an amazing kaleidoscope of cowgirl/cowboy apparel and boots - that caters to both the urban cowgirl/cowboy (such as myself) as well as too the real deal cowgirls/cowboys that still roam the streets of Fort Worth. And the genuine hospitality I received didn't stop with Shelia, but poured out of her amazing staff as well. It's truly an unique place - something that I have honestly never seen before.

If you already live in Fort Worth, or if you are coming to Fort Worth for a visit, Teskey's Uptown is a MUST destination... it's everything I love about living in Texas.

So, without further ado, here is my interview with Shelia. Join us as we chat about genuine hospitality and the awesomeness of Teskey's. And be on the lookout on Outlaw Theology for Shelia's video interview that we did on location at Teskey's.
How long has this location of Teskey's Uptown been open? Since 2011.
Why was Uptown chosen for the shop's additional location? West 7th is a new and upcoming area.
How do the two locations of Teskey's differ from one another? The Teskey's in Weatherford is located in the cutting horse capital of the world. It offers everything a horse owner needs from feed to ropes and spurs. If you need a show shirt or a pair of Wranglers, Teskey's Weatherford is your go-to. Teskey's Uptown is the place for the city cowboys and cowgirls. We'll put you in a pair of Seven for All Mankind jeans and a Robert Graham shirt and the best looking pair of Lucchese boots you've ever seen.

Why is it important to offer different products to rural and urban markets? Whether city or country, we all love great boots and jeans. We just wear them a little differently. Some of us may not rope and ride, but we want to share in the look.
Is there hope of attaching a diner to the Uptown location? I doubt we'll see a Teskey's café in the Uptown location. We are already surrounded by amazing restaurants, although we can pour a glass of wine or pop the top off a cold beer. Teskey's Uptown not only carries higher-end brands, we also carry something for that college student on a budget.
How has living your translation of the Golden Rule affected how you do business? The bottom line for any business is profit and there are many ways to obtain it. It's a puzzle with many pieces. For us, hospitality is a major piece of the puzzle. We've all experienced a high-pressure sale, leaving us unwilling to go back to that store. We want you to leave here not only loving your Old Gringo boots, but also feeling like you've made a friend.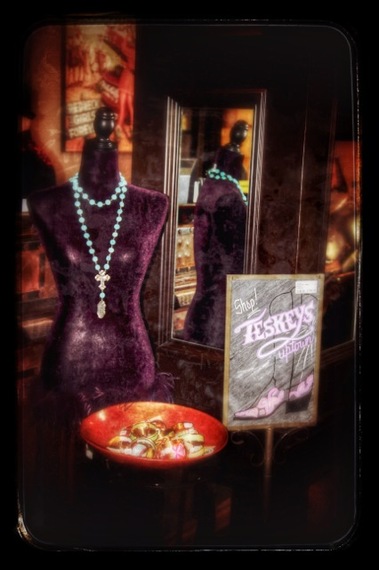 How has the gift of hospitality shaped you? I truly want to treat people the way I like to be treated. I always enjoy connecting with a customer. It's a special feeling when someone walks in a stranger and leaves as a friend. Sometimes we get to help you pick out something for a special event and every once in a while, the encounter between two strangers is the special event.
How do you plan to continue to draw in employees who buy into the culture and ethos you created here? The time I have spent being manager of Teskey's Uptown, I've truly been blessed with an amazing staff. But frankly, employees are like a box of chocolates: you never know what you're going to get.

What's next for Teskey's Uptown? To continue to provide great boots and clothing to the true believers of the cowboy dream. And it doesn't hurt to have the Whiskey Preacher pimp out our products!

Lastly, how well do you think Texas MLB teams will fare? Teskey's Uptown will always root for the Texas Rangers.