Starting out as a fledgling theater director, as I did not too long ago, you will most likely find yourself confronted fairly quickly with an inescapable truth about the work you do. You are, of course, an individual artist, with visions and aspirations and emotions and ways of looking at the world that are yours and yours alone. The medium you have opted to work in, however, is utterly collaborative, and you have further chosen a particular path that leaves you entirely dependent on the contributions of others to create your work. You can't direct in a vacuum: without a group of peers with whom you share a vision, an aesthetic, even just a single idea, your art exists solely within you, with no outlet for expression. This is a humbling truth, and it is why I am always thrilled when I find collaborators with whom I work exceptionally well.
All this is by way of introducing a project that has exemplified, for me, the rewards and possibilities that will spring into being when you do find that exceptional group of collaborators. This week Lunar Energy, the theater company I am lucky enough to lead, will open our world premiere production of By Rights We Should Be Giants, a new play that examines the uncertainty of American life in the past decade using Anton Chekhov's classic drama Three Sisters as inspiration and structural framework. My colleagues Nadia Sepsenwol and Tim Van Dyck, the co-writers, as well as Christopher Diercksen, our director, have already shared their insights about the genesis, process, and raison d'etre of this production. I would just like to add a few observations of my own- as well as some photo documentation of the process of bringing this show into existence!
In 2011, I had one of those aforementioned thrilling collaborative experiences with the cast of Lunar Energy's show Before Placing Me On Your Shelf. It was a strange piece that required a true ensemble mentality, and luckily the actors were up for the challenge. In the course of discussing other dream projects, Three Sisters came up, and the excitement that resulted quickly went from "hey yeah we could do that" to "Hey... YEAH! We could DO that!" After an exploratory readthrough of Chekhov's play, we determined to proceed with developing our own version, and Nadia & Tim were fortunately up for the challenge of creating the script.
Soon afterwards, we began a series of monthly workshops in which we played around with Chekhov's text, characters, and themes, brainstorming how best to translate them into a contemporary setting. Practically every month we were joined by a few new faces eager to explore with us, and it was galvanizing to have a slightly different group of people every time we met. We had sessions with three people, six people, ten, fourteen. We read Chekhov. We listened to different styles of music. We created silent movement pieces. We imagined as a group the sights, smells, and sounds of Rust Belt Ohio, our chosen setting. We improvised entire scenes. We congregated in apartments, in dance studios, even in an unfinished room above a storefront church in Harlem: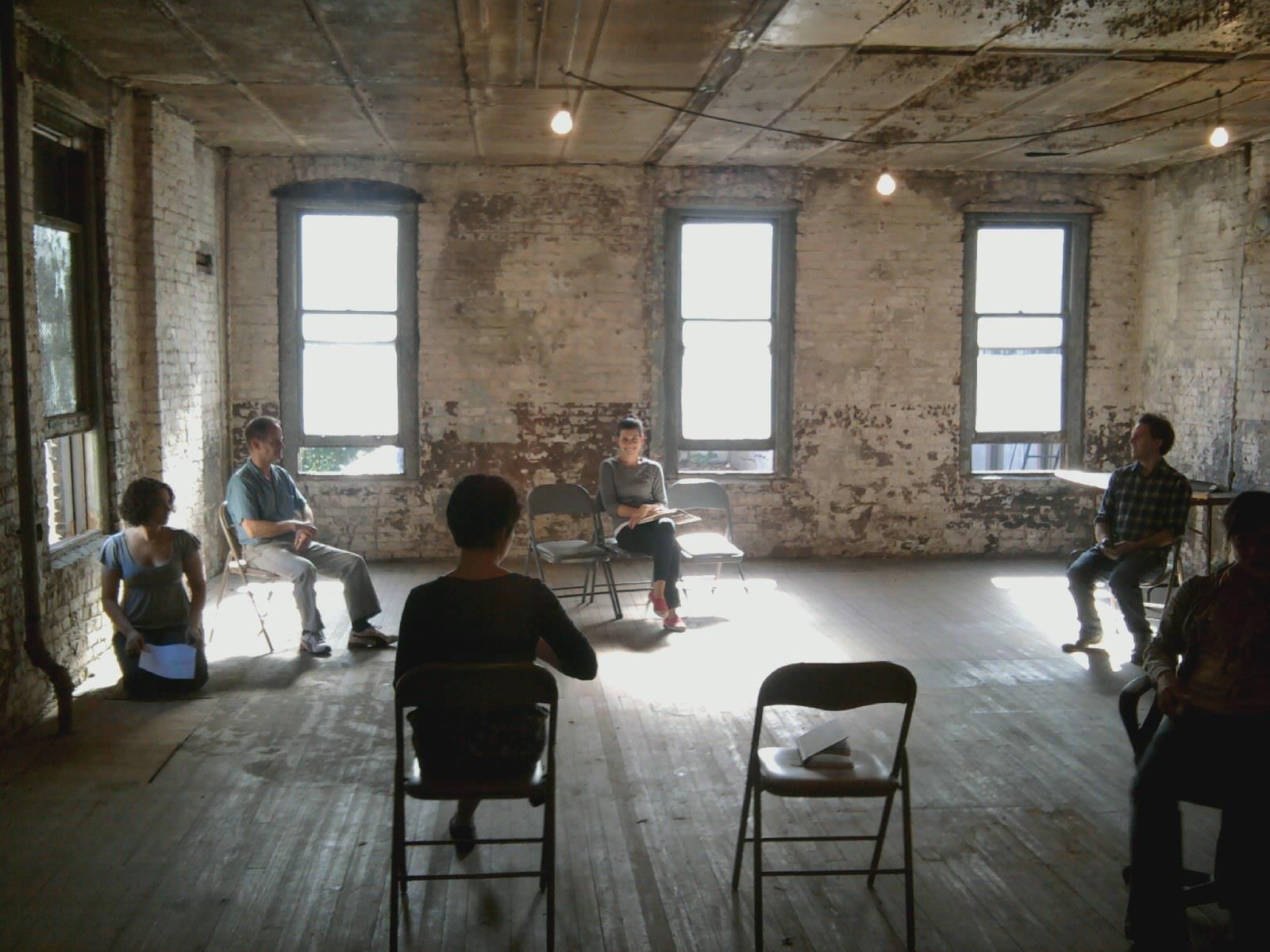 Meanwhile, visiting my family in Cleveland for the holidays, I was able to take a day trip to Lorain, Ohio, the town that Nadia's family is from and which we chose as the setting for our show. Like their Chekhovian counterparts, the family in our show mourns the lives they might have lived but didn't; Lorain, as a once-thriving mill town that isn't what it once was, is the perfect backdrop for our family's crisis. Here are a few images of Lorain:
The house in which we imagine our characters living (and in which Nadia grew up):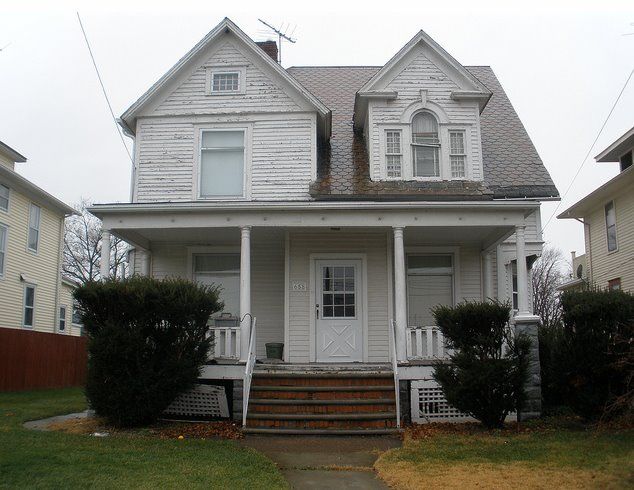 Downtown: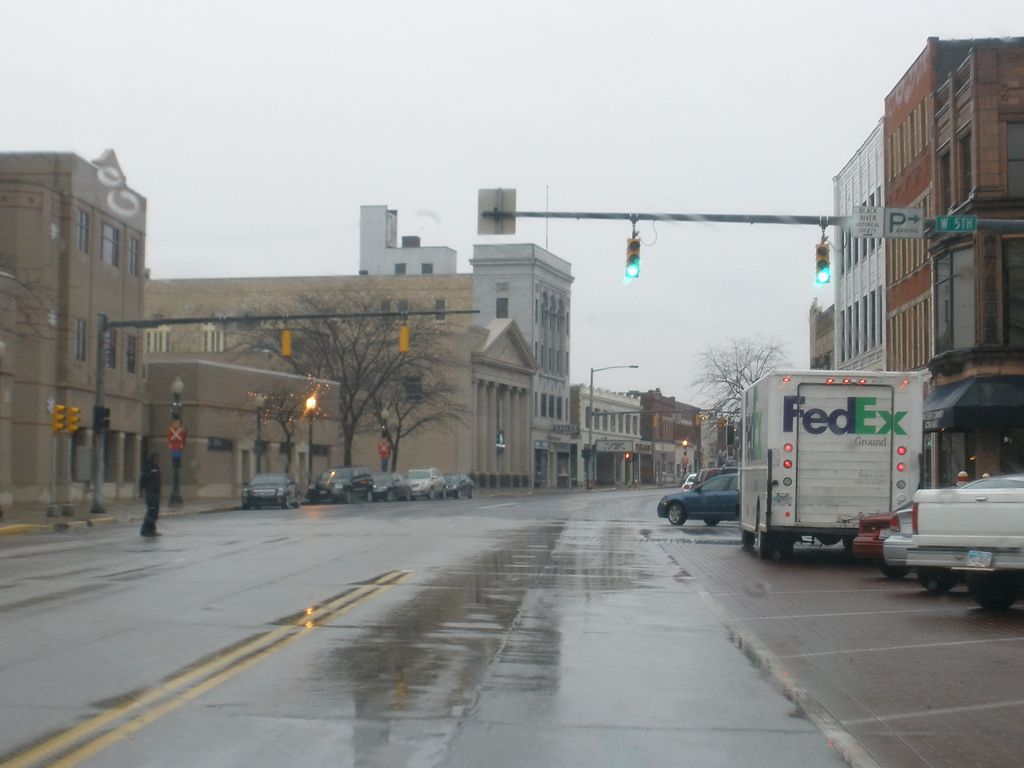 The steel mill that dominates the edge of town: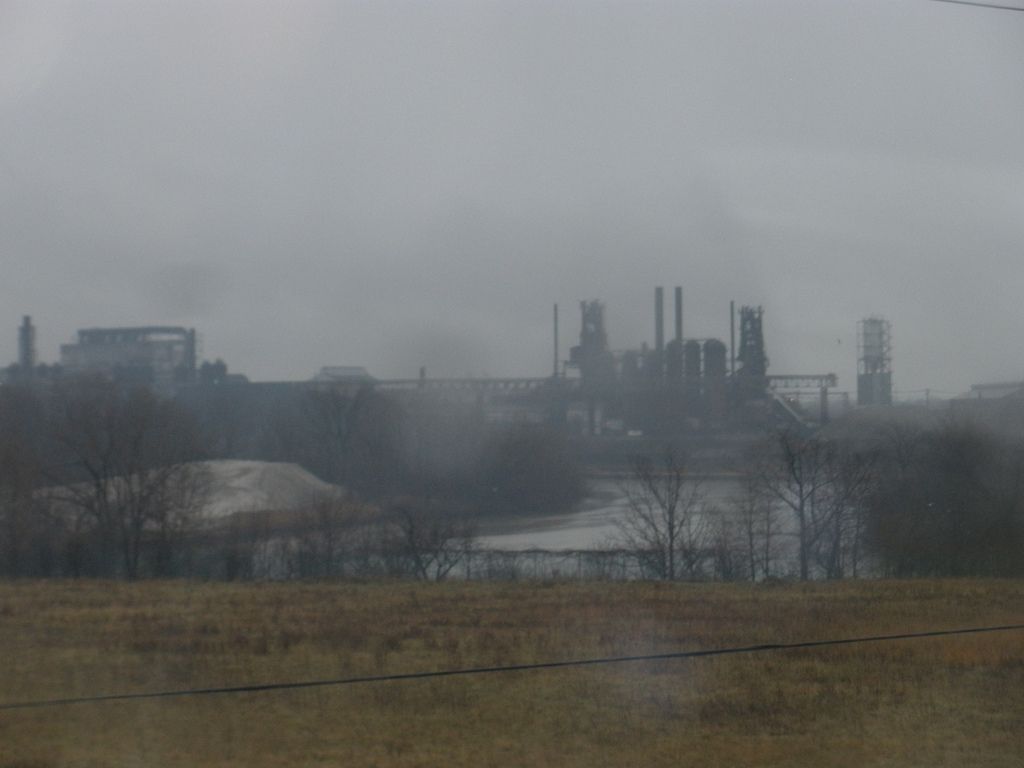 Soon we began reading bits of Nadia and Tim's new work that they were creating based on our sessions. Seeing the inspiration our workshops had clearly given the writers was a beautiful thing, and of course, the writing Nadia & Tim were sharing with us gave the actors and everyone else a sense of increased focus and clarity about what we were all working towards. After months of discussion and workshopping and revisions (with the invaluable assistance of Chris, our director and dramaturg), the writers had a full script they were ready to take into rehearsal. A team of brilliant designers, stage managers, and musicians was secured. Our acting company was finalized: fittingly for a process that has involved so many different talented actors at every step of the way, it includes a wonderful mix of old Lunar Energy hands and new faces, and the work they are doing together as an ensemble is exceptional. Here are a few shots from rehearsals this past month:
Actor Leah Walsh and members of the creative team at the first production readthrough:
George Salazar as Nick and Caitlin Johnston as Irina in rehearsal: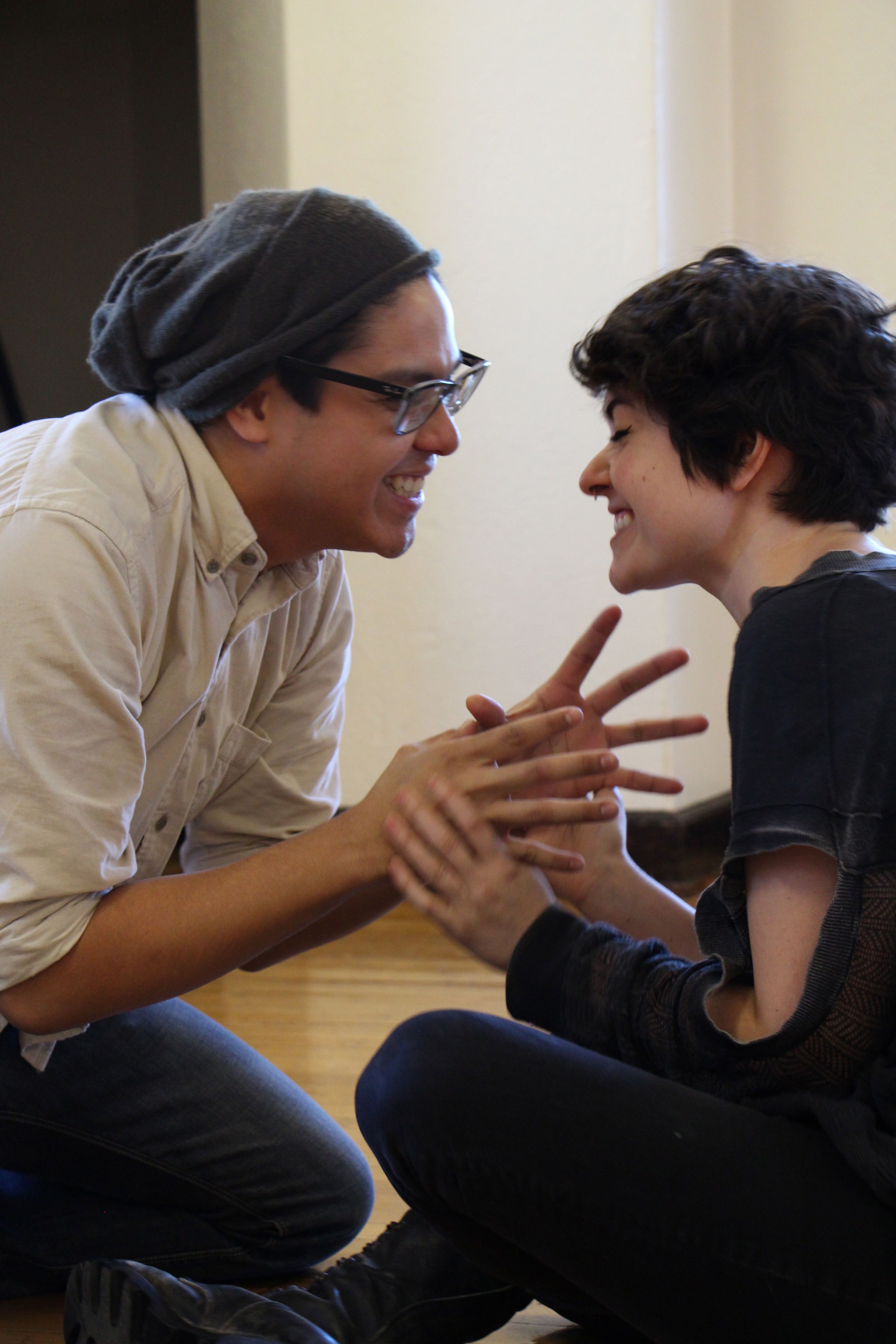 Brendan Spieth as Andy, as we moved into the Secret Theatre earlier this week: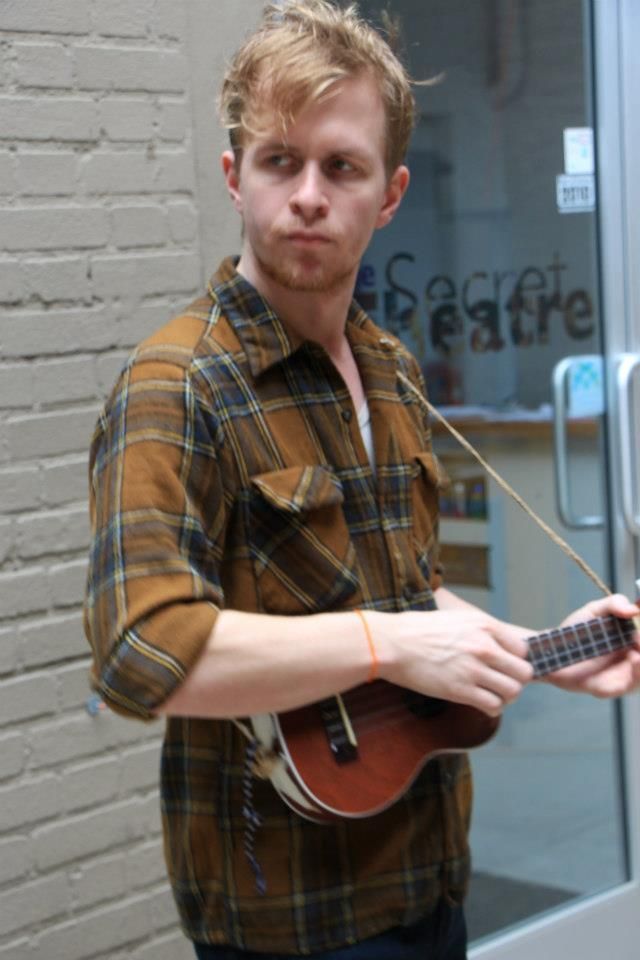 Christopher Diercksen (director) and Marine Sialelli (movement consultant) advise Michael Schantz as Alex and Nadia Sepsenwol as Maria during a tech rehearsal: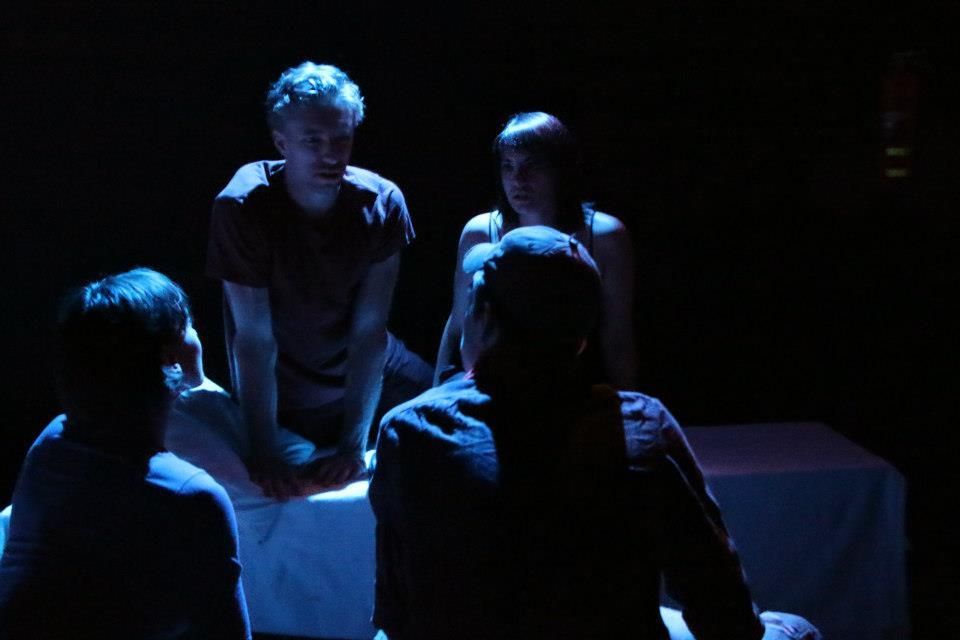 As I said above, the magic that can happen when you assemble a group of exceptional collaborators is truly thrilling; it is one of the reasons I have chosen a life in the theater. As Lunar Energy's artistic director, I am so pleased and excited to share this collaboration, developed and refined over many long, difficult and joyous hours, with you. We open this Thursday 10/18 and run for twelve performances- I hope you will join us!
This blog was written in association with Lunar Energy Productions' "By Rights We Should Be Giants," a new adaptation of Chekhov's "Three Sisters" by Nadia Sepsenwol and Tim Van Dyck. Performances at the Secret Theatre, Long Island City, New York City, Oct.18 - Nov.3, 2012. For more info:www.lunarenergyproductions.com
Photo credits: Philip Gates (1-4) & Casey Robinson (5-8)