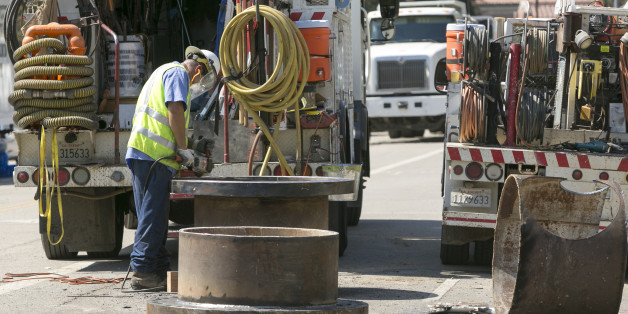 For years now, the American Society of Civil Engineers has been drawing attention to the dire state of America's roads, bridges, dams and water pipes, many of which are in urgent need of repair. Economists say that since the1960s in the U.S., public infrastructure spending as a share of GDP has shrunk to about half the European level.
The fact is that is most of us don't sit up and take notice until bridges actually collapse, pipes burst and sidewalks give way. Take what has been recently happening in Los Angeles. At the beginning of the month, the New York Times reported on yet another burst water main in the city. The paper wrote that this was not an isolated incident but rather the latest sign of a continuing deterioration in the city's public works skeleton. It went to comment, I quote, "Los Angeles' problems reflect the challenges many American cities face after years of recession-era belt tightening prompted them to delay basic maintenance."
I'm sure the urban authorities in question are aware that they need to address these issues head-on and without any more delay, before matters deteriorate any further. And for those cities exposed to natural catastrophe risk, such as earthquakes and flood, the situation is even more problematic. If they are still struggling to make the necessary repairs to basic infrastructure, then strengthening their resilience to natural disasters arguably becomes even more of an uphill struggle.
And some city administrations need to prioritize their spending on public works in other ways as well. For example, I would argue that as far as long-term urban resilience goes, investment in schools, hospitals and fit-for-purpose drainage systems should take precedence over prestige projects such as new sports stadiums. Having drains that work might seem a strange example in this context, but given the increasing frequency of torrential downpours generated by climate change in many parts of the world, these basic items of infrastructure are extremely important. The citizens of Mexico City or Rio de Janeiro will know exactly what I mean.
So what needs to happen? I believe there needs to be a stronger realization that public infrastructure spending in our cities is a vital factor in stiffening urban resilience. That said, the challenge should not only be dipping into public coffers for the necessary investment but also accessing private capital. According to a recent article in the Economist, the USD 50 trillion or so managed by institutional investors such as insurance companies and sovereign wealth funds could provide a solution. It points out that currently less than one percent of this amount is earmarked for infrastructure investment. The article also casts a direct spotlight on the Swiss Re publication, "Infrastructure Investing. It matters."
Published in conjunction with the Institute of International Finance, the Swiss Re study emphasizes that long-term investing is vital for economic growth and, by inference, urban resilience. A key plank in the proposals put forward by the report's authors is a private/ public initiative which would leverage the infrastructure finance expertise of international financial institutions, including insurance companies, and multilateral development banks. Ultimately, the report says, such collaboration could help establish a transparent and harmonized infrastructure asset class of the kind needed to close the funding gap.
Admittedly, part of the problem with private / public partnerships is that because the U.S. has been slow to embrace such initiatives, its companies have little experience of them. The Economist cites the case of the soon to be opened Port of Miami tunnel. This billion-dollar project was financed by Europeans and used a boring machine built in Germany which had to be shipped across the Atlantic in pieces to do the excavation work.
But the urban resilience challenge entails more than just improving infrastructure. The strategies adopted by cities exposed to natural disaster risk should also be based on a long, hard look at what their financial capabilities would be in the event of a catastrophe. They should be examining their ability to raise funds and how this might be impacted post-event, what the impact would be on existing budgets and the kind of insurance protection they have in place. This is an all the more pressing need given the steep rise in the economic cost of natural disasters, a development driven not least by the accelerating pace of climate change. Since the 1980s, the inflation-adjusted cost of natural catastrophes has rocketed from an average of around USD 25 billion to an annual average of USD 130 billion over the last decade.
And we should also take leave of the idea that cities are somehow "self-insured." Not having a financial plan in place is not self-insurance. On the contrary, it means the cities are uninsured, and should disaster strike they and their citizens will suffer. Additionally, if the cities are funded through tax revenues and their tax base is dislocated as a result of lost homes and businesses, their ability to bounce back quickly will be severely impaired.
Swiss Re believes that its risk transfer solutions can assist with covering the financial burden public entities might face after such a disaster. Moreover, its risk management experts can also help public authorities prepare for natural disasters more comprehensively than in the past. In a recent publication, "Risky cities: Los Angeles," Swiss Re uses its risk models and hazard data to analyze the earthquake risk and other natural perils on this megacity.
The good news is that cities around the world have begun appointing Chief Resilience Officers (CROs) who have set about helping their administrations prepare more systematically and comprehensively for natural disaster risk than perhaps has been the case in the past. The appointment of such officials is funded by a Rockefeller Foundation project designed to help 100 cities around the world bounce back more quickly following natural disasters. Swiss Re supports this effort by applying its risk management expertise to help these cities develop resilience strategies for their communities.
The overall initiative is the contribution my company and other organizations are making towards the work of the Clinton Global Initiative. The brainchild of President Bill Clinton, the Clinton Global Initiative (CGI) convenes global leaders to create and implement innovative solutions to the world's most pressing challenges.
At CGI's Annual Meeting in New York last year, President Clinton said: "Reinsurers are the ones that tell us we have to build differently. That's the reason why we have a reinsurance company as part of the Urban Resilience commitment. Reinsurers know that climate change is happening, and they also know that we need to plan for it."
In the absence of world consensus on climate change and given cities' contribution to the global economy, Chief Resilience Officers and Mayors have a wonderful opportunity to drive the global resilience dialogue at the local level. We need to give them every encouragement.
As Swiss Re's CFO David Cole said a while ago: "Resilience is the motor of sustainability. We cannot improve economic efficiency, protect and restore our ecological systems and enhance social well-being if we remain seriously vulnerable to natural catastrophes, especially since these are likely to become more frequent in the wake of climate change.
So because today more people live in cities than anywhere else on the planet, it is the cities that need to make the kinds of smart decisions and far-sighted investments necessary to ensure a sustainable future for everyone."
This post is part of a series produced by The Huffington Post and the Clinton Global Initiative in conjunction with the latter's tenth Annual Meeting (September 21-24 in New York City). This week, President Bill Clinton, former Secretary of State Hillary Rodham Clinton, and Chelsea Clinton convene more than 1,000 global leaders under the Annual Meeting's theme for 2014 -- Reimagining Impact -- to advance solutions to some of the world's most pressing challenges. For more information on the Annual Meeting, click here. To see all of the posts by CGImobilizers in the series, click here.