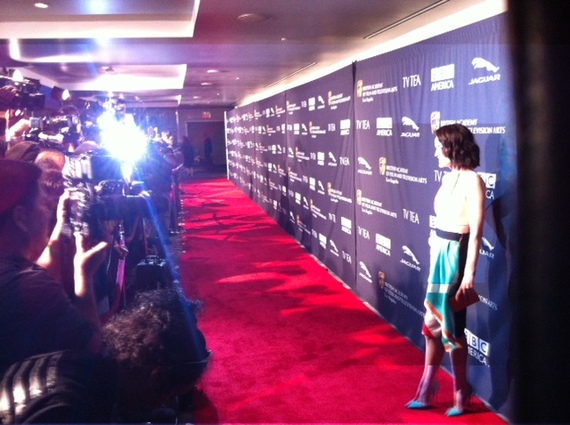 Michelle Dockery on the B.A.F.T.A. red carpet
The week before the Emmy's is a red carpet rush of battling pre-Emmy parties -- great gatherings in a party town that rival Emmy night itself.
As many as 10 pre-Emmy events happened in the days before the TV awards show, and that's not counting the private residence parties of the Netflix founders and talent agency owners.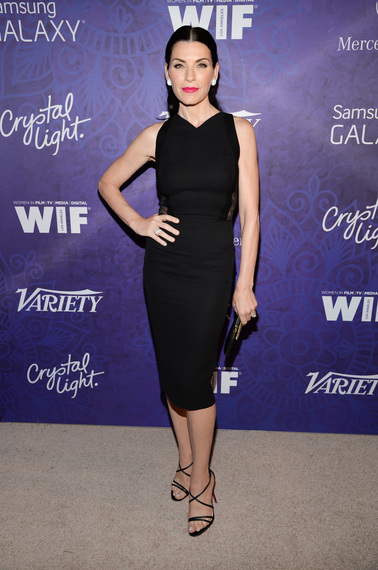 Emmy winner Julianne Margulies
Variety's and Women in Film Pre-Emmy Party (powered by Samsung Galaxy) was one of the great parties of Saturday night with guests jammed to capacity crowd at the beautiful Mexican restaurant Gracia Madre. Winner Julianne Margulies from The Good Wife hit the red carpet early; nominee Taylor Shilling from Orange is the New Black was "happy that it was an important time for a lot of these women's stories, which have previously been unheard and unseen, to be made visible." Nominee Jon Voight and I discussed Ray Donovan. He said "the creative environment very supportive, and they weren't afraid to push the envelope." He was very happy to have a part where "they try not to do what's expected," he said referring to show runner Anne Biderman. Lena Dunham pointed out "there is not an appropriate balance of men and women in the industry." But on a lighter side was enjoying the party "as a chance to gawk at really talented people." The amazing spread of female talent at this event went from Peyton List (star of Jessie), who's 16, to Christina Hendricks from Mad Men, to Angela Basset to Cloris Leachman, who's 88. Ms. Leachman said that her secret to pushing the envelope in her work was she was never being afraid. Amanda Crew from Silicon Valley was thrilled at her new show's recognition with five nominations right out of the gate and commented on how other women in business in Silicon Valley come up to her and say "Oh, my God. You do exactly what I do!"
Women in Film offer a great support system for women in the business, not the least of which is a finishing fund to help features get completion money that have women centric stories.
On a side note, it can be maddening on the red carpet to be at an event promoting women's intelligence and power and hear them still be asked what designer they're wearing, what their favorite color is and how much of their outfit they owned. But everyone handled it with grace.
B.A.F.T.A. (British Academy of Film and Television Arts) held their high pre-Emmy tea Saturday afternoon at the luxurious SLS hotel. This industry party continues its solid draw as a talent magnet, with many notables of the red carpet and at the exclusive party beyond. Nominee Michelle Dockery as Lady Mary in Downton Abbey braved the red carpet first and laughed 30 meters and 700 photos later as her eyes took time to adjust on the other side. Joined by cast members Joanne Froggatt, (Lady Mary's maid Anna Bates) it was an opportunity for the cast members to catch up during the three hour event under umbrellas in the warm Los Angeles afternoon. Nominee Lizzy Caplan of Masters of Sex talked about women's roles in history, but she "highly recommends that young women get to know their own bodies" as a way to start taking back the narrative of their own story. Emmy winner Uzo Aduba for Orange is the New Black said it was "time to enjoy!" as she had won her award at the Creative Artists Emmy Awards the previous week. Nominee Gary Cole for Veep mentioned he was "surprised" more than anything else by his nomination after a 30-year career, but extremely pleased nonetheless. He was joined by co-star and nominee Anna Chlumsky from Veep as well as Veep creator Armando Iannucci. Orphan Black star Jordan Gavaris and comedian Stephen Merchant were among the guests as well as Minnie Driver, Chris O'Dowd, Laverne Cox and Jacqueline Bisset who decried the lack of "romance" she noticed in the current social networking that has swept modern culture. Producers, directors and talent from both sides of the pond discussed business and pleasure during the well-appointed party. Julia Verdin, BAFTA board member who is currently producing the feature thriller A.K.A. said one of the amazing things about the weekend for those inside the business was how friends and peers crossed paths every two to three hours at the various events of the day, wishing each other well and showing support.
For some of the female nominees on Saturday, it was a three-dress day as the National Women's History Museum held an event that morning at the Skirball Center, with ambassador to the Museum Geena Davis as the museum honored Callie Khouri, Sophia Bush and Lesa France Kennedy for their contribution to women's history and culture. Some guests in attendance were Paula Abdul and Ana Ortiz and Brianna Brown from Devious Maids. Callie Khouri, a trendsetter in films who penned Thelma and Louise among others and is the current show runner on the TV show Nashville, has helped define women's roles in entertainment.
If we want to be counted we have to take over the narrative ourselves. There has never been a historical event when women weren't playing a fundamental role. This museum needs to be there. It's more important than ever that woman's voice be heard.
Sophia Bush, current star of Chicago PD, feels that she has collaborators who are champions for women. Her character isn't a sidekick or girlfriend, she points out, but someone who has senior ranking in her organization and one of the reasons she wanted to take the job. "Don't let anybody tell you no," is her advice to other women. "If someone tells you that you can't do something, it means you can't do it with them."
Geena Davis, a trailblazer herself in iconic female roles, she said she was "inspired by Thelma and Louise to see how women are portrayed in films." So with her own research center she convened a study that examined a 20-year span of gender depictions and found it pretty eye opening.
The male to female ratio of characters in film is four to one. And amazingly in crowd scenes the average breakdown by gender averages only 16 percent women. So the images young children see are not populated by women, and what does that teach little girls?
She points out the research has been invaluable and she is sharing it with studios to help raise a general awareness of this cultural reality. Across the board she said the response is positive and even shocking (in a good way) to those in charge.
PHOTO CREDITS: Getty Images and Philip Morton