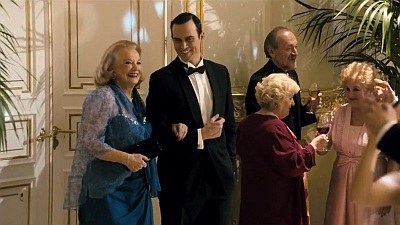 Gena Rowlands and Cheyenne Jackson
Is there a road map that guides us to an understanding of each other? Gena Rowlands and Cheyenne Jackson find themselves at odds across a dance floor until the dance lessons themselves bring these two difficult people together as they co-star in Six Dance Lessons in Six Weeks.
Gena Rowlands is a pleasure to see on film again in a full performance as a leading lady. The two-time Academy Award nominee still has more power on screen than some of the actresses half her age. She brings grace and the guarded echo of beauty that a long life of disappointments and loss can bring. Her journey to find acceptance of herself and others, as she opens her heart to love again, is the gem at the center of this film.
She's right at home in a film that addresses intolerance and ageism, and certainly in playing women on the edge, a genre she almost created singlehandedly with her husband filmmaker John Cassavetes in groundbreaking independent films many years ago.
The movie was adapted by Richard Alfieri, from his own play, and directed by Arthur Allan Seidelman who also directed the stage production first produced in 2001 at the Geffen Playhouse in Los Angeles, staring David Hyde Pierce and Uta Hagen (in her final stage appearance). The tight two-person story has achieved international success as a theatrical production, and here is beautifully shot by the famous Director of Photography Vilmos Zsigmond (Close Encounters of the Third Kind), who gives the simple story a rich tapestry of colors.
Rounding out the well-known cast are Julian Sands (Leaving Las Vegas), Rita Moreno (West Side Story), Jacki Weaver (Silver Linings Playbook) and Kathleen Rose Perkins (Gone Girl).
The film shows that life-changing friendships can happen at any age and that pride and intolerance don't stand a chance in the face of genuine compassion and respect. "Love comes in many ways," said Rowlands. "They were not expecting anything but dance lessons." "But they find a deep love and friendship," says Seidelman. The director continues his thoughts on the challenges people have finding love and friendship as they feel isolated, or merely face growing old: "What brings us together is our search for meaning and the need to care. Lily teaches Michael how to live - you can't give up - and he helps her to face illness and that she doesn't have to be alone."
The lesson for all of us here is to "see" people instead of merely "look" at them. We all risk creating stereotypical barriers that we can bring unconsciously to everyone we meet. But the barriers between us are created by the mind which can cloud judgment when we could learn so much from the simple honesty of the heart if we just trusted our feelings.
Six Dance Lessons in Six Weeks is currently playing in theaters.