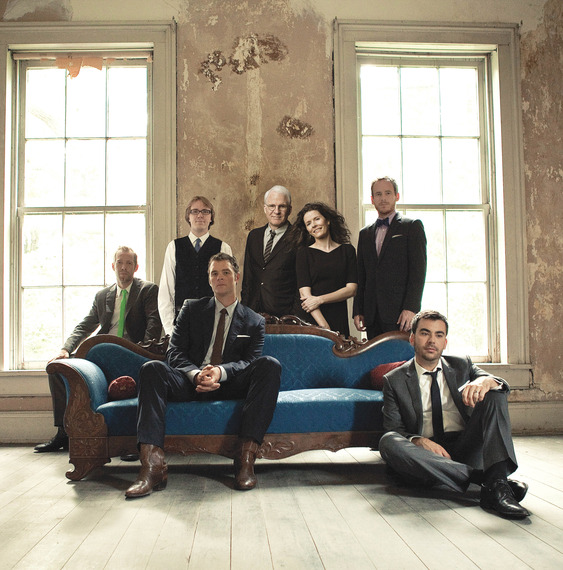 Steve Martin tells me and the other 17,000 or so of us in the sold out crowd at the historical amphitheater in the Hollywood Hills on July 4th that he is doing something different. He stands with the Steep Canyon Rangers, an award-winning bluegrass band that he's been touring with for several years, and Edie Brickell whom he's recently cut an album with.
"Ladies and gentlemen, it's always been a dream of mine to play the Hollywood Bowl on July 4th," he says to a thunderous response of applause. "And tonight I feel I'm one step closer to that goal!" Well, maybe he's not that different.

"Steve Martin live" are three words you stopped seeing together in 1981. A reigning king of comedy for almost four decades, his imprint on the art form has few equals. Regardless of who was on top there was always Steve Martin. He started the concept of comedian as rock star, selling out amphitheaters, theaters and stadiums. And just as sensational as his rise to success was when he walked away from it all at the top of his touring power. Metamorphosing to film star, then playwright, author and now these past five years... something different again.
In today's YouTube world where fame is a singular goal of its own, one might say "what the hell's the matter with him?" His problem seems to be he's fearless. He creates his art and he doesn't care if it comes out differently every few years. That's a rare skill set all its own. Now he's giving his equally adept musicality its own space. And with Edie Brickell he's giving it a new voice.

He tells us how he did it; "My two secrets for success in music are 1) don't let anyone tell you what to do with your music, and 2) already be incredibly famous."

It's something to wrap your mind around. Achieving stellar success is hard enough. Walking away from it and re-starting again and again, is the sign of... genuine artistry.
While traveling with the Steep Canyon Rangers since 2009 (Mike Ashworth, percussion; Mike Guggino, mandolin; Charles Humphrey, bass; Woody Platt, guitar; Nicky Sanders, violin; Graham Sharp, banjo), a band for over 10 years, Martin cut an album with them in 2011, Rare Bird Alert; straight blue grass music. For those of you who aren't bluegrass fans, know it's a popular though very specific category of music that rarely crosses over into the national mindset. Sure it dates back centuries, and influenced rock and roll and jazz, but you may not know the genuine article unless you were born where it's played. You may not have been aware Steve Martin has been doing it aside from his occasional talk show pit stops to promote the new work.

But his latest album with the Rangers and Edie Brickell, Love Has Come For You, herself a respected singer song writer (and wife of Paul Simon) is once again for Martin something different. I found the combination of the two composers unexpectedly powerful.
Martin and Brickell travel in a close circle of friends, the story goes, and he mentioned to her one day he had a banjo melody he couldn't come up with the lyrics for. She took a crack at it and sent back lyrics filled with love and loss with a sultry melody line floating above his own. He was so taken by it that their collaboration continued and in short order their first album was cut last year. It's great music. And that's not just my opinion. The title track won the Grammy for Best American Roots Song.
Several songs they played that night were tremendously moving and brought tears to my eyes. Tears from love and loss from Steve Martin is certainly something different. But the evening also brought upbeat, foot-stomping, thigh-slapping, down-home music.

But then Martin introduces the band and cuts everyone off rudely several seconds into their hellos with cries of "boring!" and "nap time!" and "a beautiful tale of love and redemption NEXT!" He can't help but be funny, and now he can't help but be musical. Perhaps he's just being authentic. "I think of my banjos as my children," he tells us. "I love them all but one of them is incredibly stupid."

As the laughter rises and falls between musical numbers, we discover each member of the band are all virtuosos, the violinist particularly dazzled, becoming almost unhinged during their closing song about murder, a tour de force that held us all transfixed.
The Los Angeles Philharmonic started the evening with a dynamic program of dramatic motion picture scores under the leadership of John Morris Russel. They continued to play with Steve Martin's band through his whole set of sultry blue grass and ballads. Both were joined by the United States Air Force Band of the Golden West as well, a powerful brass band that delivered one two punches for America's birthday celebration.
The fireworks that closed the evening were done in classic Hollywood Bowl style, the reason the venue is still LA's most famous go to for July 4th. The expertly timed explosions above matched the crescendos of the music below, a thunderous Americana panoply, and brought down the house.
Then Steve Martin and his band did a final encore with the philharmonic and air force band all playing together -- a rousing upbeat song to finish the night. Granted you might say all that sounds impossible for multiple reasons -- but working with Steve Martin, it seems anything is possible.