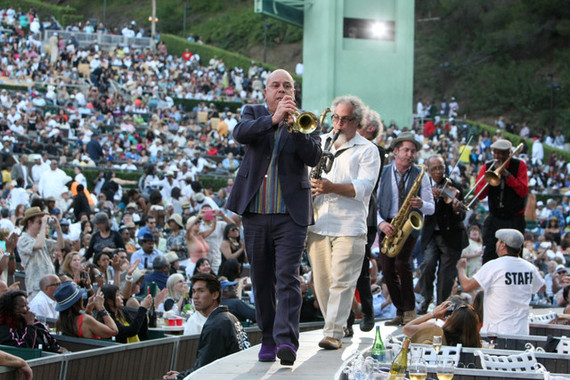 Where can you find Al Jarreau, Arturo Sandoval, Dianne Reeves and Huggy Bear (Antonio Vargas), on the same stage? The opening night of the Playboy Jazz Festival at the Hollywood bowl. I attended The festival's 36th opening night last Saturday night, surrounded by a sold out crowd of 17,000 other fans, many wearing light-up bunny ears, as we watched George Lopez introduce some of the stellar acts as Playboy and the Hollywood Bowl continue their tradition of bringing the best in jazz under one sky.
Jazz, that uniquely American musical form, is still cherished by the traditionalists who know that jazz can only truly be experienced live. The music is a form of the moment, the chemistry created by the artist's life experience up to that incendiary performance on stage when all the possibilities of inspiration explode into one defining creation in real time. And when they start their music in front of you there is nothing else that matters. It lifts you away.
These moments happened all through the night as the crowd bopped and shimmied to the eight hours of continuous music. The festival's sold out status speaks to their nod to the evolution of the form as well. They want to honor jazz, but want to fill the seats and keep the festival fresh. So there was something for everyone from the purists to the fusion lovers, from the old school academics to the young blood with open minds.
Jamie Cullum, a British rocker and jazz pianist brought his blend of pop music and jazz, while Antonio Vargas ('Huggy Bear' from the Starsky and Hutch TV show) was tireless as the front man for The New Jump Blues, a bright high energy jazz calypso group with stellar vocals. Allen Stone a 25-year-old self-proclaimed 'Hippy" brought a soaring R&B style.
Kenny Baron, who's already won multiple lifetime achievement awards, is one of the great jazz pianists and has been at the forefront of the art for decades. He brought his trio with special guest Ravi Coltrane, who stands in his father's considerate shadow and lives up to the family name.
Butler, Bernstein and the Hot 9 started where New Orleans left off, reveling in the famous Bourbon Street sound and then took us through blistering inspirations that crossed the blues styles of the 20th century.
Tia Fuller's exhilarating saxophone playing in her Fuller Quartet puts you back in the best jazz clubs of the 60s with their fabulous ensemble work. Then in true festival style she stayed on stage to join four-time Grammy winner Dianne Reeves and joined her group as they took the stage.
Dianne Reeves could break your heart with her rendition of 'I Don't Want to Wait in Vain," then have you fall out of your chair laughing as she scatted a song scape, that starred a lyrical improv that began: "this song has no words, for a very good reason, I used to live in LA..." and began spinning a diary-like entry in verse about seeing Selma Cruz at an L.A. night club one night, thought her dancing was amazing, but couldn't understand a word she said. Then she said she sounded like 'this'; and then continued to scat all to the brilliant accompaniment of her band.
Arturo Sandoval's virtuoso trumpet and big band compositions have won him 10 Grammy awards. His big band presence brought the evening to an energy high and had a true Hollywood nod with Andy Garcia on bongos in his percussion section. Monica Mancini joined him for two songs and made a nice father's day tribute to her father Henry Mancini.
When Arturo brought out Grammy winner Patti Austin for a few songs it was old school stage taking time as she sang "I'll Build a Subway to Paradise" and hit the back seats without even trying. He closed with his original 'Having Fun' a furious delight of horns, sax and keyboard all taking turns outdoing each other.
The evening ended with a tribute to George Duke, a revered name in jazz who passed away last summer. Duke was a collaborator with many famous names over many decades in addition to his own well-recognized body of work. His 'alumni' band and friends, including Al Jarreau gave impassioned and loving praise. Stanley Clarke, his frequent collaborator, dazzled on both electric bass and stand up bass as well.
Perhaps Jamie Cullum's song "These Are The Days," a song about appreciating the moment, is at the heart of what this festival is about. That's the feeling I wanted to take home with me as I walked back to my car in the cool night air under the stars. Because in the end life is a real-time art form just like jazz. And to do it right we have to stay in the moment just like that jazz musician starting a solo.
Photo Credit: Craig Mathew/Mathew Imaging