Another year, another round of stranger-assault hype around Halloween. (Spoiler alert: Halloween is safe. Unless you're the civil rights of a sex offender.)
Last year, sex offenders on parole or probation in some states were required to post signs shooing off potential trick-or-treaters, although some more draconian rules were thrown out by the courts. This year, in South Carolina, sex offenders on probation or parole have a 5 p.m. to 9 p.m. curfew. "Sex offenders have been notified there will be no lights on outside their houses," the report says. "No candy distribution and no participating in Halloween parties or carnivals. Also, there will be no congregating in streets." In Whiteside County, Illinois, Sheriff Kelly Wilhelmi is requiring all registered sex offenders to attend an "informational meeting" from 4:30 to 7 p.m. on Halloween night, as part of "Project Safe Halloween."
There are many other examples. It's a veritable race to the bottom of the civil rights dustbin.
Nancy McBride, of the National Center for Missing and Exploited Children said in a statement, "Child safety is important year round, but Halloween is an especially important time for parents and children to pay extra attention to their surroundings and not let their guard down."
Why? Presumably because it's a time when children interact with strangers. You can't really argue with most of the advice on their safety flyer, except for the placement of "discuss basic pedestrian safety rules" at the end of the list of advice -- after warnings about stranger-related threats. Which is like selling the public advice on how to invest their lottery winnings. On another flyer, NCMEC goes this far: "Consider organizing or attending parties at home, in schools, or in community centers as a good alternative to Trick or Treating."
Attention defenders of holidays, there is a war on Halloween.
Assaults on children
Rape and sexual assault of children happen at astounding, though not well-documented, rates. Conservative estimates indicate that one-third of sexual assault victims are under 12. And who assaults them? In the 6-11 age range, the typical trick-or-treater, 5% of those sexually assaulted were assaulted by a stranger.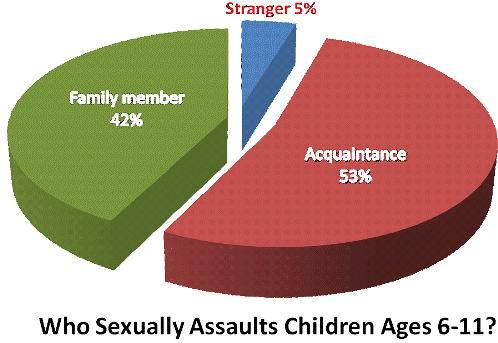 Source: Bureau of Justice Statistics
Of course, sex crimes by non-family members are a serious problem, albeit one that appears to be shrinking. We know a lot about the subset of these crimes that are reported, because stranger and other non-family crimes are more likely to be reported. And part of what we know is when they occur. And one time that they are not more likely to occur is Halloween.
A recent analysis in the journal Sexual Abuse, and reported on by Science Daily analyzed all the reported non-family sexual assaults on children in 30 states over 9 years, and concluded, "no increased rate on or just before Halloween was found, and Halloween incidents did not evidence unusual case characteristics." They also compared rates before and after the imposition of Halloween civil rights crackdowns, where they occurred, and found no effect there either. There isn't even the smallest blip at Halloween -- no increase in the rates on the days around Halloween compared with days two weeks before or after.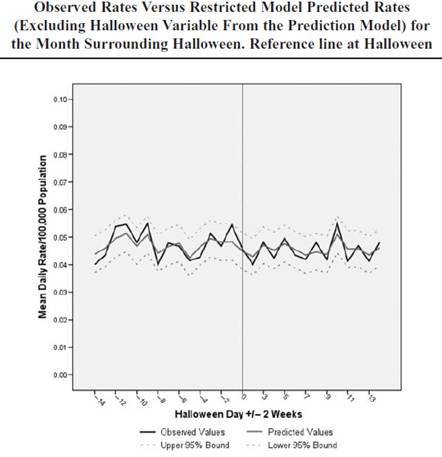 Source: Mark Chaffin et al. How Safe Are Trick-or-Treaters?: An Analysis of Child Sex Crime Rates on Halloween. Sexual Abuse: A Journal of Research and Treatment.
Assaults on children are terrible and should be prevented, even if at high cost. Assaults of children by strangers are rare, and devour a disproportionate share of the resources for protecting children. Rather than protecting children effectively, this allocation of resources protects the tough-on-crime image of politicians. It also protects many real victimizers through law-enforcement neglect, especially family members shielded by the cultural sleight-of-hand that directs attention elsewhere.