When E!'s new docu-series Scouted premieres tonight at 10 p.m. EST, it promises to introduce audiences to the actual process behind making a model, not the over-the-top hijinks of America's Next Top Model and similar reality competition fashion shows. Granting us access to those first, crucial 72 hours of a new model's life is industry veteran Michael Flutie, the scouting exec responsible for discovering Cindy Crawford and Jaime King. Here, Flutie talks about what it takes to make it in the industry, outs any misconceptions about being a gay model, and answers that zeitgeist-ridden question: is the supermodel truly dead?
So, are you as mad for Andrej Pejic's androgynous looks as everyone else in fashion?
I'm all for androgyny. I come from the world of Paolo Roversi and Guy Bourdin -- the seduction and the sexiness of the female body set against a masculine look and feel is very much my vibe. I'm known for cutting everyone's hair off. I love doing that because I think it opens up a face. But I support anything that redefines beauty. I'm all for anyone who can break out of a mold and inspire other people to take risks.
Do you think Andrej has inspired more androgyny in the modeling industry?
I think he inspires people, especially younger kids, to feel that nothing can block them, in the same way that Lady Gaga does with her message. Not everyone wants to be Lady Gaga, but they feel inspired to be who they want to be and represent anything they believe in. People like Andrej inspire freedom. It's an opportunity to reshape the meaning of beauty and help people accept who they are. Fashion is an incredible platform.
How does being LGBT affect a model's career?
It's not like in Hollywood. In fashion, a photographer or a client isn't going to not hire a model because he's gay. But you have to remember that a huge percentage of the population working in fashion is also gay, so there aren't the same obstacles as in Hollywood, where producers and agents and studio heads are hesitant. Actors have to be more concerned because the industry may not want to book them if they're gay, but in fashion that's not even a consideration. No one looks at a model in a Tom Ford suit and thinks, "That guy's gay."
How do you think fashion become such a big part of TV? All of a sudden, it feels like every other show is about fashion.
I think fashion was unattainable for most of middle America, but I think people have learned that it's not very expensive to have style. A lot of that has to do with celebrities being used on covers, which lured audiences to those magazines and fashion knowledge became more available to the consumer. I think the really successful shows have used fashion as a point of view, whether that's Ugly Betty or Gossip Girl or Project Runway.
But are these TV shows painting an accurate picture of the modeling industry?
Absolutely not. It's made for television, just like Survivor; it makes great television. They used the category of "modeling" to create an aesthetic for Top Model and Make Me a Supermodel. And I thought, "Well, what an incredible process becoming an actual model is if you could document it." Ultimately, Scouted is as close as you're gonna get. The stories are real. We're taking you behind the scenes to see the first 72 hours of a model's life. I want people to be entertained, but I also want them to learn from this process and what it means to come of age in New York City as a 17-year-old girl or boy. Here the cameras are secondary to the scouting, which presents the subject matter in a way that hasn't been seen before.
Are models on reality TV shows taken less seriously by the industry?
We want to find girls with great stories, yes, but ultimately we want girls that have the same chances of succeeding as any model that walks into an agency. Not everyone signed with an agency becomes a huge star, and not every girl in development with an agency makes it in the end. This show depicts that story. Not everyone is going to succeed, but on our show their chance of at success is much higher.
What goes into developing a model?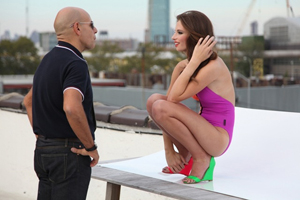 A lot of people don't understand that it's a long period. It's one thing to be discovered overnight and sent to New York, but the actual development process takes months, if not years. What creates a star is giving her time to develop and be nurtured and educated. On Scouted, audiences are going to learn about fashion and hair and makeup, but they're also going to see how challenging it is to make it as a model. You have to put in a lot of hard work because you may have all the physical accolades and personality it takes to inspire the Steven Meisels and the Anna Wintours of the world, but to get to that point, you need the development process, and you need the team of people around you.
What's the craziest place you've spotted a new face?
I was in a taxi going from the airport in Amsterdam to an agency, and it was late at night. A girl was standing at a bus stop at a lamp post, and it was misty. I literally told the taxi driver to stop and explained to him why I had to go back and talk to that girl. Her name was Julia Vandermolen. I was so afraid the bus was going to come, and what do you think happened? It comes and she gets on. I had the taxi driver follow the bus for a mile until she got off. So I went up to her and explained that, "Excuse me, I don't want to scare you, but my name's Michael. I'm a modeling agent from Paris," because I was living in Paris at the time.
Is the supermodel dead?
In the late '90s I predicted that celebrities would replace models, but I think models will be back. Audiences are getting bored with celebrities' stories. For a while, when you put Julia Roberts on the cover of Vogue, you were giving audiences a story they couldn't get from any other publication. But today we're overflooded. Who want's to read another story about a young starlet getting into trouble or cheating on her boyfriend? Fashion models actually have a much more interesting story. Elegance and chicness has returned to the industry, so it's not cool to be smoking and out drinking anymore. The Janice Dickinson supermodel, the Studio 54 rebel, is gone and has been replaced by a girl who's smart and understands that the industry is a vehicle to build a brand and become a household name.
Maybe that's why models like Andrej and Lea T are finding popularity, because their stories are finally being told.
We don't want to just look at an image. We want to look at an image that tells a story, and models have a story to tell. Now that technology allows not only for a 12-page spread, but a 12-page spread and the making of the shoot and the interview, all of that content is telling a three-dimensional story that comes back to the model. We're finding out that there's actually something deeper than just good looks.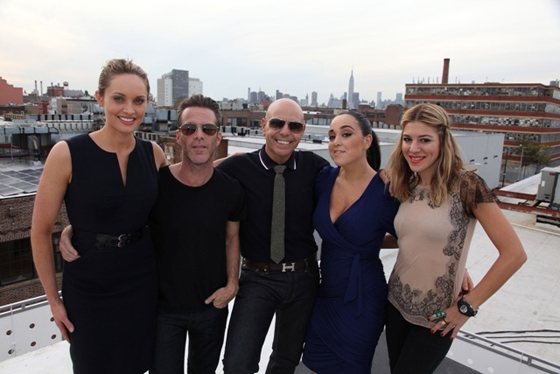 Michael Flutie (center) with the cast of Scouted