As part of an ongoing series, WGBH News explores the unanswered questions that surround the massive manhunt in Watertown, Massachusetts in April and the ultimate capture of Boston Marathon bombing suspect Dzhokhar Tsarnaev. This is the third story of the four part series.
How did Dzhokhar Tsarnaev elude police during the Boston Marathon bombing manhunt in Watertown in the early morning of April 19th?
Several eyewitnesses gave us the same account of Tsarnaev's escape. Tsarnaev, driving a stolen Mercedes SUV, ran over his brother and then rammed the vehicle into two police cars that were blocking the road. He took off at least one door and mirrors as he barreled through. He was chased by officers on foot, but it's not clear if any police officers pursued him in their vehicles.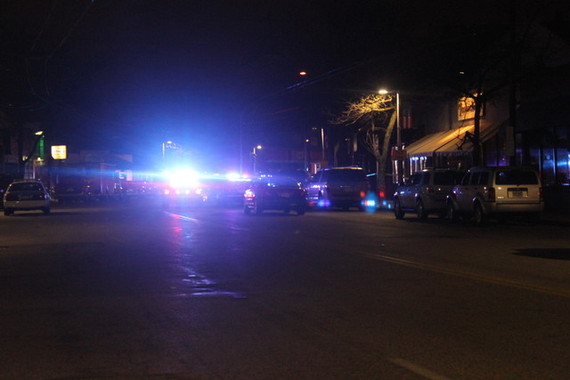 From his porch, David LaRocca, a local sculptor, saw the blue police lights two blocks away and a fast moving vehicle heading in his direction.
"It seemed to me, whatever activity was going on down there was coming this way," he said. "So I literally dove back into my front door, and at that point I heard my building get hit by gunfire. I came out the door after the gunfire was done. The street was covered by SWAT people. And there was a SWAT officer in full armor. And I opened my door and I realized he didn't see me. And I said to him to try to reassure him, 'I live here.'"
Police swept past LaRocca's building in the direction taken by Tsarnaev. But the 19-year-old bombing suspect had a ten minute head start.
Tsarnaev had accelerated furiously up Laurel Street and ditched the SUV near the intersection of Lincoln. Then, under the cover of darkness, he somehow made his way to 67 Franklin -- about five blocks away -- and burrowed beneath a tarp covering a boat. Police believe he was badly wounded by the barrage of bullets fired as he barreled through the police barricade on Dexter. Although blood was found in the abandoned vehicle, there was no obvious trail of crimson leading police to Tsarnaev.
Another factor seemed to have worked in Tsarnaev's favor that evening. Police chatter over scanners hinted at the problem.
Watertown Police Chief Ed Deveau says law enforcement from outside of Watertown -- about 2,000 altogether -- had trouble navigating the neighborhood, described as a labyrinth of winding streets. They got lost.
"They had no idea where Dexter or Laurel Ave was and they had trouble finding us," Deveau said.
"If you're not looking in the right direction, you can get lost in Watertown," said Carl Younger, former head of the Watertown Town Council, who was standing a few yards from where Tsarnaev ditched the car.
"Often, if you're going down one street, all of a sudden, it will stop, and then another street intersects it with a different name," he said. "If you don't look at the street signs, you're going to be lost."
A police source says some officers who came on their own --without being called -- also complicated the search for Tsarnaev.
"Do not self-assign and crowd the area," a voice on the police scanner said on the night of the manhunt.
Cambridge Police Commissioner Robert Hass -- who helped lead the manhunt, admits there were some problems at the start of the operation but that the situation was quickly brought under control.
"I would tell you that after the initial firefight on Laurel Street and Dexter Street that we did, in fact, cordon off areas, had a search parameter, actually had teams put in there that were actually reporting back to the command post and there was a lot of dialogue between a lot of the principles that were directly involved in that," Haas said. "The thing we weren't able to get our hands around was the ability to rotate those resources out. So for example, my special response team was up in that neighborhood was up in that neighborhood for 15 straight hours."
Those hours on the morning of Friday April 19 were spent looking for the elusive suspect -- going yard to yard and door to door.
"Twice -- they searched the basement and the garage," said Jenny Roberts, a neighborhood resident. "And then they came back later in the day and searched the whole house."
Roberts says that she had never felt safer as the police searched her home from basement to attic. But David LaRocca alleges his building on Laurel Street was not searched.
"Nope," he said. "Because I think everyone kind of thinks of this as an abandoned building, or like a warehouse or something."
Mike Doucette, whose house sits a few feet from where Tamerlan Tsarnaev met his death says he suggested to various teams of police who came to his door where HE thought Dzhokhar Tsarnaev might be hiding.
"I said if it was me they were chasing, living in this town my whole life, that's where I would be, over in that brickyard," Doucette said. "And they had everything else being searched, house to house, every cabinet and everything, and then they stopped the search area a half a block from where they guy was ... I told them, [the brickyard] was probably where the kid's hiding. He didn't happen to be in the brickyard, he was in the yard next to the brickyard. So, if they only had their perimeter a little bigger, maybe people wouldn't have had to sit around their houses for an additional 15 hours or whatever it was."
"The search itself, as much as there were a lot of police officers outside the perimeter, was very much controlled, it was very much structured teams working in tandem with one another and reporting back to these command posts at the Arsenal Mall," Haas said.
It would be 16 hours before the youngest Tsarnaev was located hiding in a boat.
Which bring us to this final question: Why did police say they exchanged gunfire with Dzhokhar Tsarnaev when it turned out that he was unarmed?
Boston Police Commissioner Ed Davis addressed reporters in the hours after Tsarnaev's capture.
"We set up a perimeter around that boat, and over the course of the next hour or so, we exchanged gunfire with the suspect who was inside the boat, and ultimately the hostage rescue team or the FBI made an entry into the boat and removed the suspect, who was still alive in the boat," Davis said at a press conference that night.
But police now say that the Tsarnaevs had only one firearm that night -- a Ruger semiautomatic pistol -- and it was recovered at the scene of the shootout when the elder brother was killed. After running out of ammo, Tamerlan Tsarnaev threw his gun at an advancing Watertown cop. Two-and-a-half hours earlier, the brothers had tried to take MIT officer Sean Collier's gun before allegedly killing him. But at the time, Police mistakenly believed Dzhokhar had a rifle.
And police says they were also acting under the belief that the suspect might be armed with an explosive - crouching in the boat.
But that does not explain why authorities later reported that a gunfight occurred when no gun was found on the boat.
A police source tells WGBH News a breakdown in communication between state, local and federal officials is to blame for reports of a gunfight that never happened.
Still, Davis told me at his recent retirement press conference that law enforcement could not have coordinated better.
"I could not have hoped for better cooperation, coordination and communication," he said. "It worked very, very well."
How well it worked or did not work is the topic of ongoing discussions amongst law enforcement.
And WGBH News is still seeking definitive answers to many of these questions.
We'll explore what police say they've learned, as to what went right and what went wrong in those 18 hours in Watertown.
--------------------------------------------------------------------------------
NEXT: Lessons for law enforcement
Read Part I: Lingering questions surround circumstances of Watertown shootout
Read Part II: 'Self-Deployment' may have caused confusion during Watertown manhunt
Series co-produced by James Edwards and Hilary Sargent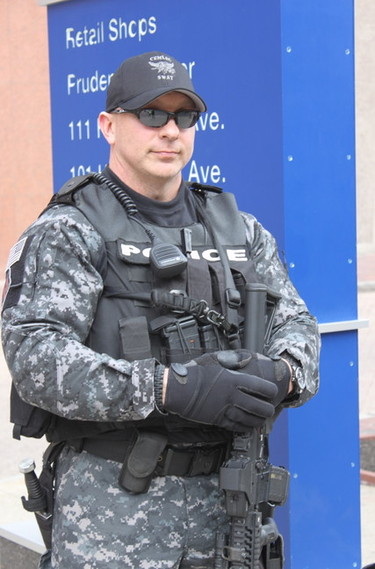 Standing guard in Boston following bombing
Photo by Phillip Martin