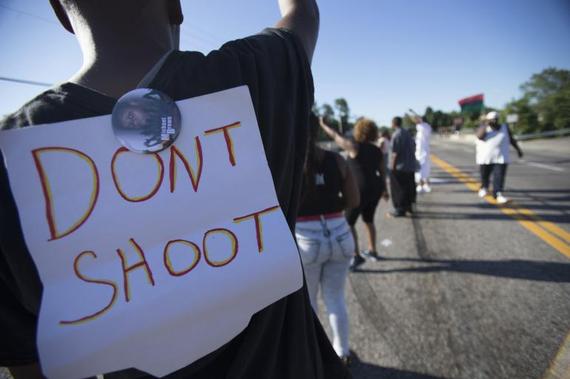 A sign and pin on the back of a demonstrator during a protest against the shooting death of teenager Michael Brown, in Ferguson, Missouri, Aug. 13, 2014 (credit: Reuters)
The news accounts in recent weeks are tragically similar, from Los Angeles to Staten Island to Ferguson. Unarmed black men killed by police. But four years before anyone knew where Ferguson was located on a map, there was the fatal shooting of Danroy Henry Jr., known to his friends and family as "DJ."
Henry, a 20-year-old college football player from Easton, Massachusetts, was a junior at Pace University, just north of New York City. Dozens of people whom I interviewed for a radio series described him as "a good kid."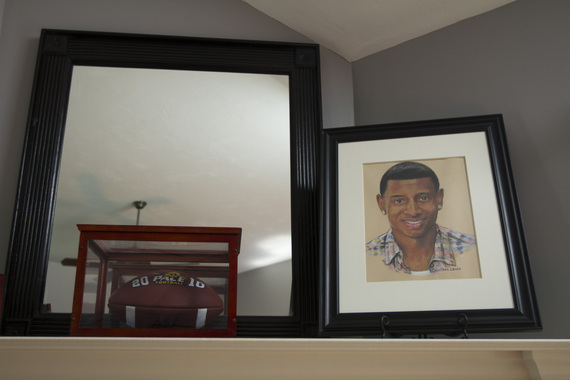 An image of the Danroy Henry Jr. in the home of his parents, Danroy Henry Sr. and Angella Henry (credit: Phillip Martin/WGBH)
On Oct. 17, 2010, after a night of celebrating following a homecoming game, Henry was shot to death by police officer Aaron Hess. Hess had responded to a report of a bar brawl in the early morning, which had nothing to do with the young football player and his four friends. The bar, in the village of Thornwood, shut down early that evening.
"So that's when DJ and I left and went to the car," said Henry's best friend, Brendon Cox. All parties agree that Henry's car was idling in a fire lane with his best friend Cox in the passenger seat. A cop told them to move the car, because they were parked in a fire lane. They did. "We hear a loud tap on the window," Cox said.
They drove a few feet, says Cox, and then Pleasantville officer Aaron Hess suddenly and inexplicably jumped on the hood of the car and started firing wildly through the windshield.
"DJ's next to me and he says, 'They shot me,'" Cox said. "'They shot me. I can't believe they shot me.'"
Henry was pulled from the car by police and died not long afterwards as he lay unattended in the street. But police said Hess fired as Henry tried to run him over, leaving the officer with little choice but to jump onto the hood, a version of events that's disputed by new evidence in the civil case against Mt. Pleasant and the village of Pleasantville that's winding its way through federal court.
(Click here for the WGBHNews audio version of this story.)
Ferguson: Echoes of DJ Henry
Four years later and 1,200 miles away, another police version of events is seeking to explain the circumstances leading to the killing of another black youth, this one in Ferguson. At a press conference on Aug. 10, chief Thomas Jackson provided the explanation that Michael Brown rushed officer Darren Wilson when the policeman tried to pull him over.
"Within the police car there was a struggle over the officer's weapon," Jackson said. "There was at least one shot fired within the car. After that, the officer came back into the car. He exited his vehicle and there was a shooting that occurred where the officer, in fact, shot the subject."
But like the police shooting of Henry, direct-eyewitness testimony is in variance with the official interpretation of reality. Tiffany Mitchell, who was visiting the neighborhood, told MSNBC what she saw in broad daylight:
The officer gets out of his vehicle and he pursues him, and as he's following him he's shooting at him, and Micheal's body jerked as though he was hit. And he turns around and he puts his hands up, and the officer continued to walk up on him and shoot him until he goes all the way down to the ground.
A private autopsy commissioned by the family showed that 18-year-old Brown was shot at least six times.
The Narrative
As in the case of Henry in Mt. Pleasant, New York, four years earlier, Brown did not have a weapon. Two young unarmed black men shot by police under questionable circumstances. In both cases, what followed was information that trickled out questioning the character of the two black victims.
So why release questionable information?
"To justify the death of a person," says Lisa Thurau, an attorney who heads Cambridge, Massachusetts-based Strategies for Youth, which trains police nationwide in how to interact with young people, especially in communities of color. She says selective information from police agencies about which officers are implicated in fatal shootings should be closely examined but often isn't. "And that's just an unfortunate thing that the media falls in step with and decides, 'Yeah, we're going to amplify the negative of the victim and then try to reclaim that victim's innocence, if possible, later on.'"
In Henry's case, there were reports that he was intoxicated. But depositions made public in a pending civil trial suggest that he was not. In Brown's case, it was video showing him manhandling and "robbing" a store clerk. His supporters described the crime as "shoplifting."
Thurau concedes that media could not ignore information about Henry and Brown. But she says reporters should ask, "Is it relevant?" and, "Why is it being disseminated?"
The Stereotype
After the shootings, did racial stereotypes contribute to negative perceptions of the two black victims?
Keith Maddox, a professor of psychology at Tufts University, says stereotypes combined with bits and pieces of information that may be factual but incomplete -- "DJ Henry was drunk" or "Michael Brown robbed a store" -- help create rationalizations for questionable police actions. And hearing certain words brings African Americans to mind, and viewing African Americans, says Maddox, leads to generalized racial assumptions:
What some of the research has shown is that black skin color -- and you also think about other types of physical characteristics associated with blacks -- tend to be more closely associated with negative concepts, so it would be more closely associated with fear, more closely associated with negative personality traits.
Ferguson, and the Henry case four years earlier, may be forcing a national dialogue on policing and race, especially regarding the treatment of young black men, says Thurau.
"The current frame right now is that African-American youth are dangerous and need to be subdued, and I don't think that all officers believe that, but I do think it's the point of view of many officers," she said.
So how do you change this frame?
"We're going to have to do a couple of things," she said. "One is training officers how to work with juveniles must be complemented by training officers how to recognize their own bias. Everyone is biased, but an officer is equipped with a weapon that can turn bias into death."
Some data seem to back up that assertion.
"Since the year 2000 there has been an increase in blacks being killed by the cops -- a 39-percent increase," said criminologist James Allen Fox of Northeastern University. But Fox says that, at the same time, there has also been a 55-percent increase in the number of whites being killed by police. "But of course when it happens to a white officer and a black suspect, it does raise questions about racial stereotypes and racial profiling," he said.
These figures have to be parsed carefully, however, because the federal government does not compile statistics on aggregate local police homicides, let alone the killing of unarmed individuals of any race.
Based on a review of numerous cases over the past decade, when police kill black men in particular, under any circumstance, they almost never go to jail. Michael Sussman, the attorney representing the family of Danroy Henry Jr., says the problem starts with the district attorney's office:
We've had a spate of police shootings in America. I think one of the great lessons of these shootings is that local law enforcement officials, district attorneys offices, are then left -- as in the Staten Island case with Mr. Garner now -- to prosecute police officers, whom they institutionally work with on a daily basis and whom they not only trust but whose credibility they must elevate to do their own jobs. Accordingly, there's an inherent institutional conflict between the role of the district attorney and the prosecutor of numerous crimes and the role of the district attorney in prosecuting police officers who have committed serious crimes.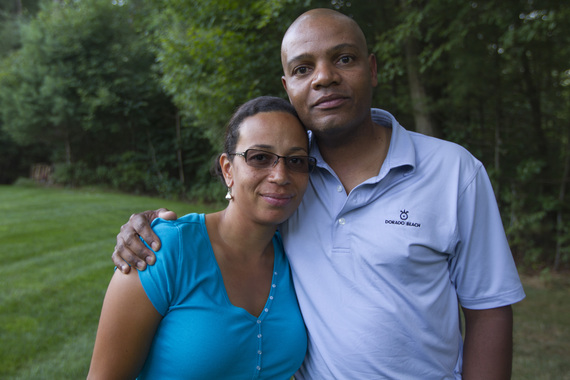 Angela and Dan Henry. Angela Henry said she works day and night to keep the memory of her son alive through the DJ Henry Dream Fund (credit: Phillip Martin/WGBH)
A Reluctant Embrace of Race
Even though both the Brown and Henry cases have stirred strong racial passions, Henry's parents, Angella and Danroy Henry Sr., said they never wanted to make their son's killing an issue of race.
"We intentionally took an approach here that was more fact-based and measured," Danroy Henry Sr. said. "We simply wanted to know what really happened. Our most immediate concern is for the truth."
And in the backyard of their middle-class home, a half-hour south of Boston, Angella Henry reflects on the death of her son. Witnesses say that, like Brown, he was left dying on the ground without receiving immediate medical attention.
"You know, wrong is wrong, no matter what you put on every day to go to work," she said, sighing. "If you wear a badge, if you wear a doctor's coat, there should be the same accountability. I believe that they should actually have been held to a higher standard because their job is to serve and protect." Angella pauses and looks out toward the garden where a sign is planted in the grass that reads, "Family First."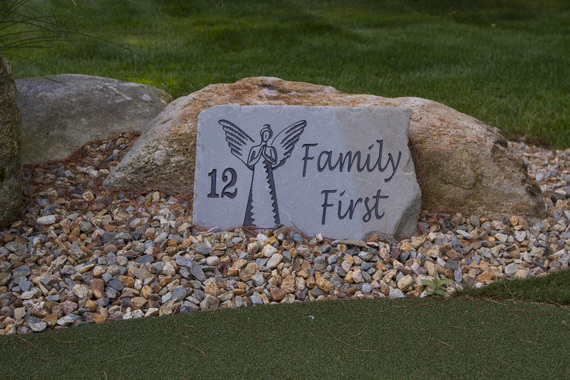 "It's painful to look back and to think about how much we've been through, and how much we continue to go through, and how much coverup there was, and how little respect there was for our son's life, and it's beyond words. It's beyond description of the pain," she says.
A New York grand jury found no evidence to indict Aaron Hess for Henry's death.
Supporters of Henry maintain that Westchester County District Attorney Janet DiFiore purposely blew the case. A spokesman for DiFiore declined to comment. Attorney Sussman, however, says the DA's office's prosecution of cops in homicide cases is inherently contradictory and should be investigated by independent agencies. "In New York we need a special prosecutor who will have jurisdiction to investigate and prosecute these cases and who is not beholden to local police departments and agencies," he says.
The DJ Henry case is now closed on the state level. But the civil federal court trail could begin as early as next winter. And WGBH has confirmed that the Justice Department is still investigating the fatal shooting of DJ Henry, but at a much slower pace than the high-profile investigation that has begun into the slaying of Michael Brown on a suburban street in Missouri.
WGBH Radio Report: "Ferguson: The Latest Racially Tinged Case Of Death-By-Police"
Click here for the DJ Henry Dream Fund
Read the complete series: "DJ Henry and the Training of Police"
Click here for a discussion of police violence and black men on WGBH TV's Basic Black