Once upon a time, Congress passed long-term transportation funding bills every six years. They were opportunities for assessing priorities, making reforms and redirecting efforts when appropriate. But since the last long-term transportation law expired in 2009, Congressional gridlock has jammed up consideration of the federal Highway Trust Fund's priorities.
Instead of taking a long view, every year or so Congress fulminates about the need to rescue the fund from insolvency. A series of temporary infusions and budget gimmicks has provided the fund with more than $50 billion in bailout money since 2008. Badly needed broader Congressional consideration of Americans' actual transportation needs and travel habits has fallen by the roadside.
With states struggling to maintain basic infrastructure and meet growing demands for investment in public transportation and other non-driving forms of transportation, America does not have the luxury of wasting tens of billions of dollars building unnecessary new roads and needlessly expanding existing ones.
In Michigan, for example, highway planners want to spend $2.7 billion to widen Interstate 94, which runs in a trench through the heart of Detroit, saying that the existing road needs more capacity. State officials continue to push forward with the project despite Detroit's rapid population loss and despite the fact that traffic volume on the stretch of road being considered for expansion is no higher than it was in 2005.
The project's original documentation, from 2003, anticipated that vehicle-miles traveled in the region would increase by more than 11 percent by 2025. In fact, regional travel had already decreased 14 percent by 2013.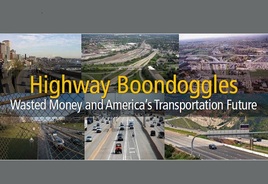 Expanding the highway might even make Detroit's economic recovery more difficult by further separating two neighborhoods that have been leading the city's nascent revitalization. The project calls for removing 11 bridges over the highway trench. It would also displace or tear down 12 commercial buildings, 14 single-family homes, two duplexes and two apartment buildings with 14 units between them, as well as three buildings either on or eligible for inclusion in the National Register of Historic Places, including the city's oldest recording studio.
Southeastern Michigan residents have questioned the merit of prioritizing highway expansion in the region. A November 2012 survey of residents of the city of Detroit and seven surrounding counties found that more people say they "would rather live with current levels of traffic congestion (63 percent) than pay more to reduce traffic congestion (37 percent)."
Plenty of other transportation priorities lack funding. Other than the streetcar, there is no rail transit in the region. A March 2014 Wall Street Journal article highlighted the advanced age and poor repair of Detroit's buses -- and noted that almost two-thirds of Detroit residents with jobs commute to workplaces outside the city limits. Public transportation in Detroit has long been of low quality, and recent efforts to improve transit service in the city have fallen victim to the city's fiscal woes -- a problem that does not seem to be slowing down the progress of the highway project.
That is just one of the projects we highlight in our new report, Highway Boondoggles: Wasted Money and America's Transportation Future, which looks at 11 wasteful highway expansion projects around the country, costing a combined $13 billion. While we do not argue that they are the worst or the most wasteful, they are all telling examples of the effects of this failure to reprioritize our spending in light of updated information on Americans' transportation habits.
New and wider highways are favored by the roadbuilders lobby, some real estate developers and politicians seeking ribbon cuttings. Mostly, transportation officials focus on building new highway capacity because it's what they have always done.
America needs new priorities. With inadequate resources dedicated to upkeep and repair, America has over 600,000 bridges that, according to the Federal Highway Administration, inspectors have deemed "structurally deficient." While the number of annual miles driven per-capita nearly doubled between 1970 and 2004, they have declined every year since then. Meanwhile, public transportation ridership increased by 8 percent between 2005 and 2012. During roughly the same period, Census data show increases in the share of Americans arriving at work via transit or bicycle, or on foot. These changes should put a big question mark on highway mega-expansions that were premised on the notion that accommodating future driving traffic increases would be country's top transportation priority.
American transportation money should be spent on fixing the roads we have, as well as investing in non-driving transportation modes that are increasingly attractive to the public, especially the massive Millennial generation, which will be the chief user of today's transportation investments.
Because of the gridlock in Congress, these sorts of priority shifts don't even get discussed. Major funding changes are best done with an eye to the long term, not simply getting to the next recess or election. But kicking cans down roads is the best that can be said for this Congress's approach to the Highway Trust Fund. And all that does is ensure there will be more overbuilt roads for Americans to kick cans down in the future.
This post was coauthored with Jeff Inglis of the Frontier Group, who also coauthored the Highway Boondoggles report.