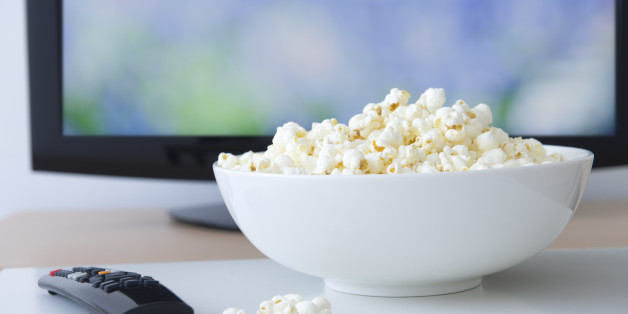 I think it's brought the world a lot closer together, and will continue to do that. There are downsides to everything; there are unintended consequences to everything. The most corrosive piece of technology that I've ever seen is called television -- but then, again, television, at its best, is magnificent. -- Steve Jobs
I like to watch TV. Okay, maybe I love to watch TV. Either way, you get it. I'm "addicted" to many shows, and I admit that a time or two, I have opted to stay in and watch a show over going out for human contact. What I don't like is to be judged for it.
One of my pet peeves is when I zealously talk about a show I love (i.e. Game of Thrones), and someone who doesn't watch it gives me a "You have no life" look and responds with, "Oh, I barely ever watch TV" as if their not doing so somehow gives them an intellectual superiority over me. To this I say -- suck it. Because while you were too good for TV, I was watching Game of Thrones and obsessing over the creativity that it takes for a group of minds to put together such a flawless show. And I was making new social network friendships spawned by my love for the show while you were sitting around haughtily having none. (Amidst my new online friendships with very real people, I actually shared some information with a fellow thronie about a Holocaust course I was taking, and it turns out they wrote a dissertation on genocide and the Holocaust, so there's another thing that happens from watching TV that I'm not "too good" for.)
I was also watching The Newsroom and learning about the Glass-Steagall Act and voter ID laws while you were out telling people how TV is making us dumber. And from Dexter, I took it upon myself to research psychopathy and certainly learned a lot from that while simultaneously watching the show religiously. Among that, I watched the presidential debates while they happened live and formed my own, unbiased opinions on the candidates by watching firsthand rather than listening to or reading biased accounts of them. From being a watcher of The Walking Dead, I have had riveting discussions of survival, human nature, ethics and morality. I also learned how to properly dispose of a dead body with hydrofluoric acid on Breaking Bad, although I will admit to being unlikely to need that knowledge. (In case it does enlighten you, don't pour that stuff down a the drain of a bathtub.)
I think I've made a few good points through those shows, but I will make brief mention of the fact that on Netflix I have also found and watched a countless number of documentaries such as Waiting for Superman, Vanishing of the Bees, and of course, the viral Food, Inc. -- all of which I have been awakened by in ways few non-television watching people have done for me. So, television is not turning me into a boob (although I wouldn't object to it helping me grow bigger ones), but rather, I find it doing the opposite. Even if I don't take the information I get from the shows at face value, the things I watch prompt me to do my own research to learn it for myself, which is more than what many people are doing or learning when they're not watching.
In fairness, I have a standard to the things I watch. I know when I'm watching something of value, and I know when something is garbage (a.k.a. Kardashians, Jersey Shore), so let's not misconstrue the message here. Not all TV is useful and not all TV watchers are anti-social zombies with no life. And zombies are cool now, BTW. I also equally love to read, so make no mistake... I'm reading nearly as much as I'm watching television, and I still recommend it to people, especially children, more than TV. My point in all this is while you're judging me for watching, I'm learning things from TV, and the most important thing I learned seems to be that I won't be sharing my popcorn or the remote with you. It is, after all, survival of the fittest.