Earlier this year, Phyllis Sues, a Huff/Post50 blogger, wrote about turning 90. This amazing woman talked about starting her own fashion label at 50, becoming a musician and learning Italian and French in her 70s, taking tango and trapeze at 80 and walking into her first yoga class at 85. "So, if you think you're old, think again!," she said. "What inspires me is the process of learning." This month, Sues accomplished a new feat -- she went skydiving. Accompanied by instructor Simeon Lott at Skydive Perris, the experience was so fantastic, Sues can't wait to do it again. Check out the photos below and what she has to say about the feat.
I have a few thoughts about jumping out of a plane. Am I nervous? Am I frightened? Anxiety, yes, but once I'm flying I'll let go. At 85, it was the same with trapeze. Jumping from the platform was one thing, but flying was a piece of cake! On the trapeze, I was weightless and selfless.
Now at 90, flying will be a trip not to be missed. Dangerous? I have everything to gain, nothing to lose. Fear has never been one of my stronger points. I'm sure when I touch planet earth, I will want to repeat the adventure. I anticipate feeling a connection with the universe. That's got to be magic. Oh my God, I can't wait!
What are my after thoughts on sky diving? The thrill of the silence when the chute opens. Maybe this is it. This is really it! What they say about entering heaven. It was like the pianissimo in music. Unless I repeat this amazing adventure, I will probably never experience such an awesome silence.I felt the world had simply stopped and I was suspended some where, nowhere. I lost my identity.
My copilot [instructor] was English, funny, 6 feet tall, handsome and totally articulate. While we were gliding under the chute 13,000 feet above the planet, we sang together "heaven, I'm in heaven" and I sang my song "Free Fall" -- "A little less gravity, I want to fly way up high, soar with the birds in the beautiful sky!" And then we landed ever so softly like two kittens. We were both flat on our backs and to my delight the chute came floating down and covered us like a silk blanket. Just one more wonder to this beautiful adventure.
I did not want this to end. Would I do this again? Would I? You bet!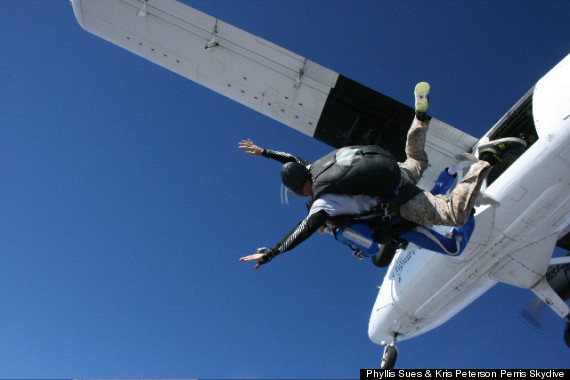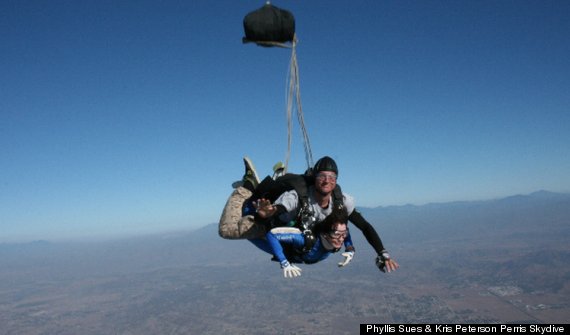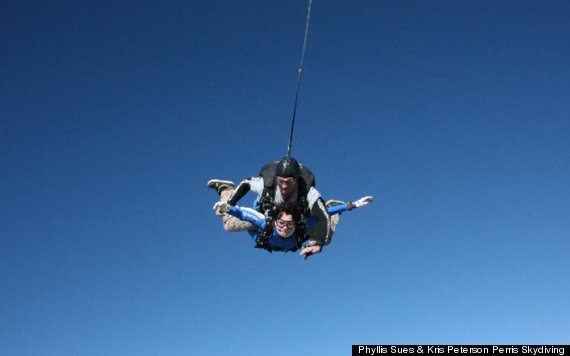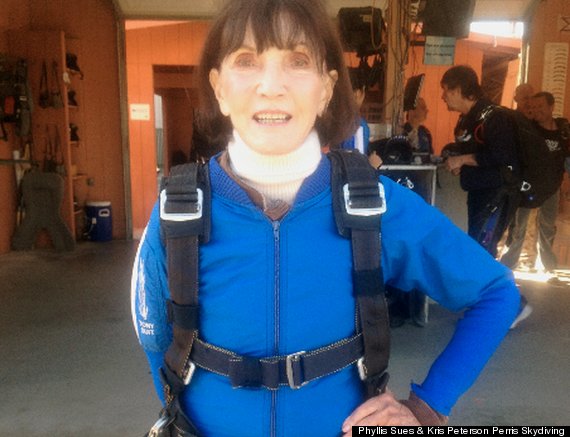 Earlier on Huff/Post50:
PHOTO GALLERY
Phyllis Sues