When you're at the helm of an organization fighting hunger and poverty for 70 years, it's easy to get excited when you see "poverty" as a topic in mainstream media channels. Between Pope Francis's outspoken position on global poverty (it's a scandal), the 50th anniversary of Lyndon Johnson's declared war on poverty, The Atlantic's special report on women in poverty, President Barack Obama's promise for a year of action on poverty, and most recently the 2014 Gates Annual Letter, it's safe to say poverty is getting a lot of attention.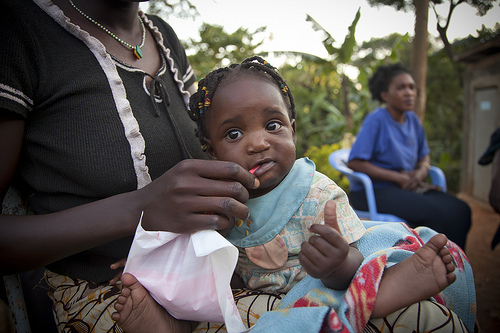 Photo by Dero Sanford, courtesy of Heifer International.
If you look at the rhetoric these days, there is great disagreement on how to best, most effectively rid the world of poverty. How should anti-poverty programs be designed so they work, and for the long term? In the United States, one side advocates for the redistribution of wealth through taxes and social mobility programs; the other for job creation and trickle-down economics through free markets. Despite varying levels of success from both sides, the U.S. is not exactly a stellar example for how developing nations can achieve stable prosperity for all citizens.
It is astonishing to recognize that extreme poverty across the globe has been halved since 1990. But this is little consolation to the 1.2 billion still living in abject situations. Global inequality shows improvement between countries, yet inequality within poor countries widens. Gaps persist, and not just in income or calories consumed; but also in health, well-being and life expectancy. As our friends at The ONE Campaign say, "Where you are born shouldn't dictate whether you live or die."
So how do we get there? What are the key ingredients-the philosophy, the practices-to a successful anti-poverty program? How can communities and countries everywhere have power over poverty for good?
In 70 years of work, we know that being rooted in core values agreed upon by all is essential. At Heifer International, our 12 Cornerstones for Just and Sustainable Development lay the framework for every program and project we undertake. We take these cornerstone values into every community where we work and help our participants determine for themselves how they apply to their lives and how they can be used to design a roadmap out of poverty.
To quote Saul Alinsky:
"If you respect the dignity of the individual you are working with, then his desires, not yours; his values, not yours; his ways of working and fighting, not yours; his choice of leadership, not yours, are important and must be followed; except if his programs violate the high values of a free and open society" (Alinsky, Rules for Radicals, 1971, p. 122).
It is also our experience that a community that lacks autonomy and self-reliance is a community that will never truly escape poverty. Autonomy-not of the marketplace, but of the farmers-and freedom from exploitation is the ultimate goal of every one of our programs. When communities achieve this, prosperity follows. While this seems to simplify things, since we work with human beings, our work is far from simple. But we know it works.
This post first appeared on Heifer International's World Ark Blog.