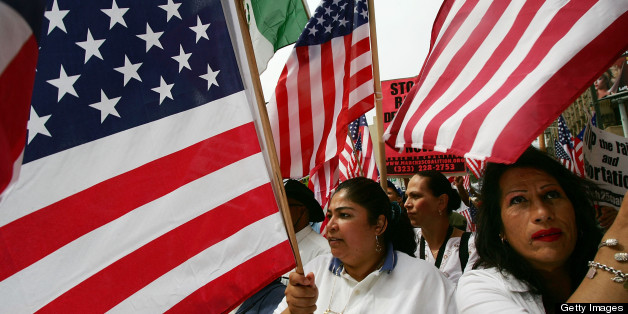 As the legislative drive to achieve comprehensive immigration reform gets underway in the Senate, some critics of the effort worry that legalization will flood the job market with low-skilled immigrants, dragging down the U.S. economy. This ignores the fact that our country's economic dynamism not only requires computer scientists and engineers, but also truck drivers, hotel and restaurant workers, nannies and agricultural workers. The benefits of that dynamism are best secured by creating a pathway to citizenship for the millions of immigrant workers who currently work in these jobs without legal protection.
The stories of immigrant gardeners and nannies suggest what the future may hold.
Immigrant workers without legal rights cannot defend themselves from wage theft, unpaid overtime or the dangers of toxic and unsafe working conditions. They can't complain to authorities about abusive employers or seek better jobs because they live in fear of being discovered and detained. And they cannot confidently invest their savings, buy homes, start businesses and hire others because they remain vulnerable to detention and deportation. Such conditions constitute a real drag on the economy.
Legalization would change all that. Immigrant workers could move from bad jobs to good ones. While not a magic bullet, it would allow them to invest in themselves, to learn English and new skills, to take chances. We know that immigrant workers who already enjoy legal status earn more than their undocumented peers, an effect that would be magnified as more workers become legal.
Legal status would not transform a suburban maintenance gardener into a high-tech tycoon, but it would allow him to move from the job of day laborer testing fate at the local Home Depot to a worker/entrepreneur. Research that sociologist Hernan Ramirez and I conducted with Mexican immigrant gardeners in Los Angeles showed that legal status and citizenship allowed these men to invest in trucks, tools and power machinery, to hire employees and develop billing systems, and to pay taxes and obtain business licenses. Combining the manual work of "sweating the shirt" with a small business ethos, they developed routes of paying customers and hired small crews of employees to do the work. They became job makers, not job takers, promoting an immigrant economic stimulus.
Japanese Americans followed a similar economic path in the 20th century. They suffered abuse and legal discrimination under California's Alien Land Law, which forbade them from owning property in the state, so many of them went into gardening. During World War II, tens of thousands of Japanese Americans were ordered into internment camps. After the war, suburban maintenance gardening offered many of them a route to upward mobility, making it possible for their children and grandchildren to become doctors, nurses and teachers.
Mexican immigrant gardeners are trying to launch their families too, but bringing the process full circle hinges on them gaining legal status.
Nannies, house cleaners, and in-home caregivers for the elderly are the female immigrant counterparts of the gardeners. In the late 20th century, the United States went through a work and family revolution, with married women with children joining the work force in a country without a national system of childcare. Immigrant nannies and private childcare givers filled the gap, freeing a range of employees, managers and professionals to work with undistracted focus and dedication. Now, with the looming tsunami of aging boomers, the U.S. Bureau of Labor Statistics tells us to expect increased demand for home health and elder care assistants, jobs where immigrant women are concentrated. Nearly every post-industrial nation around the globe is now confronting this scenario, and a solution begins with regularizing the legal status of immigrant caregivers.
Most undocumented immigrants live in families who members have mixed legal status. Approximately five million children who are U.S. citizens have an undocumented immigrant parent. Immigration reform that includes legalization and potential citizenship would be a game-changer in the lives of these young U.S. citizens, helping their parents obtain the resources they need to put them in better schools and graduate them from college. And then maybe the daughter of that gardener or nanny will become the next Silicon Valley phenom.
Shame on us if we miss this opportunity.