By Mike Barry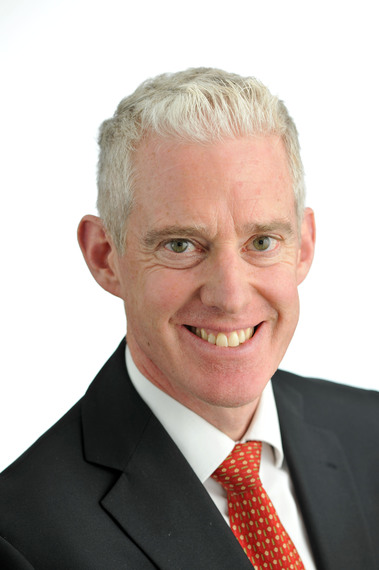 I have a very simple vision for my career: to change 1,000 companies for the better -- seven simple words that encapsulate a whole gamut of personal and professional hopes, aims and learning.
I haven't always had this clarity of purpose, but I can see where it emerged from. I grew up in the 1980s in the North of England. I was schooled in Bradford and attended university at Sheffield. It was a time of considerable change in British society: social upheaval in many inner cities, the miners' strike, large-scale unemployment. Then and now, I never aligned with a particular political party, but I was shaped by a strong sense of social justice and a strong moral compass imparted by loving parents.
That sense of social purpose probably should have pointed me to a career path in politics, academia or campaigning, but instead I made the decision to start down the business path. Something said, "Better to change from within than from without!"
Joining M&S in 2000 was a matter of serendipity. My still colleague and good friend Rowland Hill was plowing a lonely furrow in the business on environmental issues. He cajoled our then-CFO, Alison Reed, to take an interest and recruit an environmental expert to help. I joined a business in considerable turmoil, out of touch with its customers and head-down in the world of philanthropy, little aware of emerging issues in supply chains, climate change and waste.
Over four years, with no line manager, we discovered a business that did care and had many pockets of people doing the right thing; it just wasn't joined-up. It was truly less than the sum of the parts. My job then was simple: engage stakeholders, spot risks, make sure someone in the business was managing it, move on to the next issue.
By 2006 we'd become quite proficient at corporate social responsibility (CSR). We won a lot of awards for it. Sir Stuart Rose was our new CEO. I remember his congratulations for winning the awards, and then the "hair dryer" treatment that M&S was about leadership, not risk management! From that "prompt" came three "barnstorming" months of building Plan A, a plan to redefine how business thinks about social and environmental issues, a shift from managing the risks associated with business as usual to a commitment to dynamic change across the whole business, owned by the many, not the few.
So the role had changed again. Plan A was now a strategic change program touching all parts of the business -- project management, governance and systems integration -- entailing a relentless need to deliver hundreds of social and environmental commitments against tough deadlines, with transparent reporting of our progress.
You learn that the business has to "own" sustainability and see the business case for action right down to the individual leader level. You learn to align with the business's wider commercial direction of travel and help deliver growth, motivated teams, trusting customers and resilient supply chains. You learn to be a shepherd, leading from behind, not from the front; not imposing; not taking the glory while still taking personal responsibility for tough decisions. Above all, you learn resilience -- that even at a business like M&S (that is, a relative leader), there are tough days.
And the role is changing again. It's no longer just about leading a change program but strategically imagining a very different business model for the future, one that offers inspirational products and services to our customers while creating zero waste; being transparent, circular and carbon positive; and, above all, enhancing lives every day. Why? Because business must learn to live in a resource-constrained world where extreme weather is becoming the norm, and it needs a clear social purpose to retain the confidence of the people it serves.
It has not been a straightforward career path, but it's been great fun, and, above all, I believe Plan A has the potential to inspire 999 other companies to be sustainable too!
These themes will be addressed in more detail through the Pioneers for Change Fellowship, taking place March 23 and 24, 2015, in London. Pioneers for Change is an initiative of Adessy Associates.
Mike is Director of Sustainable Business at the retailer Marks & Spencer. He was part of the small team that, in 2007, developed and delivered the company's groundbreaking Plan A, a 100-point, five-year plan to address a wide range of environmental and social issues.
Reporting to the CEO, Mike is responsible for delivering M&S' aspiration to be the world's most sustainable retailer. His job is to work with the M&S leadership team to integrate sustainability into the heart of the business across its global retail channels and supply chains. This includes developing the business case, coaching and mentoring colleagues, changing business processes, increasing customer and stakeholder engagement, and business model innovation.
In May 2011 Mike was named The Guardian's inaugural Sustainable Business Innovator of the Year. He is Co-Chair of the Consumer Goods Forum (CGF) Sustainability Steering Group, Chair of the World Environment Center, Visiting Fellow at the Smith Centre for Enterprise and the Environment at Oxford University, and Senior Associate at the Cambridge Programme for Sustainable Leadership and sits on BiTC's Environment Leadership Team. Prior to joining Marks & Spencer in 2000, he worked as an environment manager in the engineering sector and as an environmental consultant. He is a chemistry graduate of Sheffield University.