By: Amanda Feldman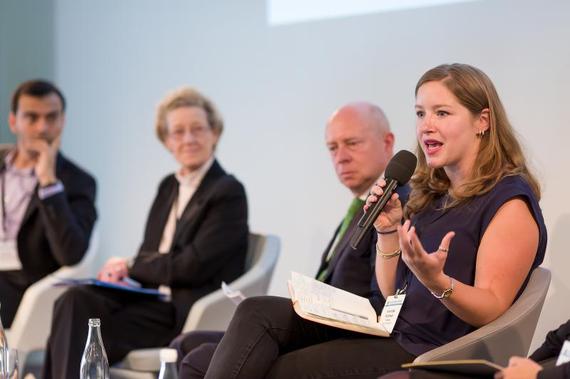 Growing up in a small town in New Jersey, I hung out with a group of kids that made headlines. Not the scary ones, about vandalism or drugs, but the rare good ones - where we staged a talent show to raise money for the victims of Hurricane Katrina, or knit hats for other kids our age with cancer, or sent Valentine's cards to veterans, or baked and sold cookies for the Great American Bake Sale.
I think the local press quite liked us -- this HuffPost series aside, the news can largely be a depressing forum. It's not a wonder we all feel a bit helpless in the face of our world's tough challenges. I like to think we gave the reporters -- and maybe even the readers -- a bit of hope.
Every project we did was driven by a random idea about how we, as a bunch of kids, could do something about a bigger issue in our community. Year after year, the definition of community expanded from our neighbors down the street, to New Orleans, to ensuring clean water for a school in Ghana, West Africa. Our ideas were our passports. The projects were serendipitous, and the key performance indicator (KPI) was delivering a smile. As I have become a greater advocate for more strategic giving at a large scale, I want to say, for the record -- go save the world, kids. Don't expect someone else to do it for you, follow your gut, and don't think too much.
While trying to figure out my place in the professional world as a Penn undergraduate, I studied literature -- and one professor, Peter Stallybrass, demanded one thing of our final paper: don't think. By thinking so obsessively about how we can be cleverer than the authors before, or the students to come, or the professor (!) -- we tend to invent new, contrived theories, and plug evidence into them, rather than find new ways to connect the literature and thinking that already exists.
It was a hard task, but one that has stayed with me over time. We have a huge job in this increasingly interactive and dynamic world to connect the dots. Not necessarily by creating something drastically new, that no one's ever thought of before. Instead, it's about finding common threads, themes and visions across a group of people that would have never spoken otherwise -- and wondering about the significant impact that might happen as a result.
I am drawn to the people who step up in the face of big and complex problems. Rather than shy away from the nature or scale of the challenge, they say something along the lines of: "I've got X years left. How am I going to do something about this... and encourage you to do something as well?"
This approach is global -- I have seen it from India, to Nairobi, to DC, to Malaysia. It knows no average age; it requires no special skills; it is a state-of-mind. Over the years, I've worked with such people on many different journeys:
Supporting the dreamers behind the South Jersey Field of Dreams -- who have spent years building a baseball field where handicapped kids from the local community could feel like winners, while building a model that others could replicate anywhere in the world.
Rehearsing spoken word poems in Malaysia -- written by schoolchildren to encourage their friends to say no to smoking tobacco.
Quietly cheering on the many people navigating multinational corporates to change the conversation - and the business model - to support the disadvantaged and protect the environment. The kind of people who know that a solution could exist within their own company, and take it on their shoulders to make sure it gets to market, and can be accessed by the people who need it most.
Trying to turn Dr. Eugene Koning's vision into a reality -- a retired optometrist, nearly 90-years-old from Grand Rapids, Michigan, who created a nearly indestructible set of eyeglasses out of steel wire for production at only 38 cents a pair, but needs to find ways to get it to people across India.
Inspiring the next generation of philanthropists -- who recognize they can give and invest their money in new ways, but need to convince their families of the new approach, while calculating the social and environmental returns.
Being inspired by an ex-banker who had gone on a trip to Mexico and promised an impoverished family that they would someday have access to finance - and is still redefining what microfinance means for them.
These people have huge energy, personal investment, and a deep frustration with change-as-usual. They bring an entrepreneurial spirit to the challenges we're up against. And I see my role everyday at Volans as bringing these not-so-separate people and ideas together, across sectors - activists, entrepreneurs, corporate innovators, investors, and philanthropists -- to make a mark on the issues that affect all of us, and do the homework that such messy challenges require, especially when it comes to changing the way we do business.
E.B. White, author of Charlotte's Web, said it best:
"I get up every morning determined to both change the world and have one hell of a good time. Sometimes this makes planning my day difficult."
These themes will be addressed in more detail through the Pioneers for Change Fellowship kicking off on March 23 and 24, 2015 in London. Pioneers for Change is an initiative of Adessy Associates.

About Amanda Feldman
Amanda Feldman is the Director of Impact & Innovation at Volans, building future-ready strategies and partnerships with global corporates, investors and social entrepreneurs. Her experience in non-profit management, public health policy and impact evaluation has shaped how she thinks about and influences business's role in crafting the future. After launching many global service projects driven by young people's ideas, she has since helped scale impact ventures across Europe, Africa and Asia. She co-wrote the most recent Volans' publication: Investing in Breakthrough: Corporate Venture Capital. She holds a B.A. from the University of Pennsylvania and a Master in Public Administration (MPA) from the London School of Economics.