By: Martin Martinoff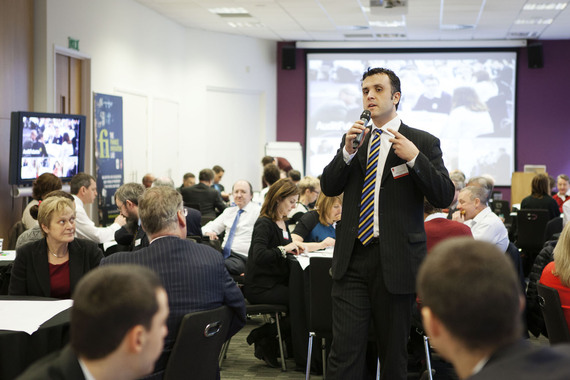 Inertia, or innate force of matter, is the power by which a body endeavors to resist change and preserve its present state, whether it be at rest or moving uniformly forward in a straight line (Isaac Newton)
What drives me crazy is the inertia we seem to have in solving complex problems. We're facing significant challenges today -- from climate change and international conflicts to lack of confidence in national and local institutions. Yet, we continue to resort to the traditional methods and organizations that have lost their credibility and therefore our trust. We have all witnessed 'groundhog day' discussions where everyone repeats the same script and nothing new really happens, we stay in the same downward spiral by repeating the same fruitless conversations over and over again. We rush into left-brain thinking to solve problem after problem and treat ailment after ailment while organs are failing. We keep applying bandages here and there while the patient is getting worse and worse.
On the bright side, this inertia has motivated me to search for new ways to transform its potential energy into something positive. It has inspired me to dedicate my experience and knowledge to work with others towards social innovation. I feel lucky to live in times when strengthening our civil society has become a mantra to individuals and organizations from across the globe. But I have discovered one area where people would find it very surprising to talk about social innovation -- accounting.
I am not an accountant but I have developed a passion for what the august profession of accountants and auditors can do for our society. In the 13th and 14th centuries, the trade expansions of Italian merchants stimulated the development of systems for keeping journals and ledgers. The invention of double-entry bookkeeping and the capital account gave birth to modern capitalism. Today, accounting and auditing are at a crossroads -- following a series of crises and conflicts and inhibited by cynical discussions about overregulation and tightening standards that further erode trust.
Accountancy can be part of the solution to the problems society is facing and it is about time it took the driver's seat. The profession can determine its own fate, take responsibility to restore public trust and embark on a new journey toward a more successful and fairer society.
We have set out on that journey of change. Over the past two years I have been developing an innovative program of the Institute of Chartered Accountants of England and Wales and the Finance Innovation Lab -- AuditFutures. It has become the compelling and evolving story about a profession critically evaluating itself and articulating a vision for the future. It is about the public interest, the issues of trust in 21st-century society, and how the profession can re-envision itself by inspiring a global and diverse community with a positive and proactive ethos.
We have created a safe, inclusive and collaborative environment where difficult questions can be addressed. We debated the need for a profession and its role in society at a series of workshops where senior audit partners work together with civil society leaders, students and even activists from the Occupy movement. In partnership with the Royal Society of Art and contributions from over 200 accountants and RSA fellows, we have published a ground-breaking report, "Enlightening Professions? A vision for audit and a better society." We believe that by welcoming diverse views, we will stimulate the debate beyond our comfort zone and generate innovative ideas and creative solutions.
We have developed a highly participatory process and creative culture. Through our engagement programs, we invite people to participate in discussions about the role of professions in society. We are working with business schools and professional services firms to rethink education and training as broader and beyond vocational skills, fostering enlightened values, independent critical thinking and self-reflection. We aim to empower young leader to actively shape the future and to inspire them to take a dynamic role in driving the profession forward.
We look at systems with bold experimentation and radical thinking. We see an opportunity to reinvent the public interest function of the profession by building a network of innovators and entrepreneurs from a number of firms who will work together. With ambitious long-term collaboration with leading institutions like the Royal College of Art, we are bringing design and systems thinking to accountancy to explore new ways for commercial firms to work shoulder to shoulder in the public interest. Participants in our Open Design Studio will prototype innovations to solve social challenges, will learn new ways of doing things and will become ambassadors for change and new ideas in their own organizations.
I am optimistic about the opportunities for accountancy to become an exemplar for innovative and socially minded profession. Considering the whole profession at international level, we are building programs to enable innovators, thinkers and practitioners to work together. No single organization can tackle the wider systemic issues that we are facing today, so this is why we are working by building partnerships and collaborations. We invite people to create something together that will have a lasting significance, where good ideas can flourish and where collaborative relationships prosper.
I hope you can join us.
These themes will be addressed in more detail through the Pioneers for Change Fellowship kicking off on March 23 and 24, 2015 in London. Pioneers for Change is an initiative of Adessy Associates.

About Martin Martinoff
Martin is leading AuditFutures - ICAEW's thought-leadership program on the future of the auditing and accountancy profession and its role in 21st century society. He received a Public Policy graduate degree from the University of Chicago and has an eclectic inter-disciplinary experience in entrepreneurship, innovation and design.