Filming on location in Istanbul, we get up before dawn, to make the most of the daylight. On the ride to set, I see families sleeping under trees along the banks of the Bosporus. "Those are Syrian refugees," the girl in the front of the van says. Aleppo is the city that comes to mind when I think of Syria, and it's in the west of Syria, so nearer to the Turkish border. I Google how far it is from Aleppo to Istanbul. It's over 550 miles.
When we finish filming, I am going to Beirut. I am going as much to educate myself, as I am to share my experience.
Driving through the center of Beirut, striped curtains luff over apartment balconies. Churches and mosques are backlit by a gauzy sea. The city is the color of a bleached seashell, and on a Saturday afternoon you can hear the wind whistling. The carcass of a bombed building sits beside a beach club with bathers and music playing. The Lebanese have an exuberant spirit, endless courses of food at the restaurants, and at night, fireworks and gunshots in the air.
Wedged halfway down a city block was a small theater that had shoeshine boxes hidden in the doorway. The street children's group that meets here four times a month does not bring their work inside. Unlike Jordan, Iraq and Turkey, there are no Syrian refugee camps in Lebanon. For many families that means living on the street. The Lebanese government has graciously accepted 90,000 Syrian refugee children into the public schools. However there are an "estimated 540,000 school aged Syrian children currently in Lebanon." * Jobs are hard to come by, and Syrian children are helping support their families by working in the streets selling flowers and shining shoes instead of going to school.
The psychological damage done to a child fleeing a war torn country, only to sleep on the street of another, I cannot imagine.
When I entered the theater, the children were drumming. They have been learning with a musician who is a street educator for the International Rescue Committee. Just like in America, for teenagers, banging loudly on a drum is very appealing. We did a bunch of group activities, and got to know each other a little. At one point, I laid down on the ground with the children and one of the group leaders played music and talked them through a relaxation exercise. One kid offered me his pillow. He was smiling back at me, waiting for me to put my head down. We shared the pillow. Afterwards, paper was rolled out on the floor with crayons. The children were asked to draw the place they saw in their mind during relaxation. One boy drew his home in Syria, and one boy drew his school.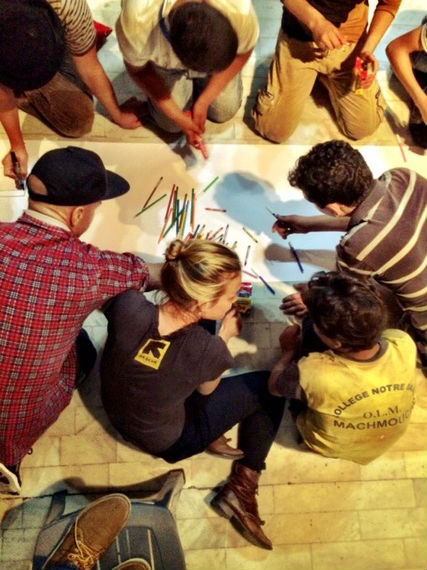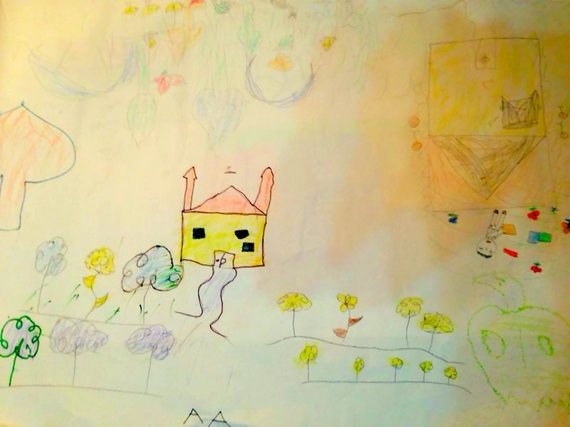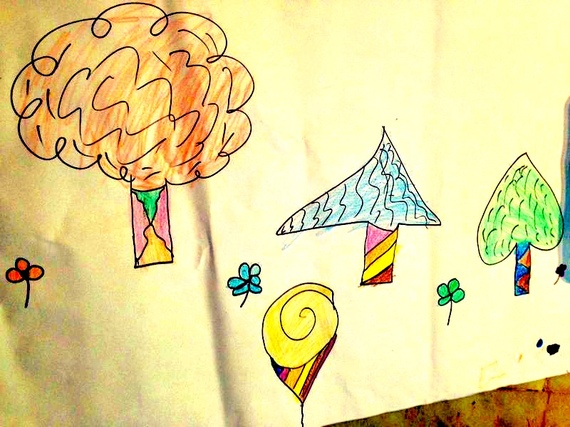 It was all boys in the group I sat in on. They were between the ages of 9 and 14. Near the end of the meeting, the boys decided they wanted to teach me a traditional dance. They jumped up and made a circle. Two boys took my hands. I do not speak Arabic, and felt shy. The boys loved it; they lit up, and slowed down, carefully pointing their toes, and showing me the steps. They smiled at each other, and would take turns dancing solos in the center of the circle, like dark winged birds.

Both Bahaa, the music teacher, and Maher who lead the children through the relaxation are Palestinian, and were born and raised in Lebanon in Palestinian camps. The child protection officer, Elena, told me how happy she was that both men were there. She said the boys look up to them, and they are strong role models. The boys feel they can relate to them, because these men have been through something like what they are experiencing. As we were leaving, IRC workers were putting together food for the boys to bring "home" to their families. All these white plastic bags of dinner, lined up on a folding table in a theater lobby, and then the shoeshine boxes outside. It is hard to know the boys who danced with me are sleeping on the street. As all the "Back to School" banners and ads are going up here in the States, I think of those boys in Beirut, and the many Syrian children that need to get back to school.

The International Rescue Committee invited me to go to Beirut to see the refugee crisis there first hand. The IRC is an organization started by Albert Einstein design to "respond to the world's worst humanitarian crisis and help people to survive and rebuild their lives. At work in over 40 countries and in 22 U.S. cities to restore safety, dignity, and hope." To learn more about the IRC, and the work they are doing, or to get involved yourself, go to RESCUE.ORG