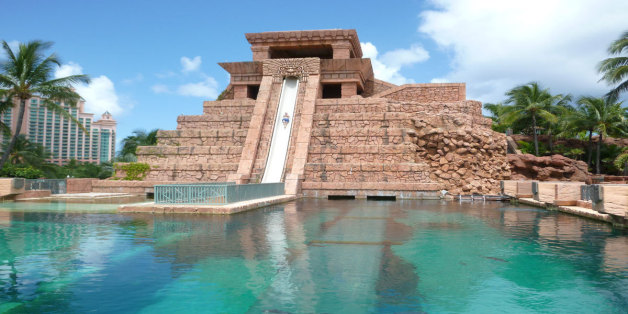 This post was written by Natalie Krawczyk and originally appeared on Pixable.
Forget what you've ever heard about water slides being for kids. These awesome water slides will have even the bravest adults cowering in fear.
So grab a bathing suit and jump in the car (or plane) and start your summer off right by riding one of these water slides no one will ever be too old to ride. If traveling to these waterparks is out of the question check out these heart-stopping POV videos.
1. Verrückt, Schlitterbahn Waterpark -- Kansas City, Missouri
With an incredible 168 foot drop, the Verrückt is currently the world's tallest water slide. The ride is so fast and the two drops are so intense that riders are required to wear a seat belt.
2. Insano, Beach Park -- Fortaleza, Brazil
Until Verrückt opened, Insano was the world's tallest water slide. A ride on this slide will last less than five seconds.
3. Mammoth, Splashin' Safari -- Santa Claus, Indiana
You won't have to worry about spending an hour on line for a three second ride with Mammoth because this water coaster is over 1/3 mile long.
SEE ALSO: Hold Your Breath! Epic Mashup Of Roller Coaster Drops
4. L2, Woergler Wasserwelt -- Wörgl, Austria
The L2, the world's first double looping water slide, is so scary that the Woergler Wasserwelt warns "wimps, wusses and chickens" not to ride.
5. Leap of Faith, Atlantis Paradise Island -- Bahamas
Perhaps one of the most recognizable water slides in the world, Leap of Faith sends riders down a 60 foot drop and into a shark-filled pool.
6. Tantrum Alley, Wild Wadi -- Dubai, United Arab Emirates
With a name like Tantrum Alley it's no surprise that the water slide "incorporates two large sections of downhill waterslides and three exciting tornadoes." Hey, where does the line begin?
SEE ALSO: 18 Photos Of The Abandoned Six Flags New Orleans Will Send Chills Down Your Spine
7. AquaLoop, Terme 3000 -- Moravske Toplice, Slovenia
As soon as the floor gives out from underneath you, you'll shoot down a vertical tube and rocket through an inclined loop before you land in a pool. If there was ever a time to follow the weight restrictions this is the slide. If you don't weigh enough you might not be able to make the loop.
8. Toboggan, Città del Mare Hotel Village -- Palermo, Italy
At first glance this set of 11 water slides might not look as intimidating as the AquaLoop or Insano, but the "pool" at the bottom of these water slides is clearly the best.
9. King Cobra, Hurricane Harbor -- Jackson, New Jersey
King Cobra combines everything you love about water slides, speed, height and a ridiculous drop angled at 50 degrees.
SEE ALSO: This Crazy German Water Park Is Built Inside An Old Airship Hangar
10. Sky Caliber, Action Park -- Vernon, New Jersey
When this terrifying water slide opens in 2016, it will be the first of its kind. It will rocket riders through a 30 foot loop at an incredible six Gs.
11. AquaDuck -- Disney Dream and Disney Fantasy cruise ships
Whether you call it a water slide or a water coaster, this attraction atop Disney cruise ships is epic not in its sudden drop or speed, but the incredible views and height above the ocean.
12. Bomb Bay, Wet 'n Wild -- Orlando, Florida
With a 76 foot drop it's not surprising that half of the people that climb the stairs go down the same way they came up.
SEE ALSO: Do You Have The Guts To Ride The World's Tallest Water Slide?
*Bonus* This totally illegal water slide in Australia
100 percent dangerous, but 100 percent fun. That is until someone gets hurts.