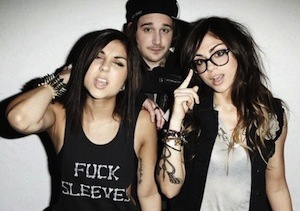 "I think we have a lot of lesbian fans!" confesses Krewella's Yasmine Yousaf rather joyously, "There's really something about the whole girl thing -- my sister and I being the girls in the band, obviously -- that they can relate to."
Of course, it should come as a surprise to no one that pop newcomers Krewella are amassing an LGBT following. With the club-ready electro-dance beats of the trio's breakthrough hit "Alive" to attract the boys and a pair of beautiful, bad-ass sisters to appeal to ladies, Krewella's got all the bases covered.
And it's showing, says Yousaf, as gay supporters comprise a noticeable portion of the band's ever-growing audiences. Fans will continue to explode now that the group has issued its first full-length album on Columbia Records. Released on Tues., Sept. 24, Get Wet includes "Alive," follow-up "Live for the Night" and others previously available on the group's Play Hard EP.
"I think what we preach -- not that we 'preach' anything too outwardly, because we want everyone to like our music -- but we preach love and acceptance," says Yousaf, who in 2007 formed Krewella with sister Jahan and mutual friend Kris "Rainman" Trindl.
Indeed, "love and acceptance" and getting the party started could well be the trio's mantra. Get Wet features a radio -- and dancefloor-friendly collection of electronica steeped in house, dubstep and drum & bass. In preparation for the album's release, Krewella headlined EDM festivals around the world.
During that time, the group picked up a 2012 International Dance Music Award for "Best Breakthrough Artist." Yousaf says they have also had some really memorable fan interactions.
"Everyone I've met along the way, gay or straight, whatever their gender or race, are all so sweet," she says of Krewella's fans. Still, Yousaf notes some truly memorable stories "from gay fans telling us things they've gone through."
"So many amazing people have come up to us at shows or after shows and told us how they were too afraid to come out or weren't accepted in their communities," she remembers. "And our music has helped them or made them stronger. That makes me feel amazing!"
"It's really, really sad but also really hopeful, that they've come to a better place in their minds," Yousaf remarks. And the Chicagoan is extremely pleased to have Krewella play a positive role in that experience.
Says the singer: "The most beautiful thing music can do is help you through a hard time or help you be stronger when you really need a hand."
Read Pollo Del Mar's related interview with Krewella here.