"I was raised without any structure, whether that be a good thing or bad thing," admits singer Neon Hitch.
Traveling the world with a mother who bucked societal norms, occasionally squatting in abandoned trucks and busses, Hitch earned a living as a street performer before being discovered by dance music phenom Benny Blanco. The experience, and her mom's unique parenting style, truly influenced her as a person and performer, she said during a recent telephone interview.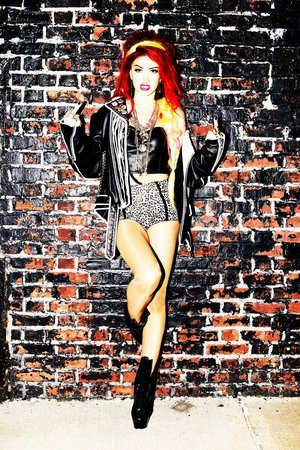 "My mom, she let us all find our own path," shared the Brit, who first landed on U.S. pop charts as the featured vocalist on Gym Class Heroes' global Top 20 hit "Ass Back Home."
"She has never believed in labels," Hitch recalls of her mother, "Whether she wanted to date a woman, a man, a guy who thinks he's the Tinman or whatever it is, she does her own thing -- and let us do ours."
While that statement undoubtedly sounds outrageous, all are true-life example, Hitch assured. The singer, who topped Billboard club charts with singles "Fuck You Better" and "Gold," confesses her mom even once dated a man who thought he was Jesus.
"I was like, 'Mum, what are you doing? He's not really Jesus!'" she recalled with a laugh.
Though her upbringing was clearly unconventional, it led to the singer's accepting nature and respect for all people. Not only did it offer the theme for her upcoming national "Freedom" tour -- where Hitch plans a cross-country trek (in a bus, naturally!) to meet fans and perform at small venues -- it also plays into her strong connection to the LGBT community.
"We are not afraid to express ourselves," she pointed out. "I don't like people who are too stiff, because it makes me uncomfortable. I kind of need people who are comfortable with themselves for me to feel comfortable."
Not surprisingly, Hitch says LGBT pride shows are among her favorites -- and, thusly, she's anxious to perform Friday, May 23, at California's Great America Pride Night 2014. She joins pop duo Karmin, comedian and television personality Ross Mathews, gay icon Lady Bunny and YouTube sensations DWV for the 15th-annual event in Santa Clara, CA.
As one of her first major performances since recently breaking with her record label, Hitch promises a significant amount of new material for the show. That, she said, is the biggest blessing of now being an independent musician.
"I need a certain amount of freedom," she concluded. "If I want to put out a song today, because I need people to hear it, I can do that - and that is my mission."