From fan expectations to pressure to conform, pop/R&B singer Estelle says it isn't always easy to stay true to oneself in the music industry. The Grammy-winning "American Boy" singer, however, refuses to bow to the stress.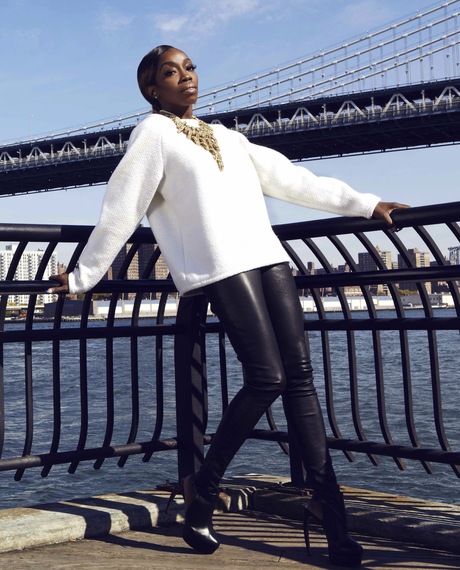 "I have to live authentically at all times," said Estelle during a recent telephone interview promoting her empowering new single "Conqueror," "And that's part of what makes me an artist. I'm not scared to do that."
Throughout her career, which started in earnest with much-lauded single "American Boy" featuring Kanye West in 2008, Estelle has defied industry norms. Refusing to be easily categorized, the star frequently straddles genres. She is as at home singing the Grammy-nominated R&B jam "Thank You" as dancefloor burners like "Freak" and the David Guetta-assisted "One Love."
"I think having to stand by those rules of 'I'm going to be one of the other' is the most limiting thing you can do to an artist, the most frustrating thing you can push on an artist," the British-born singer stated, "I just go by heart. I've always gone by that."
As Estelle readies her latest album, True Romance, she continues her musical evolution, exploring all aspects of what it means to be in love. With "Conqueror," she pushes herself vocally to deliver a simple message of overcoming life's obstacles. It is, perhaps not surprisingly, a stark contrast to the album's lead single.
Predecessor "Make Her Say (Beat It Up)" -- with pounding bass and provocative, pheromone-laden lyrics -- finds Estelle in sexual overdrive. While the track's content perhaps caught some fans off-guard, she says it shouldn't.
"I like great sex -- I'm slightly ratchet some days," she explained, "But because I like great sex doesn't mean I can't have my downs. To me, it's more about being a real person, a real human."
To underscore the idea, she wanted to showcase the natural human sexual experience in the song's music video. It was a concept she had to fight for, as others had decidedly different ideas about how things should play out.
"They were like, 'Oh, you've got to be real fierce!'" she recalls. Her team even went so far as to encourage her to emulate the legendary Grace Jones. "Grace is someone I actually love," admitted Estelle, who says she's met and been around the iconic actress and singer. "Grace Jones inspires our lives, you know?"
Her appreciation for Jones' contributions aside, and while acknowledging the song would have made it easy to take a video in that direction, Estelle stood her ground. She had to actualize her own vision, she said.
"Look, I'm not Grace Jones," Estelle shared. "That was what Grace did. It's fun to take the influence of what she does and what she did, but I'm no more Grace Jones than I am Norah Jones. They're both here. They both still exist. It would be wrong for me to not create my own name versus just copying theirs."
In typical fashion, Estelle got her way. Rather than taking the Grace Jones approach, "Make Her Say" asks a diverse collection of real-life couples of all shapes, sizes and racial combinations to describe their sex lives, then places them in realistic sexual situations. The video is at once honest and steamy -- without relying on Photoshopped models and actors to carry the burden.
"It made you think and watch the video a few more times and wonder what I was doing when you saw regular people with no airbrushing, you know?" she said. The star seems infinitely happier with the results than she would have been the alternative.
"I think that's more interesting that 'Oh, geez, how much black leather did she wear on the set?' or 'What did her outfit look like? What did her tits look like? Is she going to do Janet?'" Estelle recounted.
"No! I'm not any of those things -- yet I am all those things," she concluded. "I'm just not trying to make a video about it too."