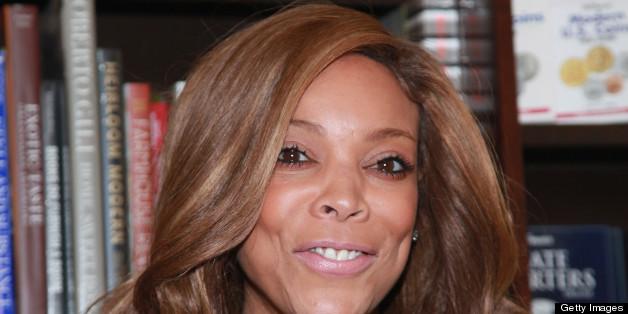 Fans don't just tune in to Wendy Williams syndicated talk show to watch her kiki with Hollywood's A-List. By her own admission, the star's "calling card" has become offering practical, hard-hitting -- often downright blunt -- solutions to real-life problems posed by her studio audience.
This is the basis of Williams' latest book, Ask Wendy, released Tuesday, May 7. After reaching out to fans for submissions, the New Jersey native published a 304-page collection of audience-submitted questions -- and the solutions only Wendy Williams could offer.
"No question was off-limits," the 48-year-old admitted during a telephone interview the morning of the book's release. Williams divided the questions into thematic chapters. "There's the sex drama chapter," she explains, "And the mother drama chapter. I answered them all!"
From a directionless college student seeking advice about what to do with life post graduation to a woman wanting guidance on how best to handle her husband's request for a threesome with his exgirlfriend, she tackled each with aplomb.
"Some of the questions were rather shocking," she admits, "But I answered them all with a straight face. People want answers, and I did my best to provide them, seriously."
Perhaps not surprisingly, Williams -- who will introduce a new wig line by summer's end and make her bow on The Great White Way as Matron Mama Morton in the Broadway revival of Chicago in a matter of weeks -- is taking her advice-giving show on the road. Friday, May 24, Williams headlines Pride Night 2013 at California's Great America.
"I'm really excited," Williams enthused about the annual LGBT, all-ages event hosted by the Santa Clara, CA-based theme park. Fans can submit question in advance through the Pride Night Facebook page. The multimedia giant will dole out answers to select questions during a 45-minute live set on the park's main stage.
"Again, there's no question off limits," Williams says. "I take my advice very seriously, so they definitely won't be laughed at, at least not by me!"
In addition to Wendy Williams, Alex Newell from TV's GLEE and chart-topping dance artist Luciana also perform. Tickets to Pride Night 2013 are $45 in advance, $55 at the door. For more information or to submit a question for Wendy, visit the Facebook page. Wendy Williams promotes Pride Night 2013 in this YouTube video.