Hawaiʻi's state treasure, the voyaging canoe Hōkūleʻa is on a 47,000-mile journey around the world to bring people together to protect our earth and oceans.


Over the past 40 years, Hōkūleʻa has sailed 150,000 miles throughout the Pacific Ocean, reconnecting the nearly-lost voyaging traditions of islands throughout the Polynesian Triangle. The design of our voyaging canoe, Hōkūle'a, mimics the ancient waʻa kaulua, or double-hulled sailing canoes, used by Polynesian seafarers a thousand years ago to find and settle every inhabitable island within 10 million square miles of the Pacific. Hōkūleʻa's deck, stretched between double hulls, is open to the elements. She is lashed together without steel rigging, or metal fasteners.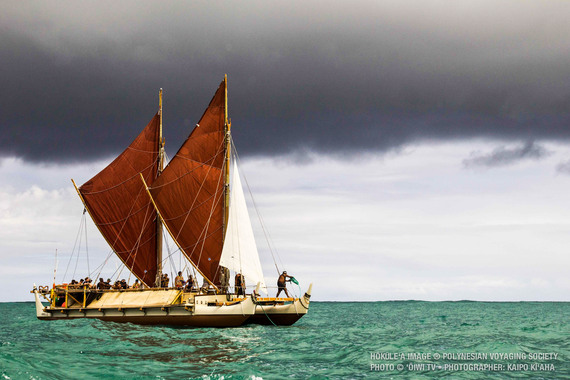 On board, there is no compass, sextant, or GPS. The handheld devices and watches that many of us rely on every day for direction and information are taken from the possession the dozen or so dedicated crewmembers. At sea for long stretches of time, they practice and perpetuate the art and science of traditional Polynesian wayfinding. In wayfinding, the dome of stars that stretches in all directions is a map that surrounds the navigators. When cloud cover makes it impossible to gain a bearing, wave patterns and currents, as well as animal behavior, can help to give a practiced navigator directional clues.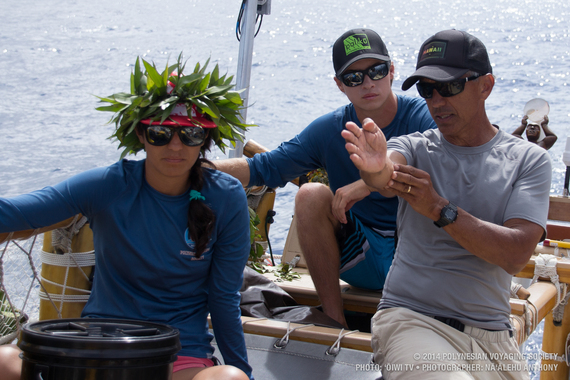 The name of the Worldwide Voyage in Hawaiian is Mālama Honua, which means "to Care for Our Island Earth." To date, we have sailed 8,000 nautical miles and are nearing the coast of Australia. At each stop along the way we have been humbled by Mālama Honua commitments from communities, families, and school children. People are ready to stand up for our one ocean and one island earth. We set out to build a community based on shared values, but have been amazed at the depth and breadth of the positive work people are already doing. If Hōkūle'a can connect the stories of hope that show a better pathway, perhaps we can all set a better course.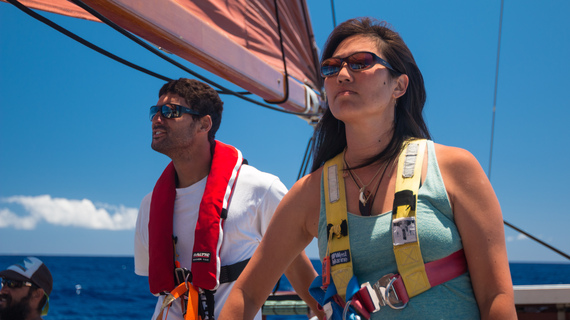 New Zealand was our most recent stop on our current voyage around the world. We reconnected with Maori voyaging associations, honored our shared seafaring traditions and reaffirmed that they are guiding us forward in restoring culture, language, and sustainable environmental practices. Although we had sailed to New Zealand in 1985 during Hōkūleʻa's Voyage of Rediscovery, we reached a new horizon, travelling further south in latitude than ever before in four decades of sailing. There, in Golden Bay, we were able to have a rare glimpse of the protected remains of a 600-year-old Polynesian canoe were recently rediscovered in the very bay we moored in.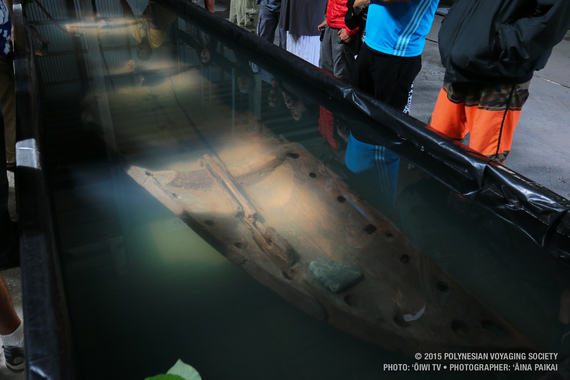 It helped us see that as much as we push our boundaries, we are still travelling the ocean pathways of our ancestors. Perhaps it is just the affirmation needed as we sail outside of the Polynesian Triangle for the first time in Hōkūle'a's history. As we near Australia, It's a reminder that we are on the right course, and that we are ready for new horizons. You can track the course of Hōkūleʻa's journey and the mālama honua stories of hope map at www.hokulea.com.