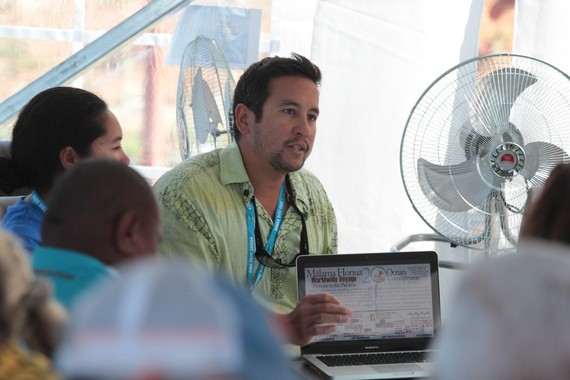 The large white tent in the middle of a field seems like a venue better suited for a wedding than for a meeting of delegates and government officials from around the world. United Nations folks from New York, ambassadors from Africa, agency directors from Australia, representatives from China, and presidents of countries. The stifling afternoon heat and the gusty winds are our great equalizer as we huddle tightly together in the shelter of the tent.
Today, Jenna Ishii and I are invited to speak at the United Nations Small Island Developing States Conference "Bright Spot Exchange," hosted by the Global Islands Partnership. We sit among the many conversations in many languages, trying to understand exactly what we're doing among this extraordinary crowd and just how we'll compel them to support Mālama Honua. We don't have to wait long to discover how well it works out.
The panel is set up like speed dating, with attendees afforded the opportunity to switch every 30 minutes or so to the next topic of discussion. Ultimately, many of the folks that originally sit with us decide to stay the length of the event and others trickle in. Like the thousands of us in Hawai'i who have been drawn to volunteer for the voyage, we don't have to explain much to our engaged participants.
The vision of Mālama Honua provides its own gravity, and the story of Hōkūle'a and the evolution of what she has come to represent speaks for itself. After all, the magic of Hōkūle'a has always been the positivity she projects, the people she draws to her. And after 39 years of sailing, on this day she proves that her magnetism is stronger than ever.
The immensity of what Mālama Honua represents isn't lost on anyone. Folks from around the world have heard of her story, and to our mild bemusement we discover she has had the same effect on people far beyond Hawaii's borders as she has in our home islands.
A number of people offer commitments -- reflections of our own to our Pae'āina and her keiki -- extended like pearls, knowing, perhaps intrinsically, that Hōkūle'a has the unique ability to string them together as she sails around the world. In fact, just the day before this event under the tent, United Nations Secretary General Ban Ki-Moon came aboard the canoe to present a message in a bottle, tasking us to deliver it to UN headquarters in New York City in 2016, thereby initiating a UN discussion of what we can collectively do for the oceans of Island Earth.
If we needed a sign that this voyage is far greater than any of us, I'd point to this as being as good as any thus far.
Above all else, the opportunity to present at the UN Small Island Developing States Conference showed us that while Mālama Honua is extraordinarily difficult, unfathomably complicated, and absurdly ambitious, it is also entirely necessary. The conference has been a validation, a proclamation that Mālama Honua needs to happen by verdict of a broad spectrum of people at a United Nations conference held only once every ten years.
Amidst the heat, the wind, and a dizzying array and cacophony of delegates, there is comfort in learning that the Worldwide Voyage is now a worldwide effort.