Crewmembers will voyage 1,500 nautical miles to Tonga and New Zealand
*This post taken from different crewmembers aboard Hōkūleʻa
New crewmembers are leaving the Hawaiian Islands today and arriving at Pago Pago, American Sāmoa to join with Hōkūleʻa and Hikianalia. They will set sail to Tonga and the Kermadec Islands en route to the northeastern tip of Aotearoa (New Zealand).
This leg of the Worldwide Voyage includes three crewmembers from the small Hawaiian island of Molokai. "The Molokai community fully supports these crewmembers as Hōkūleʻa represents all of us, coming together to protect the places, values, and traditions that we love," said Mel Paoa, Molokai's first voyaging captain for Hōkūleʻa.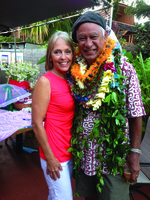 Mel Paoa with his wife Donna.
"I did my first open-ocean sail on Hōkūleʻa in 1985 at the age of 32," said Paoa. He has dedicated his life to inspiring young people to never give up on their dreams and to constantly challenge themselves. "When we return we will be honoring our shared past and our shared future," said Paoa. Of his fellow Molokai crewmembers, Mahina Hou Ross and Keoki Pescaia, Paoa says, "We are very proud of these young crewmembers. They've put in a lot of preparation for this voyage - they live it, they know it."
Kauaʻi, Maui, Big Island, and Oahu crewmembers, as well as two Maori voyagers from Aotearoa, will also join this diverse crew for the 1,500 nautical-mile leg of the Worldwide Voyage. Together, they will become a part of the journey that returns Hōkūleʻa to Aotearoa for the first time since 1985. Hikianalia, which was built in Aotearoa in 2012, will be returning to her "birthplace."
When Hōkūleʻa's arrival in 1985, they recognized her as the sixth canoe carrying the sixth tribe, thus, the theme of the Sāmoa-New Zealand voyage of 2014 is Nā Waka: A tribe returning home.
"We've been exploring physically outward for more than 25 years into the Pacific, and certain themes have emerged as important to us - education and protecting and preserving our beautiful environment, our rich heritage and culture, and our kinship with other Pacific Island nations who are really our ancestral families," said Nainoa Thompson, president and Hōkūleʻa captain.
"When we add all these themes up, we find they are really about relationships - among all of us as members of this community and between all of us and this beautiful place in which we live," said Thompson. "Our work may be in history and culture, but it's really about finding ways in which we can all participate in trying to envision and shape the kind of future that we want not just for us, but for future generations."
Hōkūleʻa and Hikianalia are slated to arrive in Aotearoa in November. Crewmembers' arrival to the region will commemorate nearly thirty years since Hōkūleʻa first voyaged to Waitangi, Aotearoa.

Molokai Crewmembers were honored during an block-party event in Kaunakakai. Known as Kulāia, the event connected the Molokai community with the worldwide Waʻa community.
For more information about the Polynesian Voyaging Society and the Worldwide Voyage, visit www.hokulea.com or find us on Facebook, Twitter, Instagram, YouTube and Google+.
About the Polynesian Voyaging Society
The Polynesian Voyaging Society was founded in 1973 on a legacy of Pacific Ocean exploration, seeking to perpetuate the art and science of traditional Polynesian voyaging and the spirit of exploration through experiential educational programs that inspire students and their communities to respect and care for themselves, one other, and their natural and cultural environments.