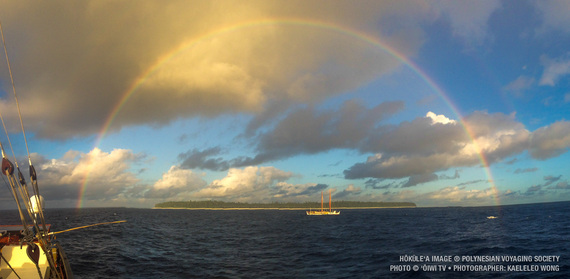 Written By Eric Co, Voyage Crewmember
We sail in to Olosega Island (Swains Island) on Hōkūleʻa and Hikianalia amidst songs, dances, and the homecoming warmth known only to this place. The community that welcomes us to this tiny, postcard-perfect island treats us instantly like family-- sharing food, tents, and anything else we might need-- so there is no room for any awkward moments. This is no small feat given the intimacy of the campsite. We are all together on the beach, without power and with only the water we brought with us-- them by steamer, us by canoe. As a backdrop to this scene, what remains of the original structures and dwellings stand haunting and empty just inland, steadily being reclaimed by the island.
My first impression of this place are its paradoxes: The easy warmth of the people on balance with the difficult challenges the island presents them, and the hardships of the past set against the promise of the future. Olosega Island is a lesson in just how fickle we can be with our natural resources, and what it will take to sustain them.
On a map, the isolated island--all three square miles of it-- might just barely register as a dot amidst a wide expanse of Pacific Ocean. A part of the Tokelau Island chain, it is now uninhabited, but the booming Copra industry of the 19th and early 20th century provided for the Jennings family and a small community willing to help them farm it. To these Islanders it was everything. And sadly, everything would change.
As quickly as Copra came into fashion, it disappeared in the rear view mirror a century later, and what ensued was a diaspora of the small community off of Olosega Island to American Samoa, Hawaii, the west coast of the U.S., and elsewhere. This exodus marked an end of an era, and the beginning of uncertainty. An island no longer has purpose to the outside world. And without its purpose, this tiny island in the middle of the Pacific now struggles to find its way under a complex and vague political status that in this day and age simply doesn't seem possible anymore. It is a longstanding U.S. territory along with American Samoa, but one that is poorly defined. As a result Olosega Island has received scant attention and support from the far-off country that once adopted it for a now defunct cash crop.
With the sunset of Copra also came the dawn of the most lucrative tuna fishery in the world, one that has of late rediscovered Swains Island and it's rich fishing grounds. Unsurprisingly, the U.S. has once again turned its attention to Olosega Island, and its tuna fleet has lately been trying to push into its waters.
So as a first step to protecting the island's autonomy, safeguarding its resources, and regaining its purpose, the Jennings family took a bold step. In 2013 the island's owners worked with the U.S. National Oceanic and Atmospheric Administration to designate the waters around Olosega a National Marine Sanctuary, thereby closing it off to commercial tuna interests and instead keeping it open to future opportunities for the community.
Alex Jennings is a direct descendant of the man who came to own the island in the early 1800s. He is one of three individuals who hold title to the island, and is the one that maintains the closest tie to it and its scattered community. He understands the value of conserving their natural resources. But he also recognizes that protecting marine resources is a big step toward being able to bring his people back onto the island; maybe for short stays at first, but eventually, permanently. To his thinking, the island's newfound protection can attract a number of potential visitors, including researchers looking to study its near pristine conditions, and high-end tourists looking to enjoy them. Hosting visitors would in turn provide Olosega community members an opportunity to once again reside on the island; a return of both Olosega Island people and culture. On this, Alex is insistent, "We don't want to just preserve our resources. We want to preserve our culture."
Alex and his family also have a greater vision for how the sanctuary designation can also be a pathway toward sustainability. Through all of this, they have understood that with their challenge comes enormous opportunity. With a pristine island uninhabited and now also protected, they can start anew, and strike off into any direction they choose. The Jennings family and the scattered community see the immense opportunity of reinventing Olosega as a totally self-sufficient island; one that might serve a model for sustainability for the rest of us. It's a blank canvas, but one that's made of a rich cultural fabric.