By: Mady Dahlstrom, Content Editor for Porch.com
A small kitchen means limited space to cook, eat and entertain. While it can be easy to bombard your countertops with jars, baskets and containers, this is also quick to make your kitchen look messy and unorganized.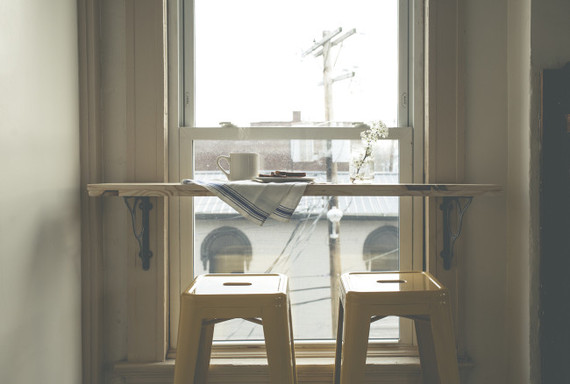 Learn how to use your space wisely with the help of these ten small kitchen hacks! From vertical storage ideas to hidden organizers, these clever tips and tricks will keep your spices in a row and your clutter off the counter in ways you never imagined!
1. Vertical storage and chalkboard wall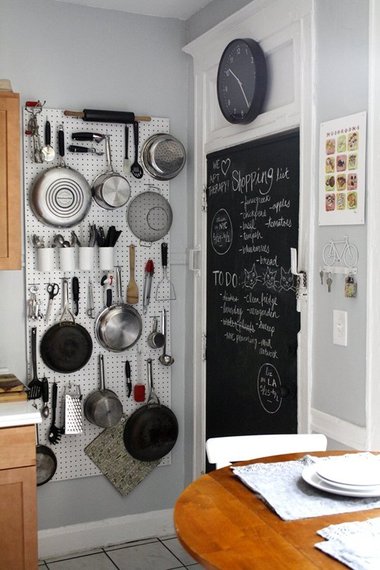 Make the most of your small space by being smart with your storage. Hang pots and pans from a vertical pegboard or paint a wall in chalk paint for an easily accessible shopping list that won't clutter your fridge.
Image Credit: Apartment Therapy
2. Magnetic knife rack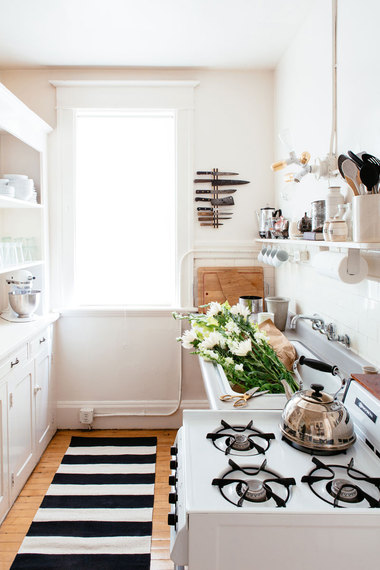 Save countertop space by making a magnetic knife rack that hangs on your kitchen wall. All you need is a piece of wood and magnet strips for this kitchen hack!
Image Credit: Colin Price Photography via The Everygirl
3. Sliding wall baskets and caddies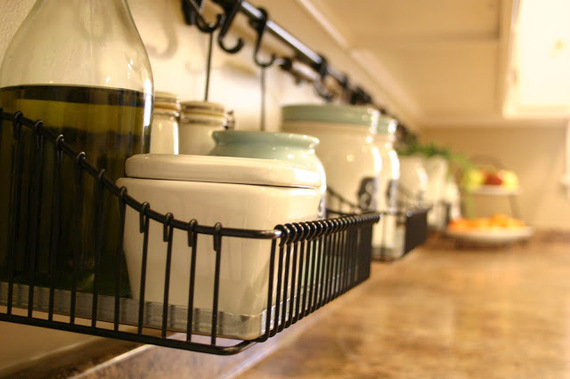 If you have a habit of leaving cereal boxes or cooking supplies on the counter, add some rails with sliding baskets and caddies to keep your utensils and cooking ingredients handy.
Image Credit: No. 29 Design
4. Canned food organizer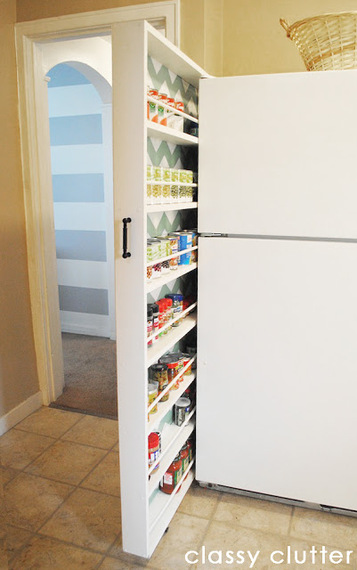 Be creative with your storage by maximizing empty space that may be hiding. This sliding shelf on casters lives in the inches between the fridge and wall, and is perfect for holding canned foods and spices.
Image Credit: Classy Clutter
5. Window bar table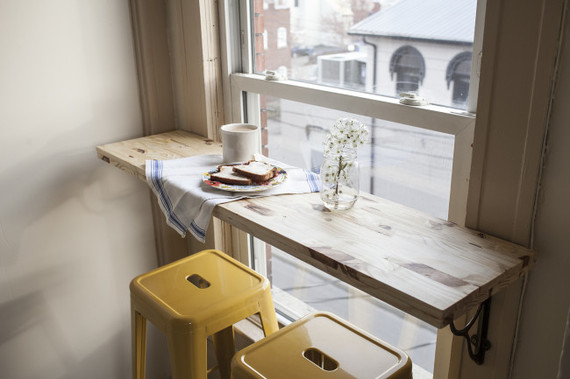 If your kitchen can't fit a dining table or seating area, create your own café corner by building a window bar table.
Image Credit: Offbeat and Inspired
6. Under the sink trash bags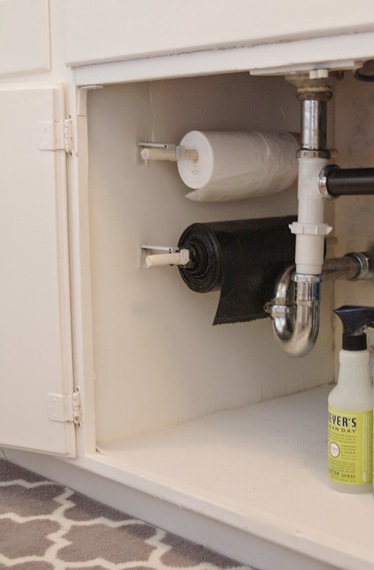 Do you have limited space under your kitchen sink? This trash bag organizer is a game-changer. Mount curtain rods on brackets under your sink and hang your trash bags for easy access.
Image Credit: Simply Organized
7. Hidden cabinet organizer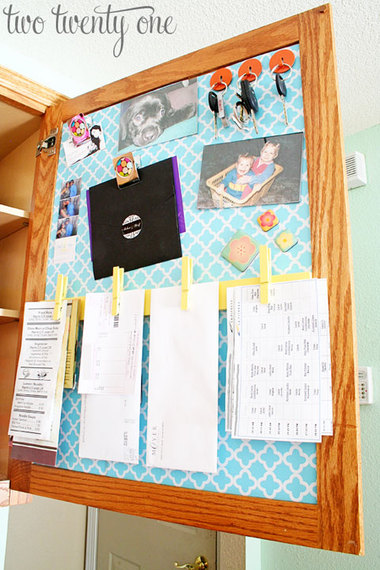 Clear the chaos from your fridge by making a custom organizer on the inside of your cabinet door. Clothespins, magnets and hooks on decorative paper will corral all of your bills, photos and gift certificates in one place.
Image Credit: Two Twenty One
8. DIY wine rack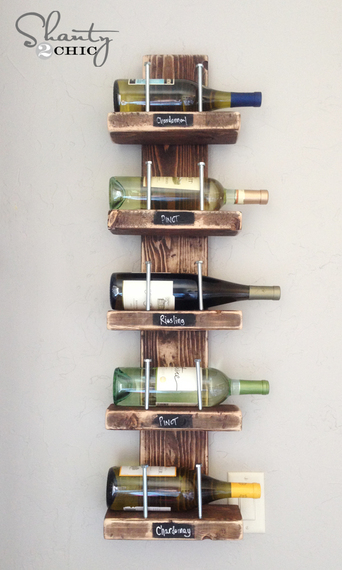 For a cheap wine storage solution, make this DIY wine rack out of wood and bolts. A vertical wall wine rack will keep your bottles neatly stored, easily displayed and out of the way!

Image Credit: Shanty 2 Chic
9. Rolling kitchen carts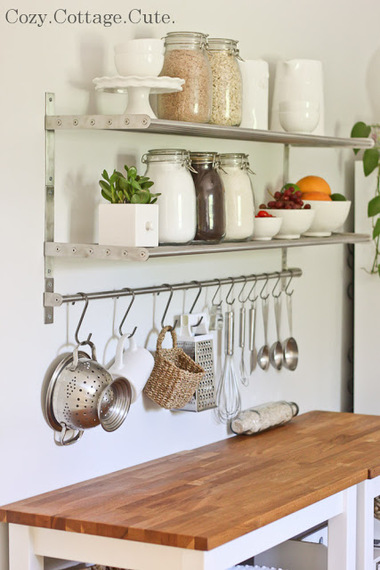 If your tiny kitchen is lacking in countertop space, create your own place for chopping and stirring by adding a kitchen cart.
Image Credit: Cozy Cottage Cute
10. Glass jars attached to shelves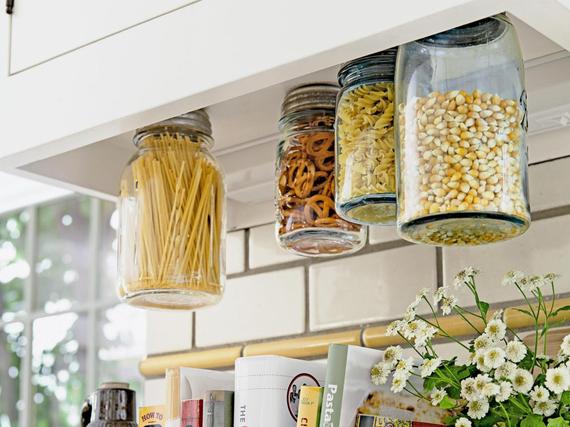 When you're looking for extra storage areas, consider attaching jar lids under your cabinet shelves for a creative use of space.
Image Credit: HGTV
To see more kitchen organization tips, click here.
Top Image Credit: Offbeat and Inspired