By: Anne Reagan, Editor-In-Chief of Porch.com
While many homeowners rely upon the shower for getting ready for the day, having a tub in the bathroom is still in high demand. There are all sorts of tubs on the market for every style and price point. Vintage styles are perfect for homeowners who love period styles; modern jet tubs are ideal for homes wanting the latest in technology. Regardless of your own personal style, if being able to soak away the stress of the day in a warm bath is your idea of heaven, you'll love looking at these bathtub spaces.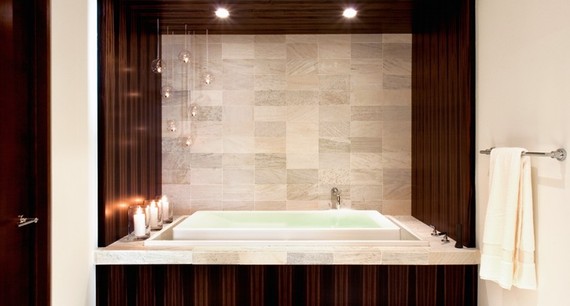 SoBo Flow-Through by Sojo Design
Nothing says luxury like an infinity edge bathtub. This bathtub nook was designed specifically for relaxation, with an offset faucet (so you don't bump your head) and a darkened enclosure, perfect for a quiet getaway. A built-in shelf around the tub ensures that candles or other items stay clear from falling in with the water.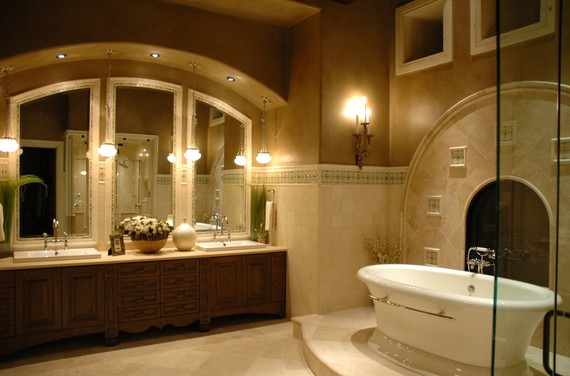 Promontory by Spencer Interior Design
This master bath is filled with touches of old world style. From the custom chandeliers to the intricate tile work, this bathtub literally takes center stage. Notice how the rounded edges of the tub are reinforced and repeated in the arched designs of the wall and flooring.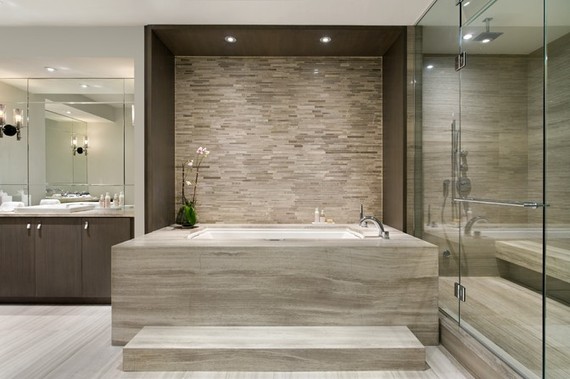 Interior Design - Miami Beach by Sojo Design
Using so much marble in the bathroom can come off as heavy and cold, so this room was warmed up with great lighting and texture. The elevated bathtub was custom designed with a wide edge, perfect for sitting or decorating. A feature tile wall serves as a dynamic backdrop to the bathing experience.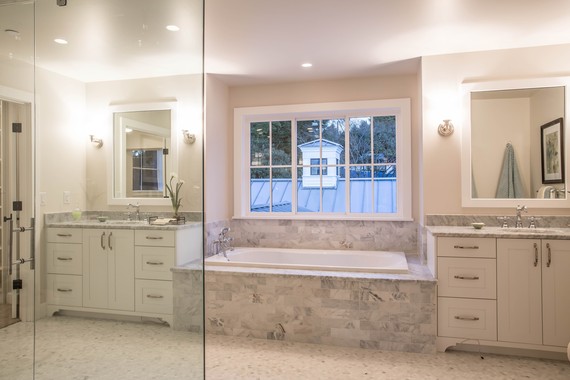 Clyde Hill Modern Farm House by Calista Interiors
This large master bathroom chose to place the soaking tub in between the two vanities, giving the bather the opportunity to be close to the natural light coming in through the window. Sticking to a limited color palette creates a soothing space, and using a dominant material (in this case, marble) in varying styles helps pull together a sophisticated space.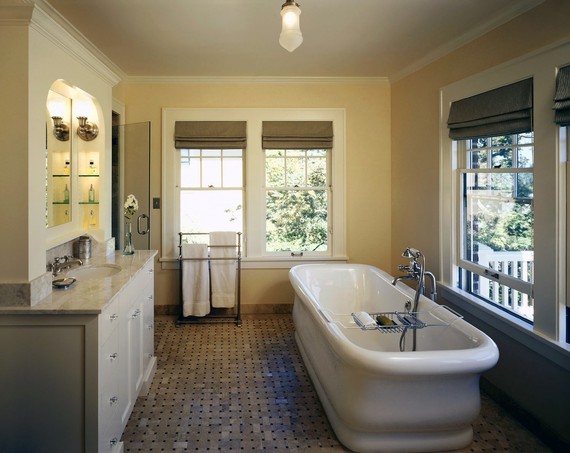 Cascadia by Colleen Knowles Interior Design
This bathroom featured craftsman details like crown molding and wide trim around the windows and mirror. Situating the bathtub close to the windows is a great way to relax with a view. The bath caddy is a great way to have everything within reach without taking up additional floor space in the bathroom.