By: Anne Reagan, Editor-In-Chief of Porch.com
During the holidays your dining room plays host to celebrations with friends, family and neighbors. Whether your dining room is reserved purely for special occasions, or if your dining room is the hub for all baking, crafting and noshing, make sure you're getting the most out of your space. Let's look at six dining rooms that know how to throw a holiday party.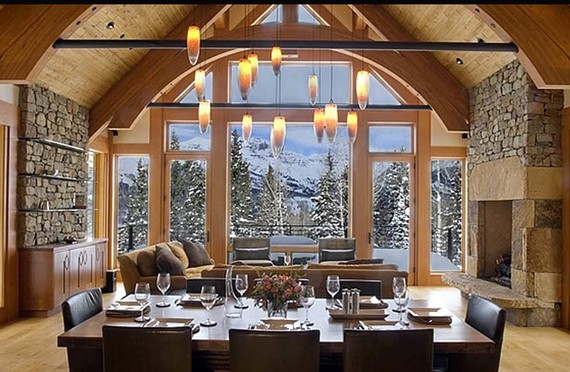 Custom Home by Lea Sisson Architect LLC
With a view like this, your holiday meal may end up taking second stage. Snowy capped trees and peaked mountains are the perfect backdrop for this holiday table. With a commanding view such as this, keep the centerpiece low and minimal. The teardrop pendant lamp helps bring the vaulted ceiling down and creates a lower center of gravity for the dining area.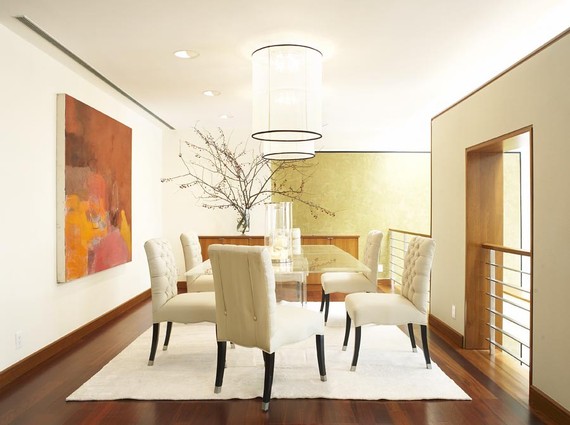 Manhattan Duplex by Zivkovic Connolly Architects
This dining room has plenty of natural light but once the sun goes down, two large drum shades help illuminate the space. When entertaining during the holidays, it helps to have a buffet or credenza nearby to hold extra dishes, platters of food or beverages. If you don't have a built in piece like this one, consider rolling in a temporary bar cart.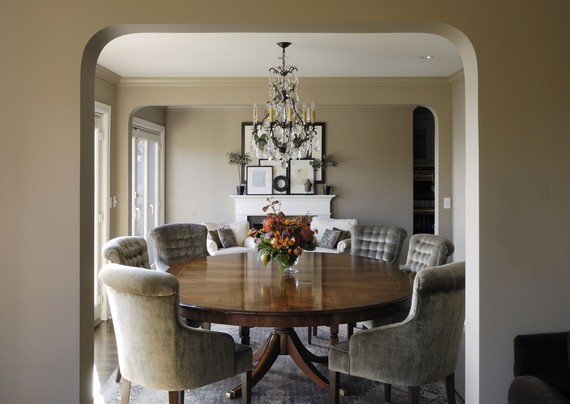 Federal Home by Graciela Rutowski Interiors
If you're expecting more guests during the holidays than you're used to, having an extendable dining table like this one can help accommodate everyone comfortably. This beautiful dining room table, along with an elegant chandelier, evokes an intimate setting - perfect for sharing the warmth of the holidays with family and friends.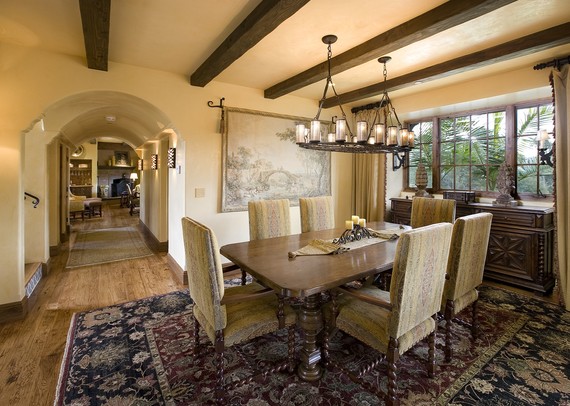 Santa Barbara Mediterranean by Tanya Shively
This formal dining room is the perfect spot for holiday gatherings. The heavy beamed ceiling, rustic iron chandelier, and antiquated furniture help create an intimate space. Notice the use of soft goods like upholstered chairs, drapery, wall tapestry and area rug greatly help to reduce noise within this open plan space.
This contemporary dining room, with its clean lines and strong geometry, doesn't require much decorating for the holidays. Even though this dining table is located within a larger space, the homeowners can make this area feel intimate by controlling all the various points of light. Installing light sources in multiple locations, and placing them all on dimmers, will allow you to dramatically change the appearance of the space.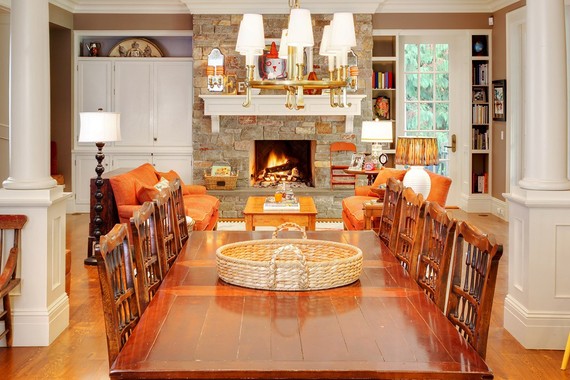 Evans Residence by Gretchen Evans Design
This warm and inviting informal dining room bridges the area between the large, open kitchen and the family room. During the holidays it's a great idea to set out food and beverages in multiple areas to encourage conversation and not have any traffic jams in the kitchen. If your holiday traditions involve a self-serve buffet style meal, make sure you have plenty of space cleared off on the kitchen counter, island or a side buffet.