 By: Mady Dahlstrom, Content Editor of Porch.com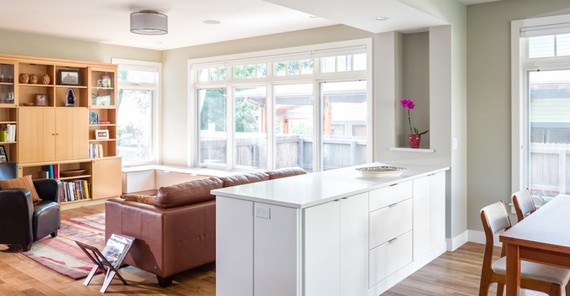 Separate any space in style with the help of built-in room dividers. Room dividing door alternatives bridge the gap from one room to another without entirely closing off a space. Whether you're in a small spaced studio apartment or want to section off your kitchen from your living room in your home, divide a room without using doors to combine the spaciousness of an open floor plan with a functional and divided design.
Take a look at these eight ways to use room dividers instead of doors!
1. Curving Corners
A floor-to-ceiling rounded wall room divider segments space in order to balance public and private living.
2. Clear Glass Wall
A see-through glass room divider allows the rooms to unfold, one into another.
3. Open Ceiling Bookshelf
Separate two rooms with a bookshelf divider that leaves room on top to connect ceilings, for a more open space.
4. Barrier By Bar
Define the dining room from the kitchen with a built-in bar or island.
5. Built-In Bookcase
Carve out a defined passageway with the help of a bookshelf that doubles as a room divider and storage space.
6. Subtle Kitchen Division
A partial room divider by storage unit makes the transition from cooking to lounging effortless.
7. TV Tower With Sliding Doors
Make a statement with your room divider by making it the main feature of a room. A central TV tower concealed with two sliding doors encloses one area from another.
Would you choose a room divider over a door? Let us know by commenting below!