By: Anne Reagan, Editor-In-Chief of Porch.com
No matter what size home you live in, open shelving is the perfect way to show off your favorite home objects and décor. Shelving can add structure and shape to a blank wall, especially if you let them stand out from the backdrop. Open shelving can be deep enough to accommodate small kitchen appliances or serving pieces, or shallow enough to lean framed pictures. It's a great way to take advantage of both open wall space or awkward, smaller wall areas. Feel free to change your décor on your shelving - it's a great way to play decorator in your own home.
1. Floating shelves can easily become a work of art on your wall. In a large, open living room like this one, a rotating collection of objects d'art will add dynamic color to the walls. Placing them around the TV can help distract from the large, black screen.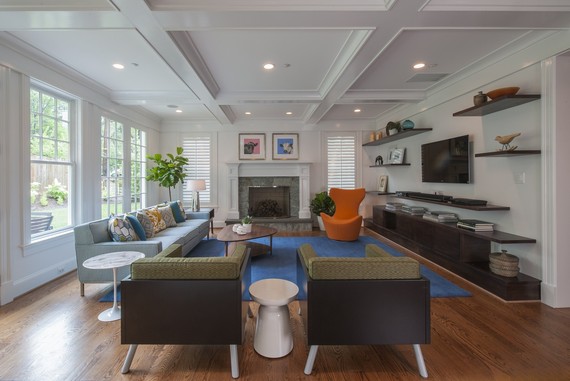 Family Residence by Bossy Color | Annie Elliott Interior Design
2. The sleek and slim stainless steel shelf in this kitchen almost disappears. In fact, if it weren't for the multicolored Glassybaby votive holders under the window, you may not notice it at all. Custom shelves like this can be made with a super slim profile so it doesn't interfere with kitchen tasks.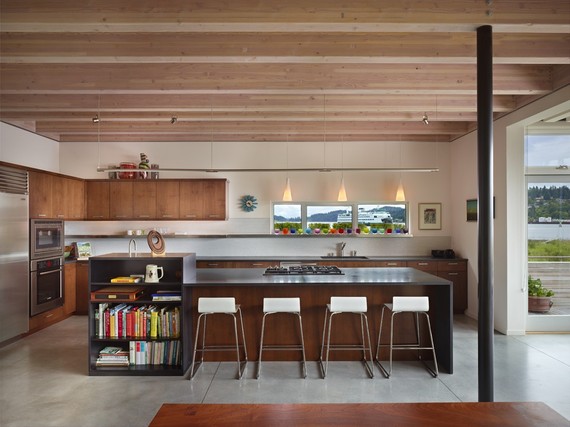 Wing Point House by Lane Williams Architects
3. A set of floating shelves in the kitchen can be a great convenience. Above the stove, like in this home, floating shelves can house spices, tools or extra dishes. But because these items are exposed, it's the perfect place to show off your favorite kitchen pieces as well.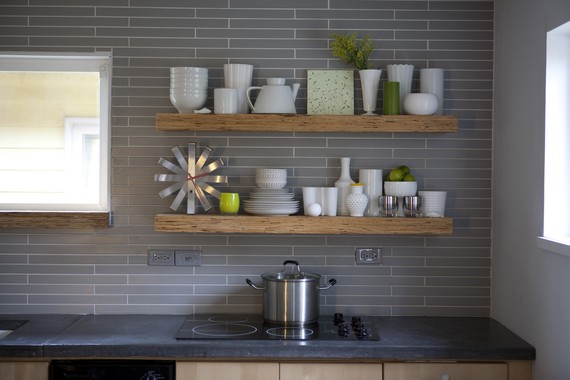 Ravenna Remodel by Atelier Drome LLP
4. Attention to detail is what makes this kitchen pantry space beautiful. Against traditional bead board walls, these wood shelves mimic the wood countertops. And decorative brackets give an elegant lift to each shelf. In a pantry or kitchen, you'll want to make sure your shelves are sturdy enough to hold heavy equipment, serving pieces or canisters of dry goods.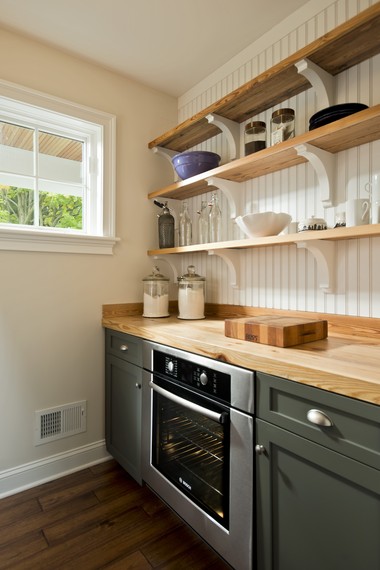 Oak Street by Witt Construction
5. This kitchen chose open shelving over traditional overhead cabinetry. The result is fabulous, especially because it add strong horizontal lines, adding to the design, and breaks up the all-white cabinets. Keeping these shelves bracket-less makes them appear more modern and less fussy.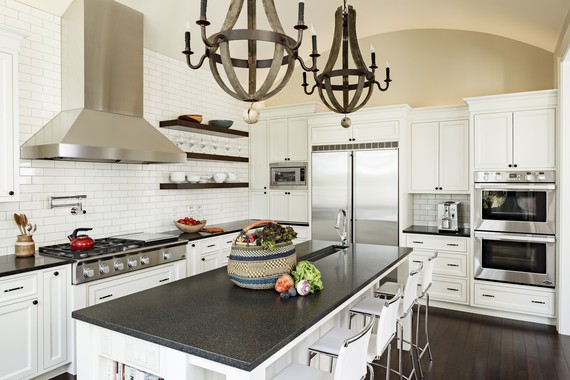 Willamette House by Jenni Leasia
6. White, bracket-less, floating shelves against a spring green wall makes for a modern family room for this home. The decorations, books and mementos provide a necessary distraction from the large TV screen.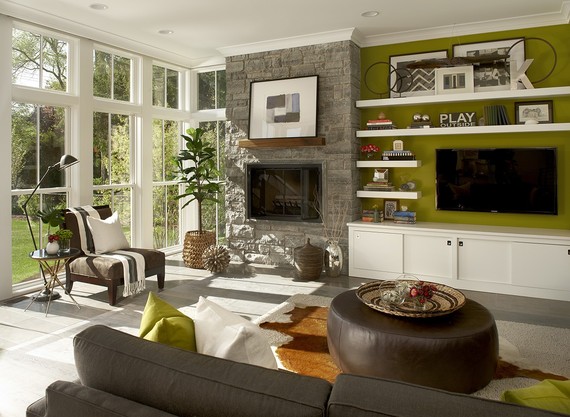 Modern Farm House by Charles Vincent George Architects
7. Tucked inside this warm and cozy window nook are shelves - a perfect backdrop to reading and relaxing. Adjustable shelves like these are an excellent way to maximize small or narrow spaces and accommodate various objects.